Carwyn Jones: 'The UK must continue down the road to becoming a federal nation'
The vote for indepedence in Scotland should signal the end of our parliamentary sovereignty, the First Minister of Wales, Carwyn Jones, tells Jonathan Brown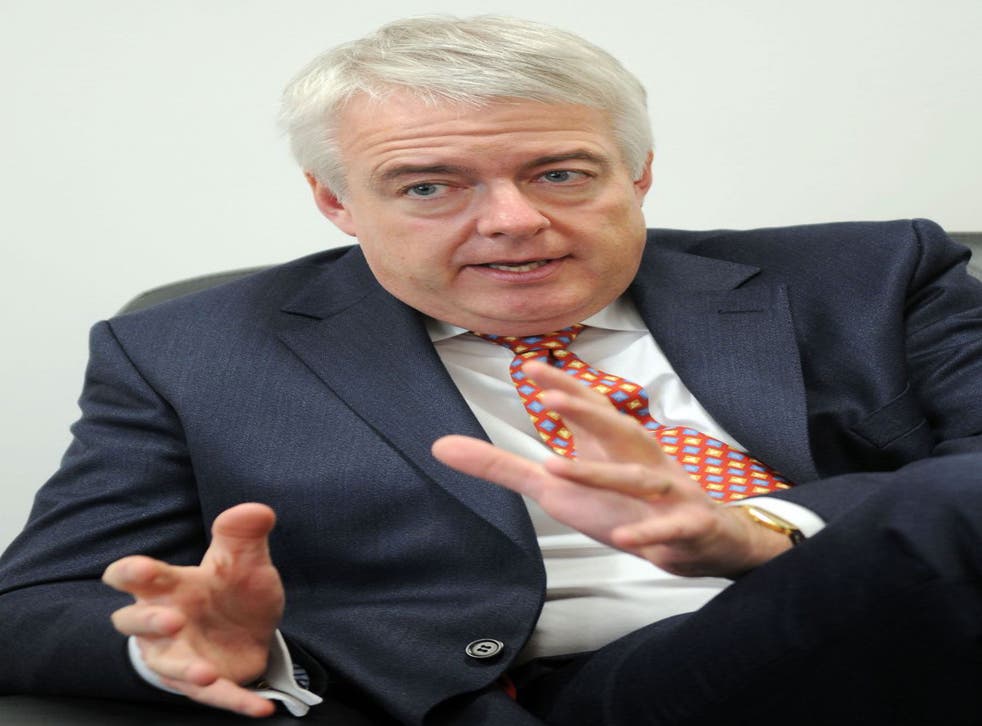 Britain should permanently grant major new powers to the devolved governments in Cardiff and Edinburgh, bringing an end to Parliamentary sovereignty in Westminster no matter what the result of the Scottish independence referendum, the First Minister of Wales has said.
Carwyn Jones said the current constitutional arrangements were no longer functioning and the UK must continue down the road to becoming a federal nation in 2014.
In an interview with The Independent, the former barrister, who has led the Welsh Labour government since 2009, said: "Whatever happens after the referendum in Scotland there will need to be change because the UK's constitution has come to the end of its ability to deal with devolution, to imbed devolution and clarify what each level of Government does."
He added: "I think it's simply a question of putting in place a constitution where it is understood what the different levels of government do. Does that mean the end of Parliamentary sovereignty? Well I'm afraid it does."
Mr Jones, who opposes Scottish independence, said that a yes vote would also lead to problems for the remaining parts of the UK. He cautioned that if Alex Salmond's SNP party wins the argument for independence in September's referendum, the rest of Britain faces being overshadowed even more by a too-powerful England.
"The UK could not carry on as it is with England, Wales and Northern Ireland," he said. "There would have to be a fundamental rethink of the balance of the constitution. You have three nations, one of which had 92 per cent of the population. That would need to be addressed."
Speaking in the Senedd, which is home to the 60 members of the Welsh Assembly, Mr Jones said that Wales could not be treated as "second class" compared to Scotland – an argument that seems compelling when heard in view of the economic revival that has come to the Welsh capital.
Should Scotland choose independence, however, the outlook for Wales is uncertain. "We lose an ally and a friend in terms of the balance of the UK and being able to work together on a common path way when we need to."
Mr Jones has found himself pressed into service for the campaign in Scotland to reject independence – or Project Fear as it has been dubbed by nationalists. He has also enraged Mr Salmond by threatening to veto his hopes of keeping the pound should the countries go their separate ways in September.
On the prospect of an independent Scotland remaining in a currency union, Mr Jones said: "It is bound to affect Wales when we have a situation when in order to take action in terms of monetary policy it has to be an agreement between at least two governments. That is just a recipe for dithering as far as I can see and that's going to affect people in Wales."
However, a spokesman for the "yes" campaign in Scotland claimed tonight that a yes vote would help Wales.
"A Yes vote next year will complete Scotland's home-rule journey, but it will also benefit the rest of the UK – including Wales – by helping to redress the huge economic imbalances currently in favour of London and the South-east of England.
"Wales, Northern Ireland and the English regions, which currently lose out because of this over-concentration in one part of the UK, can therefore share in the benefits of a Yes vote for Scotland next year."
Mr Jones's opposition to Scottish independence has created an unlikely alliance between Welsh Labour and the Coalition – but he hinted that the vote to keep the union could be put in jeopardy by politicians "coming from London to tell the people of Scotland what to do".
He said as a Welshman he had a unique contribution to make to the debate. "It was important to introduce a fellow Celtic perspective in that regard. This is not simply about Scotland versus England, this is about the effect on other constituent nations of the UK as well," he said.
Unlike Scotland, Wales enjoys only conferred powers – "graciously given" by Westminster, Mr Jones said. This has to change, he added. "We need certainly the understanding that the fact in law that Westminster could abolish the Scottish Parliament or the Welsh Assembly without even a referendum has to go. It's a theoretical possibility, I know that. That can't possibly be right, the fact that the Secretary of State for Wales has the right to veto Assembly bills is not the sign of a mature relationship in the 21st century. That has to go," he said.
Mr Jones also rejected the Coalition's offer to vary income tax in Wales until the country's £300m shortfall in Westminster funding through the Barnett formula is addressed.
He said that a future Cardiff government with greater powers could, however, tax resource and energy companies such as those engaged in fracking or coal-bed methane extraction.
"There is a fundamental emotional issue here for us and that is we need to have proper control over our resources to create jobs in Wales. We don't have that at the moment," he said – hinting that while he does not want Wales to itself become independent, more devolved economic powers are needed. Although he said he did not detect support for English regional assemblies, Mr Jones believes the prospect of an English parliament remained the "elephant in the room" in the constitutional debate.
While the Welsh economy is growing faster than anywhere else except the South-east and North-west of England, Mr Jones has faced a battering from opponents over the state of public services.
Wales has eschewed free schools, academies and league tables but recent international comparisons revealed the country had fallen behind the rest of the UK in educational achievement, and its teenagers appear to be slipping down the table against other developed countries. In addition, patients in Wales must wait longer than fellow citizens of the UK to be transferred from an ambulance to an A&E department
Support for devolution in Wales is now higher than it was at the time of the 1997 referendum, when barely half the population voted in favour. Now only 12 per cent want to abolish it, although apathy seems to prevail, with fewer than four in 10 voters turning out for a 2011 referendum on more law-making powers for the Welsh Assembly.
Meanwhile the fight to win the argument over Scottish independence will continue with Carwyn Jones likely to take an increasingly high-profile role.
Register for free to continue reading
Registration is a free and easy way to support our truly independent journalism
By registering, you will also enjoy limited access to Premium articles, exclusive newsletters, commenting, and virtual events with our leading journalists
Already have an account? sign in
Register for free to continue reading
Registration is a free and easy way to support our truly independent journalism
By registering, you will also enjoy limited access to Premium articles, exclusive newsletters, commenting, and virtual events with our leading journalists
Already have an account? sign in
Join our new commenting forum
Join thought-provoking conversations, follow other Independent readers and see their replies