'Cash for access' scandal: Jack Straw called MPs in previous sting 'stupid for being suckered in'
He and Sir Malcolm Rifkind have denied any wrongdoing after meetings with fake company
Lizzie Dearden
Monday 23 February 2015 09:52 Comments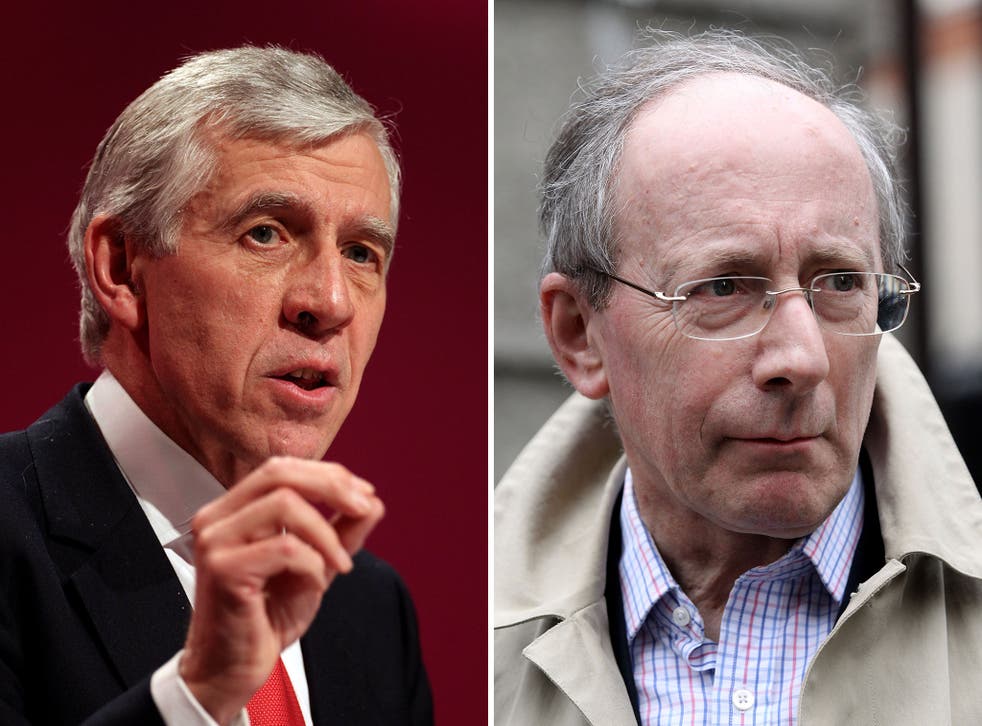 Sir Malcolm Rifkind and Jack Straw have dismissed allegations of wrongdoing in a new "cash for access" scandal involving the two former foreign secretaries.
Both MPs were filmed appearing to offer to use their positions to benefit a fictitious a Hong Kong-based communications agency called PMR for thousands of pounds in an undercover report by the Daily Telegraph and Channel 4's Dispatches.
Radio 4's Today programme played Mr Straw a clip of him speaking about a previous "cash for access" row in 2010, when he lambasted fellow Labour MPs caught in another sting.
He said they demonstrated "stupidity" by "allowing themselves to be suckered in a sting like this".
Dispatches also carried out the almost identical undercover report where MPs met with journalists claiming to represent an American lobbying company.
"(It) does indeed bring the Parliamentary Labour Party as well as Parliament into disrepute," he added.
"(MPs appear to be) more interested in making money than properly representing their constituents."
Mr Straw did not comment on his former statements but repeatedly emphasised that the meeting he had with undercover reporters related to possible work after he leaves Parliament in May and not while he is still an MP.
"I very much regret the fact that I ever saw these people," he said.
"Yes, I'm interested in earning money but what I'm more interested in is doing things that will engage my brain."
Mr Straw, who has been the Labour MP for Blackburn since 1979, has held positions including Home Secretary, Foreign Secretary, Leader of the House of Commons and Justice Secretary.
He told Radio 4 he was "scrupulous" in observing all Parliamentary rules but had referred himself to the Commissioner for Standards "because of the way this appears"
Sir Malcolm also appeared on Today, dismissing the allegations as "unfounded" and vowing to fight them "with all my strength".
The senior Conservative, who chairs the parliamentary committee which oversees Britain's intelligence agencies, allegedly claimed that he could arrange "useful access" to every British ambassador in the world because of his status.
He repeated his refusal to stand down on Today, adding: "None of the matters are remotely to do with intelligence or security."
A Labour Party spokesperson said: "We have seen the disturbing allegations against Jack Straw in the Daily Telegraph. The chief whip has spoken to Jack Straw.
"He has agreed to refer himself to the Parliamentary Commissioner for Standards and in the meantime he has agreed the best course of action is to suspend himself from the parliamentary Labour Party."
In pictures: Not-so virtuous MPs

Show all 17
A Downing Street source said Sir Malcolm has also referred himself to the Parliamentary Commissioner for Standards. He is expected to meet with the Tory Chief Whip later today.
The MPs will feature in Politicians For Hire – A Channel 4 Dispatches programme airing tonight at 8pm.
Register for free to continue reading
Registration is a free and easy way to support our truly independent journalism
By registering, you will also enjoy limited access to Premium articles, exclusive newsletters, commenting, and virtual events with our leading journalists
Already have an account? sign in
Join our new commenting forum
Join thought-provoking conversations, follow other Independent readers and see their replies