Channel 4 News unveils ice sculptures in place of absent Conservative and Brexit parties ahead of Climate Change debate
Boris Johnson 'privately agreed to sell off Channel 4', Tory MPs claim
Prime minister continues to boycott publicly-owned broadcaster over election coverage
Boris Johnson has confirmed he is planning to sell off Channel 4, senior Tory MPs have claimed.
The prime minister believes that privatising the publicly-owned broadcaster is a "great idea", according to a report in the Sunday Express.
His alleged remarks come in the wake of a series of rows between Downing Street and Channel 4 over its coverage of the election campaign.
Mr Johnson appears to have boycotted the broadcaster since its head of news Dorothy Byrne described him as a "proven liar" in August last year.
He pulled out of a planned interview and refused to take part in Channel 4's leaders debate on climate change in November.
UK news in pictures

Show all 50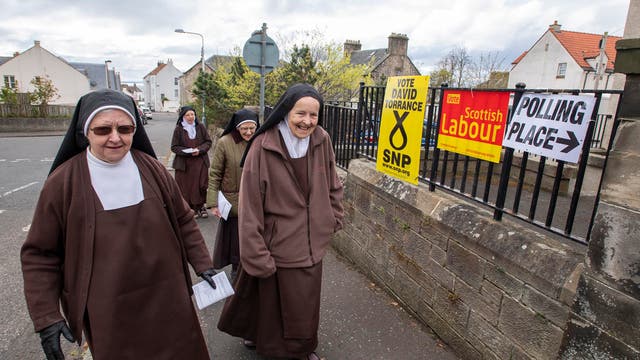 The prime minister was replaced by a melting ice sculpture in the studio.
An official complaint was later made to media watchdog Ofcom by the Conservative Party, which claimed that the broadcaster was "conspiring with Jeremy Corbyn".
It was also reported that the party was threatening to review Channel 4's broadcasting remit.
In the party's latest attack, a "well-placed Conservative MP" was quoted as saying: "Boris has privately confirmed that he will definitely privatise Channel 4. He thinks it's a great idea. There is no business for the public to own it anyway."
It follows recent reports that the prime minister had vowed to scrap the BBC TV licence fee.
"We are having a consultation and we will whack it," a Downing Street source was reported as saying.
The Department for Digital, Culture, Media and Sport said it would not comment on what it called "speculation".
Join our new commenting forum
Join thought-provoking conversations, follow other Independent readers and see their replies