Chilcot inquiry into Iraq War 'unlikely to be published this year'
Protracted correspondence with those criticised in the document was cited as a reason for the delay
Kunal Dutta
Tuesday 21 April 2015 01:18 Comments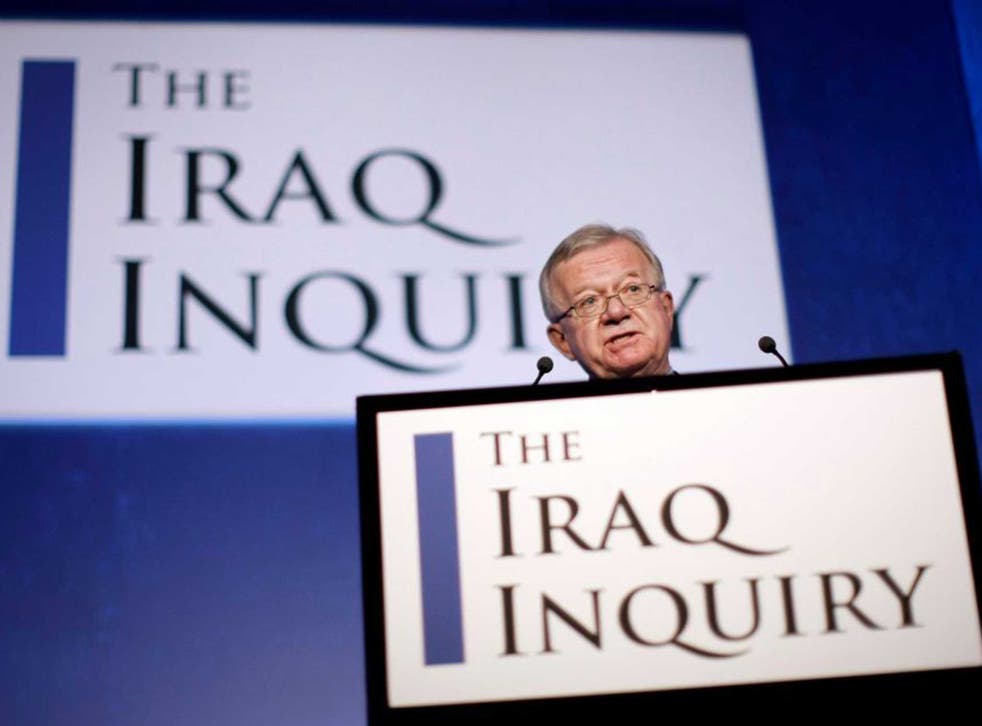 The British inquiry into the 2003 Iraq war and its aftermath, which completed its last hearing in February 2011 with the promise to report back in "some months", is unlikely to be published this year.
BBC Newsnight said that protracted correspondence with those criticised in the document was one reason that its publication in 2015 looked "doubtful".
The latest delay, if confirmed, will come as a severe blow to families of the 179 British servicemen killed in the nine-year war. It will also compound public scepticism. Earlier this year its chairman Sir John Chilcot said that the report would not be published before the election. Many saw the full parliamentary term of the new government in October and November as the next plausible deadline window.
The inquiry was set up in 2009 by the Prime Minister at the time, Gordon Brown, and took public evidence from its last witness in February 2011. The latest delay is understood to be due to the so-called "Maxwellisation" process, under which witnesses are sent draft sections criticising them to give them a final right of reply.
Letters were reportedly sent to those cited last December and are understood to run into hundreds of pages with a specific deadline. But the BBC suggests those have been challenged, moved or even abandoned altogether.
The Iraq War: A timeline

Show all 16
"Those I've spoken to in recent months say the Maxwellisation process has become a nightmare," BBC Newsnight's Diplomatic and Defence Editor Mark Urban wrote on Monday.
"Some of the dozens criticised have had to sift through Chilcot inquiry drafts that run to hundreds of pages. Others have engaged in a lively correspondence with the inquiry team, asking to draw on all sorts of additional correspondence in their defence."
That reasoning chimes with testimony given to MPs by Sir John in February. When explaining the reason for its delay he said: "What I can't say, until the Maxwellisation process is complete, is that I will be able to say anything useful to the Prime Minister or to the families. Once that is complete it is a different matter."
In his blog, published on the BBC website on Monday, Mr Urban added: "While Sir John originally intended to give those due to be censured a deadline by which they would have to make representations in their defence, these have apparently been abandoned as the complexity of the process has become clear.
"The inquiry has also suffered from the death of one of its members and staff losses."
Previous delays in publication have been down to protracted disagreements between Whitehall and the US State Department over declassifying communications between George W Bush and Tony Blair before, during and after the Iraq war. At the start of 2015 the Government admitted that talks over the publication of the gist of those conversations were now complete.
The report is understood to be over a million words long, analyses over 150,000 government documents and will contain details of discussions of more than 200 cabinet meetings.
David Cameron has previously said he has no control over when the Chilcot report will be published.
Sir John could not be reached last night for comment.
Register for free to continue reading
Registration is a free and easy way to support our truly independent journalism
By registering, you will also enjoy limited access to Premium articles, exclusive newsletters, commenting, and virtual events with our leading journalists
Already have an account? sign in
Join our new commenting forum
Join thought-provoking conversations, follow other Independent readers and see their replies