Chilcot inquiry: Sir John accused of putting reputation of politicians before feelings of bereaved families
After six years there is still no timetable for the report to be published
Jonathan Owen
Friday 14 August 2015 08:34 Comments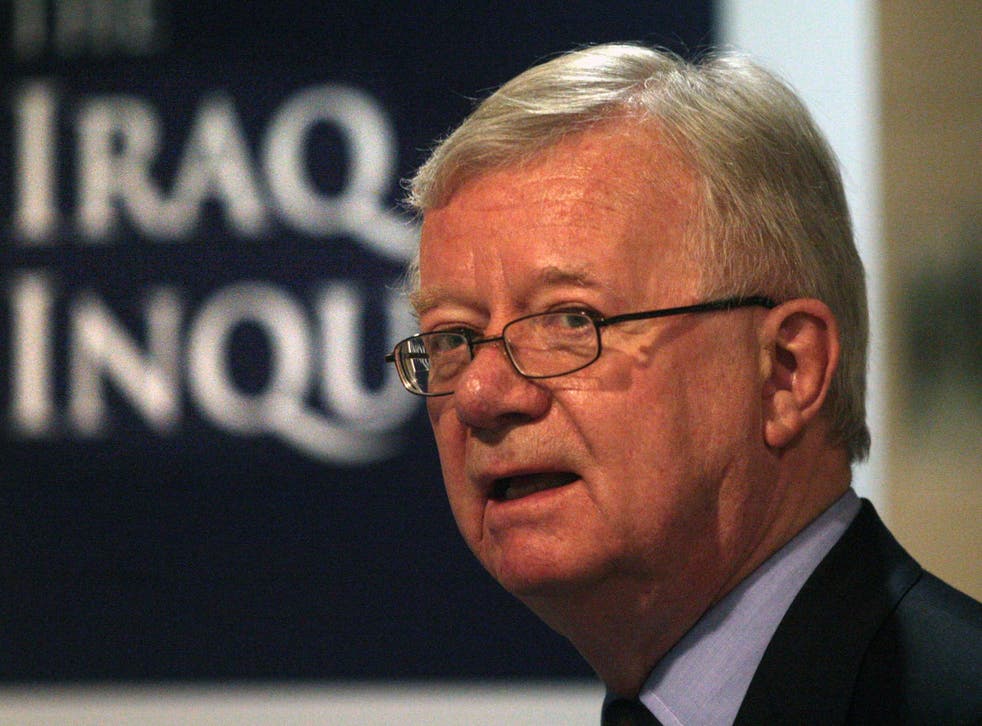 Sir John Chilcot has gone too far in his pursuit of fairness, putting the reputations of politicians before the feelings of bereaved families, according to the lawyer behind a new legal action against the chair of the Iraq Inquiry.
Relatives of dozens of Britons killed in Iraq have given an ultimatum to Sir John - threatening him with a judicial review application unless he agrees to release the Iraq Inquiry report by the end of this year. He has until 26 August to respond.
After six years and more than £10m spent, there is still no timetable for the report to be published.
Sir John has blamed the repeated delays on having to wait for responses from those facing criticism – a process known as Maxwellisation.
In June this year David Cameron warned Sir John "we are fast losing patience,", and the former civil servant now faces the threat of court action to force his hand.
The legal move has been brought by Matthew Jury, partner at McCue and Partners solicitors, which is representing at least 29 families of Britons who died in Iraq.
"Chilcot was under no legal obligation to implement the Maxwellisation process. That he chose to do so in the interests of fairness is one thing, that he has gone far beyond the bounds of such fairness is quite another," he told The Independent.
"The interests of those who may be subject to criticism must be with balanced with the interests of Families to know the truth. Chilcot has regrettably tipped that balance too far in favour of the politicians and civil servants who know why, who and for what their loved ones died while the families continue to suffer," he added.
The families' lawyers argue that Sir John acted unlawfully earlier this year, when he refused to give the Prime Minister a timetable or deadline for the report to be published.
Rose Gentle, whose 19-year-old son, Fusilier Gordon Gentle, died in Iraq in 2004, said: "I don't think he's putting the families first. He seems too worried about what people like Blair will think or do... out of decency he could write to the families to let them know what's going on but we find out through the press, which is wrong." She added: "I need closure – it's been too long."
And Reg Keys, who lost his son, Lance-Corporal Thomas Keys, 20, in 2003, said: "We need to move this black cloud of Iraq away and consign it to history but we cannot do that until Chilcot reports."
He added: "I think he's let us down. If he's not up to it, he needs to step aside. I've lost patience with him."
Roger Bacon, the father of Major Matthew Bacon, 34, who was killed in Iraq in 2005, said: "After the Iraq Inquiry had been announced before he started work on it, he arranged to meet bereaved families around the country.
The Iraq War: A timeline

Show all 16
"I was one of a group which met him in London and he said he wanted to do what he could for the families. I felt at the time that he was sincere, but as the years have passed his concerns appear to have shifted to those who are the subject of criticism.
"His assurances of progress and pretty meaningless without a timetable. We need an end to this, we have waited long enough."
The frustration of families has been echoed by political and military figures. "The delay in the publication of the inquiry into the war in Iraq is fast becoming a national disgrace," said Alex Salmond, spokesperson on foreign affairs for the Scottish Nationalist Party. Liz Kendall, Labour leader candidate, said: "It has taken too long and I completely understand what the families are doing, what they want and what they are calling for and I would back that."
General Sir Michael Rose, former commander of UN forces in Bosnia, commented: "The time has come to stop these endless games of legalistic ping pong whose winners can only be those who bear the blame for the invasion of Iraq and its appalling consequences."
Former Liberal Democrat leader Sir Menzies Campbell said: "I share the frustration of the families of those who died or were injured in the Iraq war. The problem here is that the form of the inquiry was too loose and unstructured.
Register for free to continue reading
Registration is a free and easy way to support our truly independent journalism
By registering, you will also enjoy limited access to Premium articles, exclusive newsletters, commenting, and virtual events with our leading journalists
Already have an account? sign in
Join our new commenting forum
Join thought-provoking conversations, follow other Independent readers and see their replies