Chilcot report: Sir John under pressure to accelerate inquiry's release amid futher delays
Latest hold-up means the findings will not be released until seven years after the civil servant began the inquiry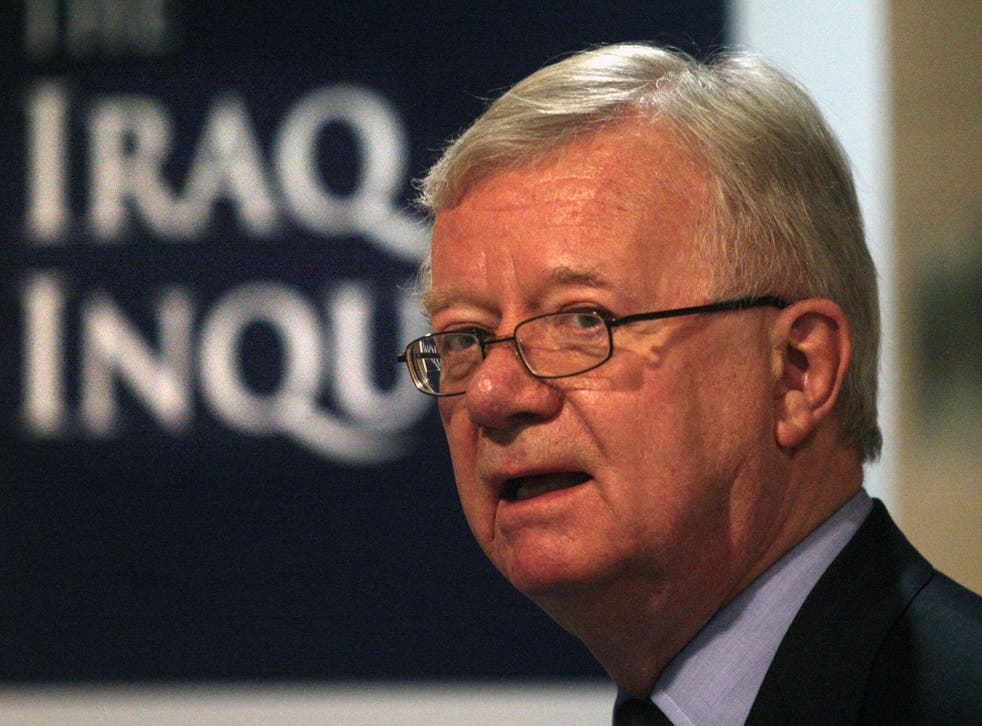 Sir John Chilcot is under intense pressure to accelerate the release of his heavily-delayed report into the Iraq war after he announced it would still not be released until next summer.
It will now be published seven years after the former civil servant began his inquiry into the build-up to military action and the handling of the aftermath of the invasion.
David Cameron led political protests over the latest hold-up, while relatives of soldiers killed in Iraq expressed anger that they would have to wait up to nine more months more to hear Sir John's verdict.
Sir John announced that his team expects to complete the text of its two million word report by the week beginning April 18. It will then be submitted to the Government for security checking with an aim to publication in June or July 2016.
His statement follows threats of legal action over the delay from bereaved relatives and accusations that Tony Blair and other key figures in the war have attempted to drag out the process.
Setting out his proposed timetable in a letter to the Prime Minister, he explained that the "very considerable size of our report" means that "it will take some weeks to prepare for printing and publication".
He said: "We will complete that work as swiftly as possible. I consider that once National Security checking has been completed it should be possible to agree with you a date for publication in June or July 2016."
Sir John concluded: "My colleagues and I remain committed to producing a report that will meet the very wide ranging terms of reference we were given and reflect the considerable investment of time and effort by all involved."
In a testy reply to Sir John, the Prime Minister said he was disappointed by the timetable and urged him to speed up publication.
He raised doubts that it would take two or three months to scrutinise the final report for security issues, pointing out that security checks on the Saville inquiry into Bloody Sunday took only a fortnight.
"It would certainly be our plan and expectation to take no longer than this, and we will look to complete the process more quickly," Mr Cameron said.
Later during a press conference after a meeting with European leaders in Iceland, he said: "I'm immensely frustrated by the slowness and the amount of time it has taken.
"I'm not frustrated on my own behalf, I'm frustrated for the mums and the dads who lost loved ones and who want to know what happened and why it happened and want to make sure that the lessons are learnt.
He added: "What I can say for my own part is that as soon as this report arrives on my desk I will move as quickly as I possibly can to publish it."
John Bercow, the Commons leader, also delivered a scathing verdict on the inquiry's slow progress.
"I think it would perhaps be an uncontroversial observation that had there been a parliamentary committee looking at this matter it would not have been possible for it to do its work more slowly even if it had made a Herculean effort to do so," he told the Commons.
"I think it is important on behalf of the House, whether it concerns or perturbs him or not, that Sir John should be aware that there is a very real sense of anger and frustration across the whole House at what seems a substantial disservice that has been done."
The Labour leader, Jeremy Corbyn, said: "I suppose I should welcome it but this is getting beyond ridiculous. He told Sky News: "I hope we're not still negotiating with Tony Blair and George Bush as to what has got to be included."
Tony Blair, who faced two extended cross-examinations by the inquiry team, denied that he bore any responsibility for the delays which have beset the inquiry.
He has been accused of attempting to drag out the 'Maxwellisation' process under which witnesses are given a chance to respond to criticism. A lengthy dispute over the release of details of Mr Blair's discussions with President George Bush ahead of the invasion was only resolved in May 2014.
A spokesman for the former Prime Minister said: "Tony Blair has always wanted the inquiry to report as soon as it properly can and he looks forward to responding to the inquiry's report.
"Mr Blair also wants to make it clear the timetable of the inquiry and the length of time it will have taken to report is not the result either of issues over the correspondence between him as prime minister and President Bush or due to the Maxwellisation process."
Rose Gentle, whose Royal Highland Fusilier son Gordon, 19, was killed in a bomb attack in Basra in 2004, said: "We thought it should be out a lot sooner than this. I thought it would be out by the end of the year, because they have everything there.
"It's another let-down. It's another few months to wait and suffer again."
Karla Ellis, whose brother, Private Lee Ellis, died when his Land Rover was blown up in 2006, said: "How can something take this long? I lost my brother nearly ten years ago."
She said she was not expecting much to come from the report, as "justice doesn't reach the people involved".
Join our new commenting forum
Join thought-provoking conversations, follow other Independent readers and see their replies