Chilcot inquiry: Tony Blair says he did not cause delay of publication of Iraq War report
'Incorrect allegations and politically motivated speculation do nothing to shine a light on the issues involved, it is an independent inquiry and it should be allowed to proceed with its work'
James Rush
Wednesday 21 January 2015 18:24 Comments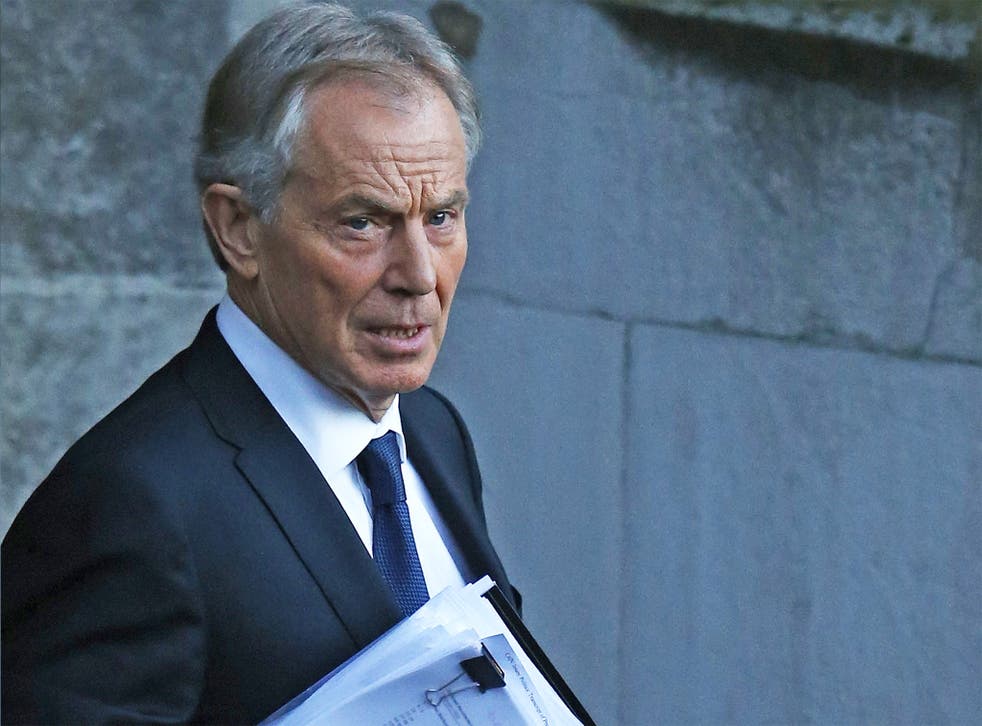 Former Prime Minister Tony Blair has said he is not to blame for the controversial decision to delay the publication of the Chilcot inquiry into the 2003 Iraq War.
As MPs expressed anger at the delay of the publication of the six year-inquiry into Britain's role in Iraq, Mr Blair issued a statement to say he had not caused the hold-up.
A spokesperson for the Office of Tony Blair said: "While we do not intend to provide a running commentary on the process involved in the publication of the report, it is important to state the following for the sake of clarity.
"We have repeatedly said that it is not true to say that Tony Blair has caused the delay in the report's publication.
"Sir John's letter makes reference to notes and records concerning Mr Blair, which some may interpret as an implicit suggestion that Mr Blair caused the delay, this is not true. On the contrary, he regrets this delay in its publication.
"Incorrect allegations and politically motivated speculation do nothing to shine a light on the issues involved. It is an independent inquiry and it should be allowed to proceed with its work."
David Cameron today said there was "no mystery" behind the confirmation by Iraq Inquiry chairman Sir John Chilcot that his panel's findings would not be revealed before May's general election.
Amid demand for an explanation, Mr Cameron played down speculation the process was being deliberately hampered by senior figures who could face criticism over their roles.
Sir John told the PM in a letter that "very substantial progress" had been made towards completing the inquiry and agreement had been reached on what details from notes and conversations between Mr Blair and former US president George Bush will be published.

He conceded however that there was "no realistic prospect" of it being published before the election in May "whilst being fair to all those involved."
At Prime Minister's Questions, Hackney MP Dianne Abbott and others questioned the time Sir John had taken, calling it a "scandal" that was threatening public confidence in the inquiry system.
Mr Cameron said that it was not up to him to decide the timing of an independent report, adding: "My feeling is there is no mystery as to why it is taking so long, it is a very thorough report and you have to follow the proper processes.
"I don't believe anyone is trying to dodge this report or put off this report."
Mr Cameron, who has previously expressed frustration at the slow progress, said he accepted the decision of Sir John, but added he wanted to see the report published as quickly as possible after May.
Mr Cameron has also told Sir John: "Had the previous Government established this inquiry when I first called for it, we would not be in this position today. But that cannot now be undone."
The inquiry was set up by then prime minister Gordon Brown in 2009 and it took public evidence from its last witness in 2011.
Publication however has been held up by wrangling over the release of confidential messages and the so-called "Maxwellisation" process by which those criticised in the report are given the chance to respond.
Labour leader Ed Miliband said he hoped the report would be published "as soon as possible", but he was accused by Mr Cameron of contributing to the delays by voting against Tory attempts to have an inquiry set up before 2009.
A Labour spokesman has said it was necessary to wait until British soldiers were no longer engaged on the ground in Iraq.
The Liberal Democrats and Ukip have urged voters to sign a petition urging the publication of the report before the election, while Scottish First Minister Nicola Sturgeon said the delay was "increasingly unacceptable."
Additional reporting by PA
Register for free to continue reading
Registration is a free and easy way to support our truly independent journalism
By registering, you will also enjoy limited access to Premium articles, exclusive newsletters, commenting, and virtual events with our leading journalists
Already have an account? sign in
Join our new commenting forum
Join thought-provoking conversations, follow other Independent readers and see their replies