Tony Blair's spin unspun: how his claims compare with the Chilcot report
Andy McSmith on the former Prime Minister's press conference in the wake of the release of the Chilcot report
Andy McSmith
Wednesday 06 July 2016 20:35 Comments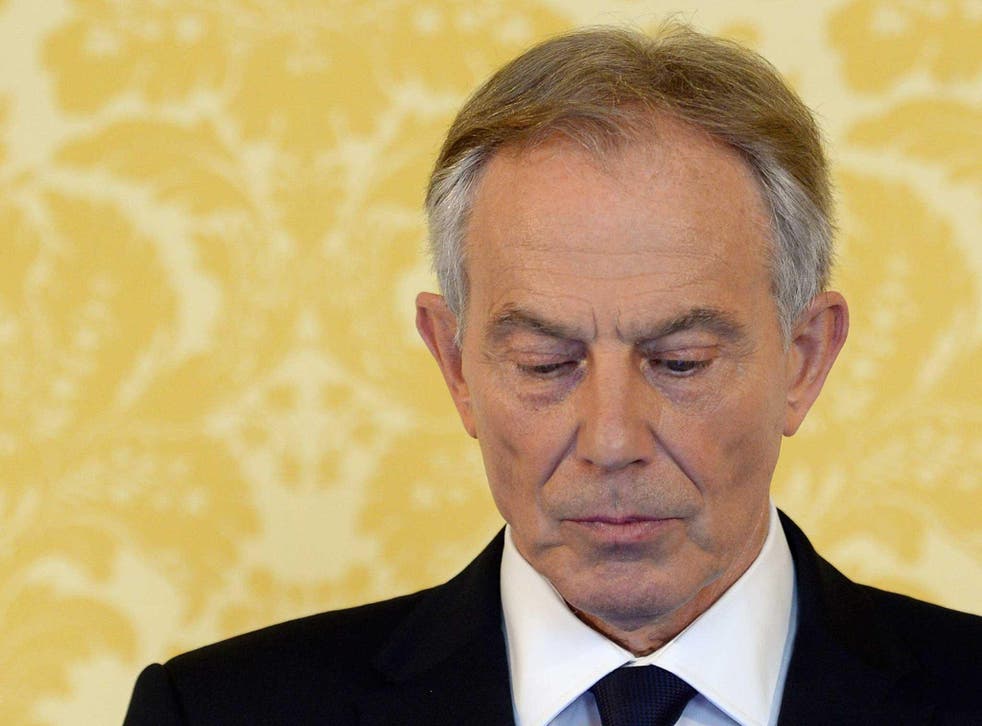 A haggard-looking Tony Blair spent two hours struggling to rescue his reputation from the ruins of Iraq. In his protracted press conference, the former Prime Minister expressed sorrow for the British soldiers killed or maimed after the invasion of March 2003 and offered an apology – but insisted that the world was a better place for the removal of the Iraqi dictator, Saddam Hussein, and the Chilcot report proved he had acted in good faith.
This was not the confident Tony Blair of old, with the cherubic grin and casual self-confidence. The former Prime Minister seemed to be emotionally on edge. His voice sometimes appeared to be almost cracking. He was defending something that is very hard to defend, and presenting a version of the story that did not always fit well with reality, or with the findings of yesterday's report.
The WMDs intelligence report
Blair's first and perhaps most important claim is that "there was no falsification or improper use of intelligence" in the run-up to the Iraq War. He is referring to a line in the Chilcot report that refutes the frequently heard allegation that Tony Blair's staff "sexed up", or tampered with, a dossier presented to Parliament in September 2002, which set out the intelligence on whether Iraq held weapons of mass destruction.
While Sir John Chilcot concluded that the text of the dossier was not "improperly influenced" by Downing Street, he was highly critical of the gloss put on it in an accompanying foreword signed by Tony Blair. The foreword claimed that the dossier "established beyond doubt" that Iraq was developing weapons of mass destruction (WMDs). Sir John says that was not true. If that was not an "improper" use of intelligence, it was surely cavalier.
The justification for war
It has also been suggested that Iraq's illusory WMDs were only a pretext for launching an invasion that the US was going to carry out anyway because it wanted to remove Saddam Hussein and install a friendly government in Baghdad. Blair claimed that it was not true. "I did it for the reason that I said that I did," he told journalists.
But the record shows that as early as December 2000, only a month after George W Bush's victory in the presidential election, the British embassy in Washington warned that his administration was not going to be content to see Saddam Hussein kept under restraint by international sanctions: they wanted him out. In private, Tony Blair seems to have concurred. The note he sent to George Bush in July 2002 was all about destroying Saddam Hussein's "brutal and inhumane" regime, not about how to force him to renounce WMDs.
Mr Blair has claimed that he was promising the Americans his support as a way of influencing Washington's decision making and getting them to seek United Nations approval before acting. Taking questions from journalists, he asserted that his support was not "unconditional". But the opening words of that July note – "I will be with you, whatever" – do sound unconditional.
It certainly appears that many months before the invasion, the two leaders were united in their intention of getting rid of Saddam Hussein, even if they had different ideas on how to build up to it. WMDs were a pretext.
Did Blair sufficiently consult with his Cabinet?
Blair also said that "there was no deception of Cabinet" as the decision was being made to go to war. He conceded, under questioning, that the Cabinet could have been consulted in a less informal manner. But Cabinet ministers discussed the Iraq situation 26 times before the invasion, he stressed.
But the Chilcot inquiry team has seen the minutes of those 26 meetings. In most cases, the discussions consisted just of updates on the diplomatic developments and "general issues". The report regrets that the big beasts of the Cabinet – Gordon Brown, John Prescott and the late Robin Cook – were not consulted more as an antidote to "group think".
There are precise examples of Cabinet ministers not being told what was going on. That note promising "I will be with you whatever" set out Mr Blair thoughts only: it "had not been discussed or agreed with his colleagues".
Lord Goldsmith briefed Tony Blair twice in January 2003 about whether an invasion of Iraq would be legal. Blair did not share that information with any Cabinet minister. On 17 January 2003, Blair decided to deploy three combat brigades for action in Iraq, despite being warned by Lord Goldsmith that an invasion might be illegal. The report notes that "there was no collective discussion of the decision by senior ministers".
Generally, "there was no substantive discussion of the military options, despite promises by Mr Blair" until the Cabinet met on 17 March – two days before the invasion began. While Cabinet ministers were not fed "deceptions", neither were they being told what was going on.
Clare Short, who was a Cabinet minister at the time, has accused Tony Blair and Jack Straw of deceiving the Cabinet when they claimed that there would be no point in seeking a fresh resolution from the United Nations Security Council, authorising military action because of the threat of a French veto. She has claimed: "The French made a second resolution impossible – that was the story. That was clearly, deliberately misleading the French position."
Families on Chilcot Inquiry
France's President, Jacques Chirac, was certainly arguing almost up until the moment the invasion began that the strategy should be to keep up the pressure on Saddam Hussein to comply with United Nations resolutions, so it is quite possible that if the US and UK had put forward a second resolution, the French would have vetoed. But far from condemning the French, Sir John concluded that by taking part in an invasion without a second resolution "the UK was undermining the Security Council's authority".
Blair also asserted yesterday that the report found that there was "no secret commitment to war whether at Crawford Texas in April 2002 or elsewhere". When Blair met George Bush at his Texas ranch, he persuaded the US President at least to go through the motions of giving Saddam Hussein one last chance to get rid of the weapons of mass destruction that Blair was convinced he still had. For public purposes they agreed "a strategy based on an ultimatum calling on Iraq to permit the return of weapons inspectors or face the consequences". Privately, though, Blair told the US President that he did not believe that the Iraqi dictator would give up his forbidden weapons – and we now know that he could not, because he did not have any. Saddam Hussein's fate was, therefore, sealed in Crawford.
Blair claimed that the Chilcot report "finds that the Attorney General had concluded there was a lawful basis (for military action) by 13th March 2003". True, but it also notes that a few days earlier Lord Goldsmith had produced a different legal opinion, and that no proper explanation was offered as to why he changed his mind so close to the dat of the invasion.
Legal Basis for Military Action "Far From Satisfactory" - Chilcot
Finally, the former Prime Minister seemed pained that Sir John did not judge the war to have been a success. The initial military operations went very well, he pointed. That is true, of course: the Iraqi army showed very little stomach for fighting to defend the dictatorship. Sir John did not deny that it was a military success. But he observed: "Although the coalition had achieved the removal of a brutal regime which had defied the United Nations and which was seen as a threat to peace and security, it failed to achieve the goals it had set for a new Iraq."
The appalling sectarian violence in Iraq in the wake of the invasion would seem to bear out that conclusion.
Register for free to continue reading
Registration is a free and easy way to support our truly independent journalism
By registering, you will also enjoy limited access to Premium articles, exclusive newsletters, commenting, and virtual events with our leading journalists
Already have an account? sign in
Join our new commenting forum
Join thought-provoking conversations, follow other Independent readers and see their replies