What the orphan who became a symbol of the Iraq war says about Tony Blair now
Ali Abbas, now 25, tells The Independent: 'Of course I am angry.  I have lost my arms, my parents my brother ... my country is gone, destroyed.'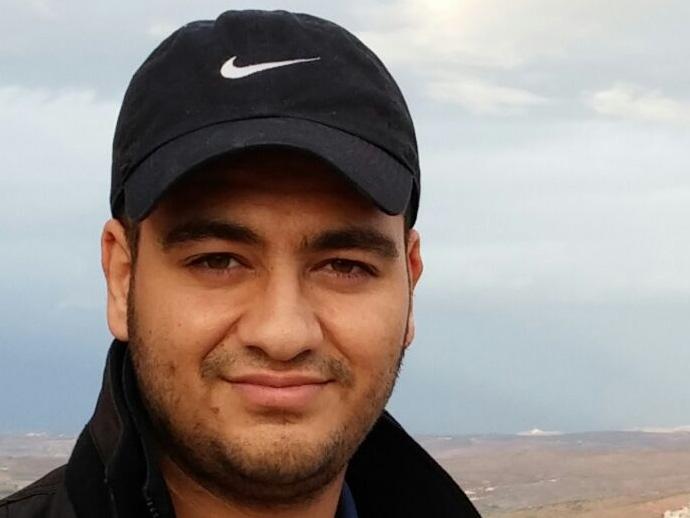 Ali Abbas still remembers the day his childhood changed forever, however much he might wish to forget.
It was March 30 2003. He was 12 "Just a little kid, enjoying my life, going to school, playing football, with lots of friends…"
He had fallen asleep with mum Azhar, dad Ismaeel, and ten-year-old brother Abbas all sleeping reassuringly close to him in the same room.
Even now he doesn't know why the Americans fired the missile. Their home, on the southern fringe of Baghdad, wasn't near any sort of military base.
"We were farmers. There were cows and sheep outside. They should have seen what was down there.
"I was woken up by this big noise. All the house collapsed on us. My home was on fire. Then I heard the screaming."
It was his mum and dad.
"I heard them screaming. Then after a couple of minutes, the screaming stopped. They were gone."
"I was burning," he continues. "My arms were basically roasted. After maybe 20 minutes, my neighbour came to try to pull me out of the rubble. He didn't realise how badly I had been burned. So when he tried to pull me by my left hand, it came off."
His mother, father, and little brother were dead. So too were 13 other members of his family.
Both Ali's arms had to be amputated. He had suffered burns to 60 per cent of his body. The doctors doubted he would survive.
And yet, he says, "I was lucky".
"There are thousands like me in Iraq. Or even worse than me. So many innocent people killed."
His first stroke of "luck" came in the form of a hospital nurse, Karem.
"All the doctors were running away, but he stayed. He brought me food, paid for cream and bandages for my burns with his own money."
Then the Western journalists came. Of all the images flooding in from Iraq, it was his photo and not that of another child that caught the eye of the picture editors, and the imagination of the British public.
There was an outpouring of sympathy, a successful campaign to bring "Orphan Ali" to the UK for proper treatment.
At one charity event, he even got to meet Tony Blair.
"His wife did most of the talking. I just said 'Hi'. I didn't know much then. I think I was about 14, still a kid."
He's not a kid any more. Ali Abbas is a 25-year-old man now. And on the eve of Sir John Chilcot finally delivering his report into the Iraq War, Mr Abbas knows exactly what he would want to ask Tony Blair.
"I would want to know from him whether he regrets what he has done. I would want him to tell me why he did it."
How the British media covered the Iraq War
Show all 6
And yes, "Of course I am angry. I have to blame them [Bush and Blair]. They should not have gone to war. They
n. I have lost my arms, my parents my brother. And you can see what is happening to my country."
Mr Blair, of course, has declared: "I find it hard to apologise for removing Saddam."
Although Mr Abbas points out: "They took away one Saddam Hussein and gave us many, many Saddam Husseins: killers, and also the corruption, because Iraq is so corrupt now.
"I didn't like Saddam. He was a dictator. But now the situation is probably worse. Lots and lots of people are still being killed. My country is gone, destroyed."
Destroyed, in fact, to the point that he worries he might lose the family members who remain – and not just because of incidents like Sunday's double suicide bomb attack in Baghdad that is now thought to have killed at least 215 people.
Mr Abbas' stepbrother Hamza, 24, by his father's first wife, is now a soldier in the Iraqi army fighting – 13 years after an invasion that was supposed to "liberate" his country and make it safe from Al-Qaeda terrorism – against the even more extreme Isis.
A cousin is an army commander. Mr Abbas visited them both in Tikrit in January. He's proud to show the video of him using his foot to trigger a heavy weapon and send an artillery round towards Isis positions.
Ali Abbas shown firing a rocket at Isis militants
"It will take time," he says grimly. "Lots of people in the Iraqi Army will die, but let's hope we can push Isis out of Iraq."
But he admits: "In November we went three weeks without hearing from my brother and cousin. There was no communication. We thought they had been killed. Of course I fear for them."
As for him, safe in England – reality hasn't delivered the unblemished happy ending.
A charity was able to look after him until he was 18, providing carers. Now his south west London council provides a helper for only five hours a day – not enough, he says, for someone who has lost his arms and still needs help to wash his face or use the toilet:
"I can't always ask my friends to do favours for me."
Without the war "I would still be with my family, in Iraq, enjoying my life." As it is, he took British citizenship in 2010.
He wants to work, ideally for a charity "so I can help other people." Nearly every interviewer – and there have been a few since 2003 – comments on his spirit and optimism.
He talks with undisguised enthusiasm about the British: "really good people."
But.
"Of course, you will find bad people everywhere."
"Britain has changed in the last couple of years," he says, "Because of what they hear about Isis. They are always thinking Muslims when they speak about Isis. But 99 per cent of Isis' victims are Muslim. People here need to know that Isis are not Muslims. They have nothing to do with my religion."
There is, unfortunately, a reason for such forthrightness. He talks about what happened when he returned to London on the Eurostar from Brussels on April 18, with his Iraqi-born friend Ahmed Hamza, who like him had grown up in England after losing limbs – a lower leg and a hand – in a Coalition attack.
"I was so happy to come back home," he says, "Because Britain is my home now. But we were the only ones stopped by the security man – because we looked not British.
"This person brought tears into my eyes. He didn't give me any chance to say anything. He took our British passports and said 'Why don't you go back to your country? Why are you living here?'"
The irony of asking this of a man maimed in a war Britain helped start was, Mr Abbas says, seemingly lost on the border security man.
"He could clearly see I had no arms. He was shaking his head as he looked at my passport. He said: 'It's a British Government decision, but I'm not happy with it.'
"I was so upset, so shocked."
The Home Office said that neither it nor the UK Border Force have received a formal complaint about the incident.
Mr Abbas awaits the verdict of Sir John Chilcot into the Iraq war.
His opinion is nuanced, despite the anger.
"Certainly Bush should be tried as a war criminal, but Blair … I am not so sure. Yes, he joined the war, but it was firstly Bush's idea."
At his London home, he is left with the photographs of his dead mother and father.
"They are always on my mind," he says. "Whenever I pray [five times a day] I say a prayer for them."
But as for an apology, from Mr Blair, he is realistic.
"I don't see what an apology will do. It won't bring back my arms, or my parents. Or the loss of my country."
Join our commenting forum
Join thought-provoking conversations, follow other Independent readers and see their replies