Chilcot report: Tony Blair could be sued for 'every penny' by families of soldiers killed in Iraq War
'Chilcot gives us a lot of threads to pursue and those threads make a powerful rope to catch him'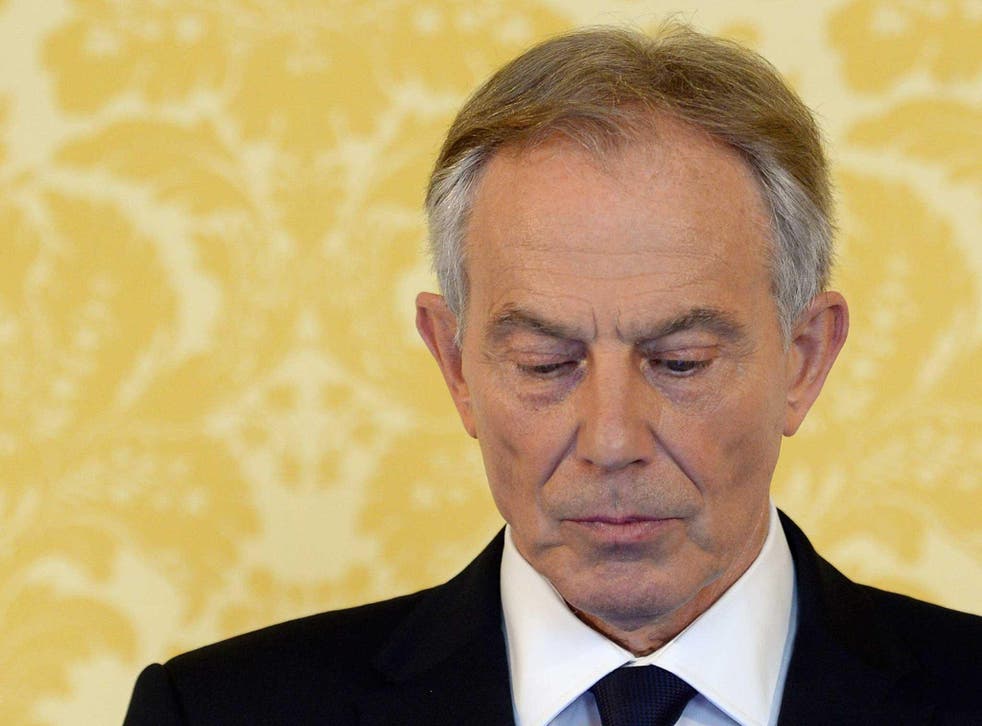 The families of soldiers killed in Iraq have vowed to sue Tony Blair for "every penny".
The former prime minister could face a civil lawsuit over allegations the abused his power to take the country to war following the publication of the Chilcot report on Wednesday.
Sir John Chilcot concluded that Mr Blair had overstated the case for military action in March 2003 as there was "no imminent threat" posed by Saddam Hussein and it was not the "last resort".
He also said the planning for the post-war clean up was "inadequate" and said there was not strong enough evidence to suggest Hussein had weapons of mass destruction (WMDs).
He stopped short of declaring the war illegal but a source close to the families told the Daily Telegraph said the report provided legal grounds for the lawsuit.
The source said: "It gives us a lot of threads to pursue and those threads make a powerful rope to catch him".
They said the lawyers would have to show Mr Blair had "acted in excess of his powers" and in doing so "harm has been caused and that the harm could have been predicted" to win.
Families on Chilcot Inquiry
The families of 29 soldiers are said to have employed the services of the McCue and Partners law firm with others expected to follow.
A total of 179 British servicemen and women died while fighting in Iraq between 2003 and 2011.
Mr Blair has earned an estimated £60m fortune since leaving Downing Street in 2007 through speaking tours, writing books and working as a strategic advisor to private companies and foreign governments.
In pictures: Families of Iraq War victims react to Chilcot report

Show all 10
Reg Keys, whose son was killed in Iraq in 2003, told the Telegraph: "Tony Blair has made a lot of money from public office which I believe he misused.
"He misused the powers of that office and has gone on to make a lot of money after leaving that office, a lot of it from the contacts he made while in Downing Street."
The International Criminal Court (ICC) has already said it will not pursue war crimes charges against Mr Blair because prosecuting "wars of aggression" was beyond their remit in 2003 - despite the urging of the soldiers' families.
At a press conference following the publication Sarah O'Connor, whose brother Sergeant Bob O'Connor was killed in Iraq in 2005, called Mr Blair "the world's worst terrorist".
A former Director of Public Prosecutions, Lord Ken Macdonald, said Mr Blair could be prosecuted for misconduct in a public office as it "seemed very likely" he had "rounded abused the trust placed in him by the public".
Mr Blair defended himself from criticism during a two-hour press conference on Wednesday saying the report showed he hadn't lied, hadn't used intelligence improperly and denied that telling George W Bush he was "with him, whatever" was a secret commitment to war at any costs.
The Independent has contacted Mr Blair for comment.
Register for free to continue reading
Registration is a free and easy way to support our truly independent journalism
By registering, you will also enjoy limited access to Premium articles, exclusive newsletters, commenting, and virtual events with our leading journalists
Already have an account? sign in
Register for free to continue reading
Registration is a free and easy way to support our truly independent journalism
By registering, you will also enjoy limited access to Premium articles, exclusive newsletters, commenting, and virtual events with our leading journalists
Already have an account? sign in
Join our new commenting forum
Join thought-provoking conversations, follow other Independent readers and see their replies