Child poverty falls, but targets set to change
Minister accused of 'moving the goalposts' with plans to redefine poverty measures
Andrew Grice
Friday 15 June 2012 00:33 Comments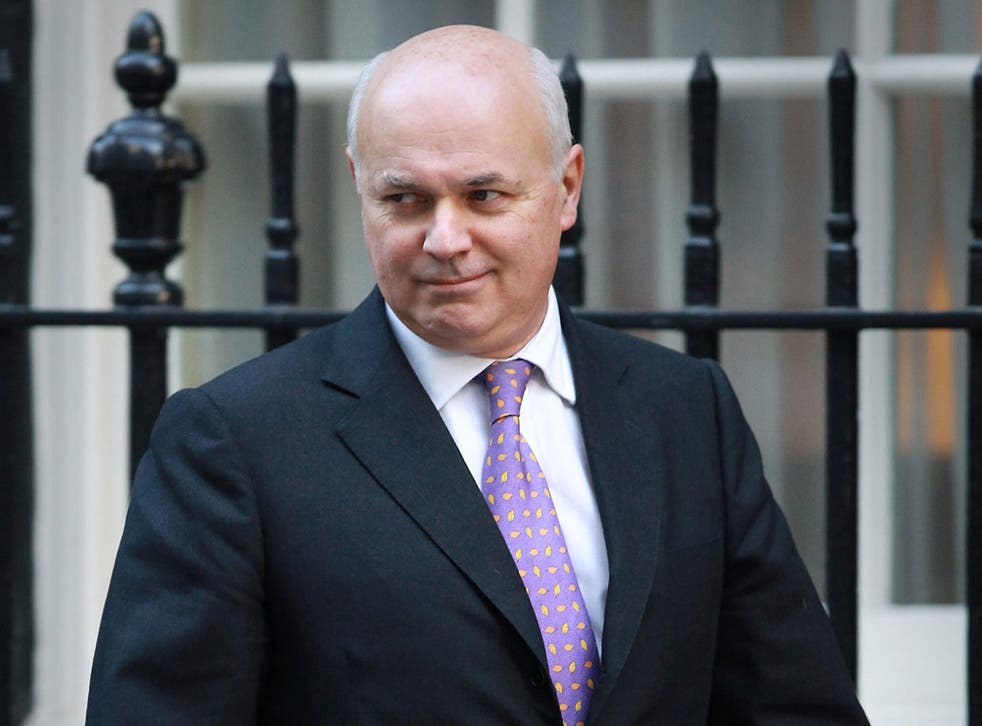 The Government has no hope of meeting its targets to abolish child poverty independent experts warned yesterday, as ministers announced a controversial plan to change the way the number of poor families is measured.
Iain Duncan Smith, the Work and Pensions Secretary, was accused of "moving the goalposts" in a bid to hide the Coalition's expected failure to meet its goal to eliminate child poverty by 2020.
The Coalition has cut the tax credits on which the previous Labour government spent £150bn between 2004-10. The Institute for Fiscal Studies think tank said the Coalition is now "in the position of having a target looming in just eight years, without policies which are likely to transform the distribution of income anywhere near radically enough over that kind of timescale".
Mr Duncan Smith announced plans to scrap the way poverty has been defined since the 1970s – below 60 per cent of the median income. He argued that it would be better to tackle poverty "at source" and to take account of other factors such as drug addiction, worklessness, welfare dependency, debt and family breakdown.
The Work and Pensions Secretary pointed to the latest figures released yesterday to 2010-11, which showed that poverty fell because median incomes dropped in the recession.
Although Labour reduced the number of children in relative poverty from 3.4 million to 2.3 million during its 13 years in power, Mr Duncan Smith claimed its approach had failed, saying it missed its target to halve it by 600,000 by 2010 .
Arguing that work is "the best route out of poverty," he said a new benefit system next year could lift 350,000 children and 550,000 adults out of poverty by improving work incentives.
But Alison Garnham, Child Poverty Action Group chief executive, said: "By measuring whether the poor are getting poorer compared to the rest of society, the relative income poverty measure is the single best indicator of whether 'we're all in it together'. It would be shameful if the Coalition's approach on child poverty was moving the goalposts rather than tackling the problem."
Labour accused David Cameron of reneging on his 2010 election pledges.
Liam Byrne, the shadow Work and Pensions Secretary, said: "This government has decided that the best way to tackle the problem of child poverty is to run away from it. Iain Duncan Smith's response is to tell hard-pressed families to simply get a new job, but there are five people chasing every vacancy."
Yesterday's figures showed that 9.8 million people, 16 per cent of the population, were in households with incomes below the poverty line in 2010-11, rising to more than a fifth (21 per cent) or 13 million people, after housing costs were included.
Register for free to continue reading
Registration is a free and easy way to support our truly independent journalism
By registering, you will also enjoy limited access to Premium articles, exclusive newsletters, commenting, and virtual events with our leading journalists
Already have an account? sign in
Register for free to continue reading
Registration is a free and easy way to support our truly independent journalism
By registering, you will also enjoy limited access to Premium articles, exclusive newsletters, commenting, and virtual events with our leading journalists
Already have an account? sign in
Join our new commenting forum
Join thought-provoking conversations, follow other Independent readers and see their replies