China state visit: NGOs and campaigners tell David Cameron to address human rights issue in open letter
NGOs and campaigners led by Amnesty International UK have called on the Prime Minister to address 'grave concerns'
Jamie Merrill
Monday 19 October 2015 18:42 Comments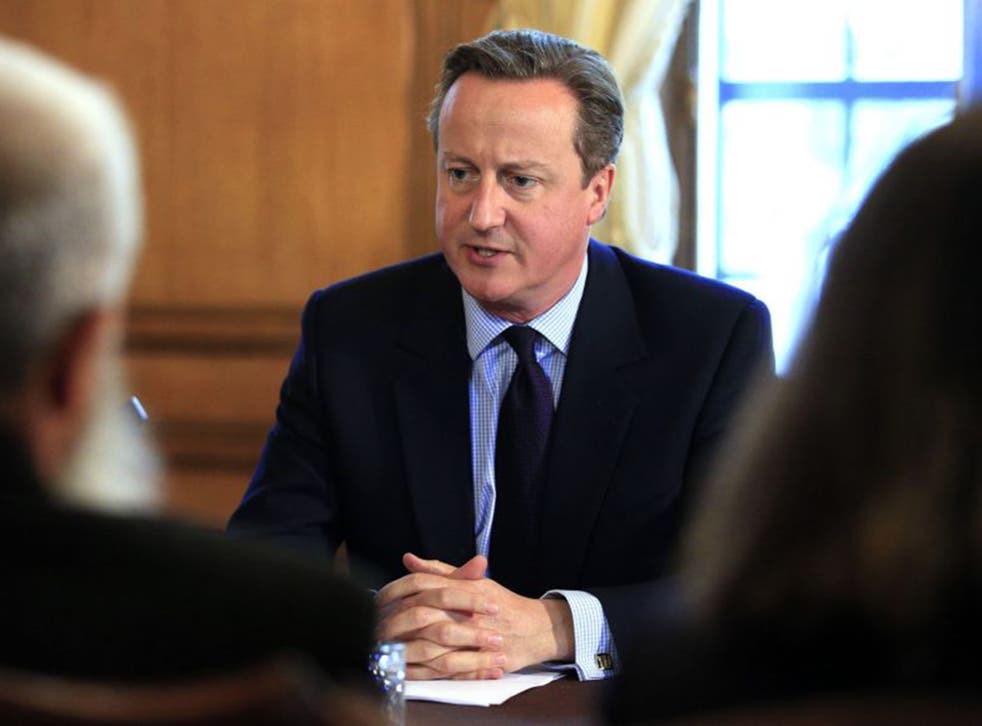 There is mounting pressure on David Cameron to discuss Chinese human rights violations in a "principled, forceful, and specific way" during this week's state visit, as the Prime Minister's official spokeswoman hits back at claims that ministers are "kowtowing" to Communist leaders.
In an open letter, published below, NGOs and campaigners led by Amnesty International UK have called on the Prime Minister to address "grave concerns" over the detention of human rights lawyers, repression of ethnic minorities and a crackdown on freedom of worship.
The letter, which is signed by Amnesty International UK, the Tibet Society and Tibet Relief Fund, Christian Solidarity Worldwide, Students for a Free Tibet, Uighur activists and other Tibetan and human rights organisations, accuses the Chinese government of "parading" detained lawyers on television as part of a major attack on civil society.
Downing Street have pledged that "nothing would be off the table" when Cameron welcomes Chinese President Xi Jinping amid accusations that ministers are playing down worries about the Beijing government.
The Prime Minister's official spokeswoman insisted that China's record on human rights and claims it initiated cyber-attacks on other countries would be on the agenda during detailed talks this week. The Prime Minister has also pledged to personally raise the issue of subsided Chinese steel during talks with the Chinese leader.
The Prime Minister's spokeswoman said Britain's approach was to develop a "relationship based on constructive engagement" which enables minister to speak to their Chinese counterparts "frankly and with mutual respect".
Meanwhile the Duke of Cambridge used a recorded an address on Chinese state television to call on China to become a "global leader" in wildlife protection. He said the country had the power to "turn the tide of extinction" and help combat the illegal ivory trade.
China has traditionally been the world's largest market for ivory, tiger body parts and rhino horn, which are used in ornaments and traditional medicine. Prince William said he wanted to connect with younger Chinese people. He said: "If we buy illegal wildlife products, we are contributing to the extinction of a whole species."
An edited version of the letter
Dear Prime Minister,
As organisations that are working to improve human rights in China and around the world, we are writing to you regarding the state visit by President Xi Jinping on October 20-23, 2015. We are deeply concerned with the continuing deterioration of human rights since President Xi Jinping came into office in 2012. We urge you to speak out on human rights in a principled, forceful, and specific way – in both public and private.
President Xi Jinping has committed his administration to comprehensively promoting the "rule of law", which is even one part of his signature governance platform known as the "Four Comprehensives". However, to name just one example, his administration has launched an unprecedented attack on the legal profession that is not in any way compatible with the spirit of promoting the "rule of law".
On 9 July the Ministry of Public Security launched a nationwide operation to target and detain lawyers and activists. As of 16 October, at least 248 individuals have been targeted, with 29 still under police custody. Most worryingly, seven lawyers and five activists have been placed under "residential surveillance in a designated place", a process in which police are allowed to hold criminal suspects for up to six months outside of the formal detention system. This practice, in which numerous cases of torture and other forms of ill-treatment have been reported over the years, can amount to enforced disappearance, a violation of international law.
World news in pictures

Show all 50
During President Xi Jinping's time in office, the already limited space for civil society has been shrinking even further. Since 2012, at least 450 people have been the victims of four major coordinated campaigns against civil society: the arrests of the core members of the New Citizen's Movement, a loose network of activists dedicated to the principles of Constitutionalism, government transparency and civic responsibility; the targeting and detention of activists commemorating the 25th anniversary of the Tiananmen Square crackdown in 2014; the detention of activists showing support for the pro-democracy protests in Hong Kong in 2014; and the crackdown on lawyers and activists in the summer of 2015.
We also have grave concerns about the situation for ethnic minorities and religious practitioners. The government's draft Anti-Terrorism Law defines "terrorism" and "extremism" very broadly, and the law would regard "misrepresenting or insulting state policies, laws, administrative regulations" as a form of "extremist conduct". Similarly, anyone suspected of "terrorist" activities could also see their freedom of movement severely restricted, and be subjected to so-called "education" measures or other forms of arbitrary detention. The law provides no redress mechanism for individuals who have been subjected to forms of arbitrary detention on suspicion of "extremism" or "terrorism".
Please tell President Xi Jinping of the commitment that your government has made to promoting Freedom of Religion and Belief and urge him to respect all human rights in ethnic minority areas, stop the cross removal campaign in Zhejiang, and ensure that freedom of religion is fully respected in China.
We appreciate that over the years your government has raised human rights with Chinese leaders and engaged in human rights dialogues with your Chinese counterparts. However, we are concerned that recent statements made by Sir Simon McDonald, Permanent Under-Secretary to the FCO state that human rights are not as high a priority as 'prosperity' . Our organisations find this deeply worrying and whilst we recognise the legitimate pursuit of economic ties, this must not come at the expense of human rights.
We therefore urge you to demonstrate your government's commitment to human rights and we urge you to raise the above issues with President Xi Jinping when you meet with him.
Yours sincerely,
Kate Allen, Director, Amnesty International UK
Philippa Carrick, CEO, Tibet Society and Tibet Relief Fund
Chloe Sanders, East Asia Advocacy Officer, Christian Solidarity Worldwide
Padma Dolma, Europe and Campaigns Director, Students for a Free Tibet
Tsering Passang, Chairman, Tibetan Community in Britain
Rahima Mahmut, Uighur activist
Kate Saunders, Communications Director, International Campaign for Tibet
Register for free to continue reading
Registration is a free and easy way to support our truly independent journalism
By registering, you will also enjoy limited access to Premium articles, exclusive newsletters, commenting, and virtual events with our leading journalists
Already have an account? sign in
Join our new commenting forum
Join thought-provoking conversations, follow other Independent readers and see their replies