Chinese state media praises George Osborne for ignoring the country's human rights abuses
The Chancellor courted the one-party state in a recent visit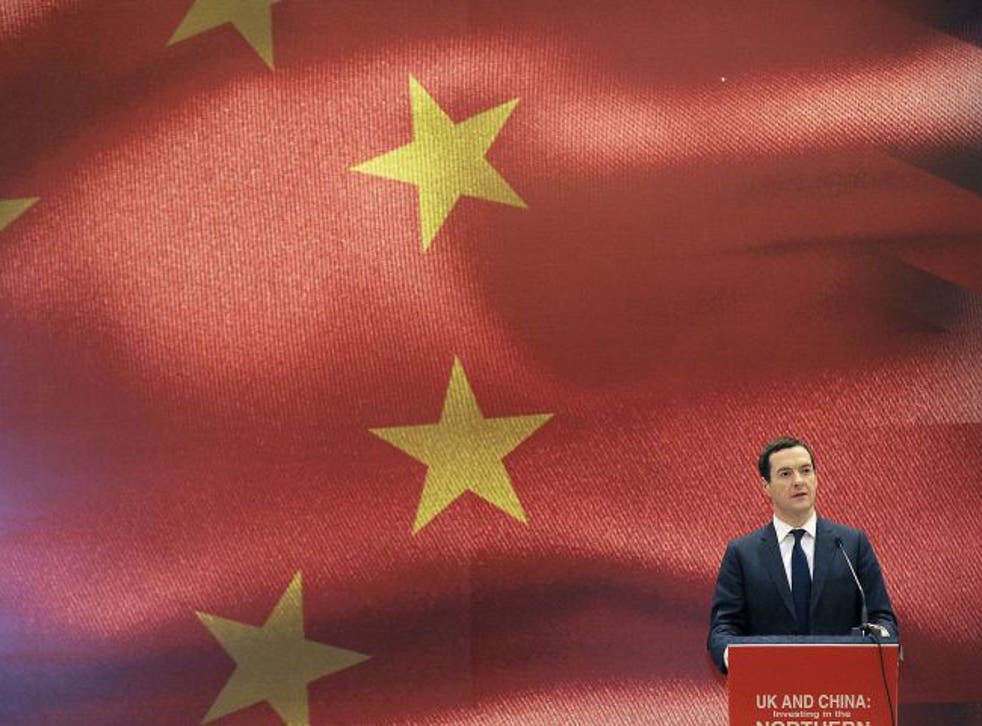 Chinese state media has praised George Osborne for downplaying the country's human rights abuses on his visit there this week.
During his trip to promote investment opportunities in the UK to China the Chancellor downplayed the country's lack of democracy and human rights abuses as a "different political system."
He argued that Britain could still be the one-party dictatorship's "best partner in the West" despite its record of torture, ethnic persecution, and restricting freedom of the press.
An edition of the Chinese Communist Party's official newspaper released on Friday said Mr Osborne was right not to question China.
"Keeping a modest manner is the correct attitude for a foreign minister visiting China to seek business opportunities," the Global Times newspaper wrote in an editorial, according to the BBC's foreign-language media monitoring service.
"Some Westerners believe their officials should behave like a master of human rights to show their superiority over China and the East.
"It should be diplomatic etiquette for foreign leaders not to confront China by raising the human rights issue."
The Global Times is the international-focused edition of the People's Daily, the official newspaper of the Chinese Communist Party.
The People's Daily group's editorial stance tends to reflect the stances of the Chinese government. It is an official organ of the party.
China is regularly criticised for its restrictions on freedom, use of torture, lack of democracy, and imprisonment of critics.
"China remains an authoritarian state, one that systematically curbs fundamental rights, including freedom of expression, association, assembly, and religion, when their exercise is perceived to threaten one-party rule," Human Rights Watch's 2015 annual report on the country says.
The organisation says the current administration has made some limited positive steps certain areas but have also "unleashed an extraordinary assault on basic human rights and their defenders with a ferocity unseen in recent years".
Amnesty International says that in China: "The authorities continued to severely restrict the right to freedom of expression.
"Activists and human rights defenders risked harassment and arbitrary detention. Torture and other ill-treatment remained widespread and access to justice was elusive for many.
"Ethnic minorities including Tibetans, Uighurs and Mongolians faced discrimination and increased security crackdown. Record numbers of workers went on strike demanding better pay and conditions."
Kate Allen the director of Amnesty UK, told the Independent: "Mr Osborne might have won praise from Chinese state media for his 'modest manner' over his criticism of human rights in the country, but what of the victims of China's human rights crackdown? I am sure they won't be so quick to praise how restrained he has been.
In pictures: Hong Kong democracy protest 2014

Show all 32
"What of the 245 lawyers and activists targeted in an unprecedented nationwide campaign to silence criticism this year?
"At least 30 of the lawyers rounded up, remain 'missing' or are in police custody facing lengthy sentences.
"Those lawyers were targeted because they dared to challenge the state, the least they can expect is for senior visiting politicians to do the same, on their behalf."
A third of all journalists imprisoned in the world at held in China, according to the Committee to Protect Journalists.
In one recent high-profile case Chinese journalists were forced to "confess" live on television to causing a stock market crash by reporting market movements.
The Chancellor says cosying up to China can help Britain's economy.
In a speech at the Shanghai Stock Exchange Mr Osborne said: "I believe our two countries are perfectly positioned to be partners in growth. Britain can be China's best partner in the West."
Register for free to continue reading
Registration is a free and easy way to support our truly independent journalism
By registering, you will also enjoy limited access to Premium articles, exclusive newsletters, commenting, and virtual events with our leading journalists
Already have an account? sign in
Register for free to continue reading
Registration is a free and easy way to support our truly independent journalism
By registering, you will also enjoy limited access to Premium articles, exclusive newsletters, commenting, and virtual events with our leading journalists
Already have an account? sign in
Join our new commenting forum
Join thought-provoking conversations, follow other Independent readers and see their replies