Chris Bryant tells Tory minister to 'grow up' for calling Jeremy Corbyn a 'threat to national security'
John Hayes, the security minister, cited the Labour leader's stance on Nato and Trident
Lizzie Dearden
Wednesday 21 October 2015 18:05 Comments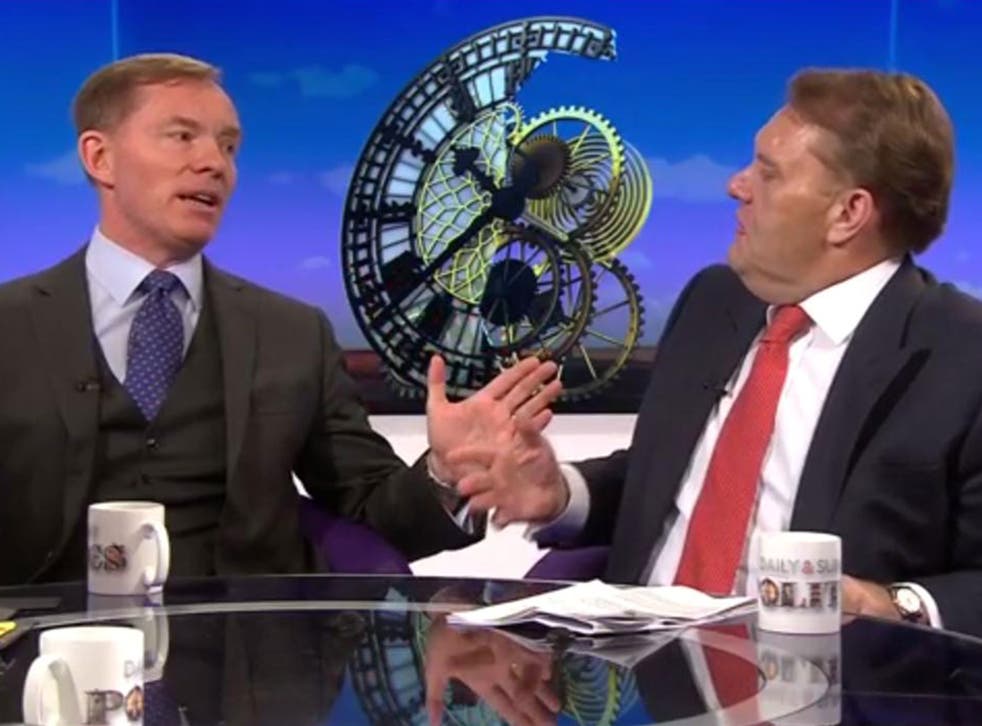 Chris Bryant repeatedly told the Conservative security minister to "grow up" after he accused Jeremy Corbyn of being a "threat to national security" today.
John Hayes seized the opportunity to criticise the Labour leader as he discussed security service powers with Mr Bryant on Daily Politics.
"The truth of the matter is you've now got a leader that is a threat to our national security because he's against Nato, he's against Trident and he's against every single security measure," said Mr Hayes said.
Mr Bryant, the shadow Commons leader, swiftly interjected saying: "Oh grow up. Really John, just grow up. John, grow up. You're a better man than that. You're a far, far better man than that."
As the heated exchange simmered down, presenter Andrew Neil gave Mr Hayes a telling off.
"I was about to come back and ask a specific question to find out more about Mr Corbyn's position but because you decided to move on to Nato and extraneous matters that had nothing to do with our conversation, I've run out of time," he said.
"So sometimes, you can be your own worst enemy on these matters."
Mr Bryant turned down a position as Mr Corbyn's shadow Defence Secretary, citing major policy differences.
The Tories have used Mr Corbyn's stance on interventionist conflicts to attack him repeatedly in the past, with statements from both David Cameron and Michael Fallon, the Defence Secretary, using the "threat to national security" line in the aftermath of his election.
A press release immediately released from the Conservative Party's headquarters said Labour had been turned into a "serious risk to our nation's security, our economy's security and your family's security" and gave a 23-point list of Mr Corbyn's past statements for criticism.
"We cannot let that man inflict his security-threatening, terrorist-sympathising, Britain-hating ideology on the country we love," the Prime Minister told his party's conference earlier this month.
A spokesperson for Mr Corbyn said the speech merely showed that the Tories were "rattled".
Register for free to continue reading
Registration is a free and easy way to support our truly independent journalism
By registering, you will also enjoy limited access to Premium articles, exclusive newsletters, commenting, and virtual events with our leading journalists
Already have an account? sign in
Join our new commenting forum
Join thought-provoking conversations, follow other Independent readers and see their replies