Church branded 'hypocritical' after it calls on employers to pay Living Wage
Staff in the seat of Archbishop of Canterbury Justin Welby are paid as low as £6.50 per hour
Jamie Campbell
Monday 23 February 2015 12:27 Comments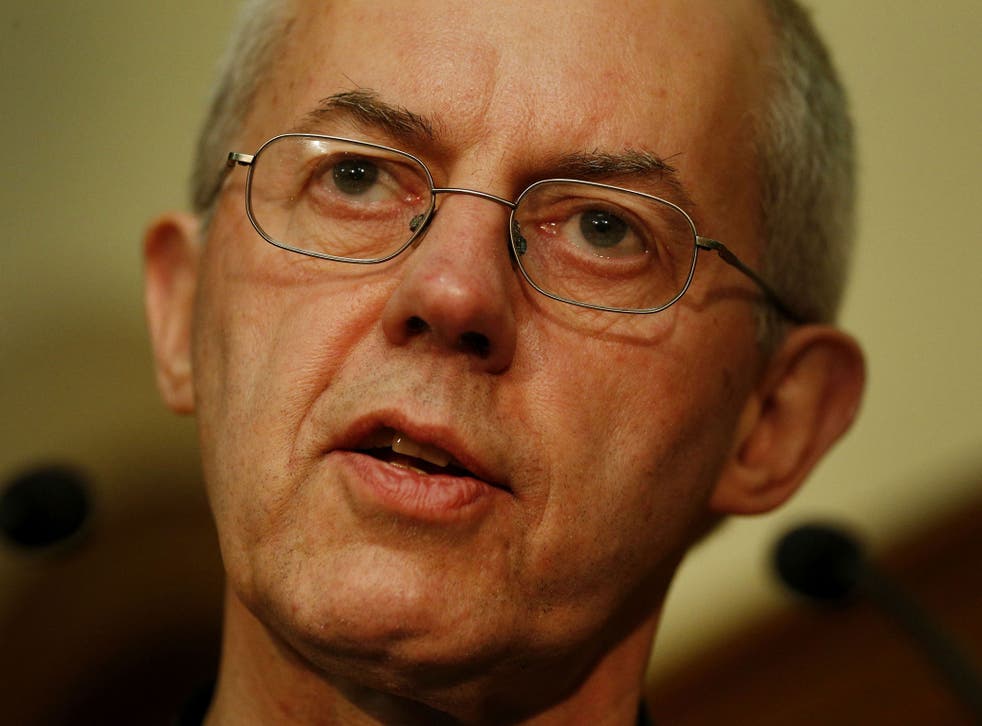 The Church of England is facing accusations of hypocrisy after demanding that employers pay staff at least the living wage whilst paying members of its own staff significantly less.
The Living Wage, calculated from the basic cost of UK life, is currently £7.85 an hour outside London.
It has emerged that a church job, as a member of the "waiting on –staff" at Lichfield Cathedral was advertised at £6.50 an hour, the current national minimum wage. According to the Sun, Canterbury Cathedral advertised for two kiosk assistants to be paid £6.70.
Another job advertised was for a kitchen porter at Canterbury Cathedral who would be paid £7.75.
Bishops last week wrote an open letter urging employers to pay £7.85 an hour so that people could "live decently."
It further stated that the living wage "represents the basic principle that people are not commodities and that their lives cannot adapt infinitely in response to market pressures".
Speaking to business leaders in Birmingham earlier today, Archbishop Welby said that the Church of England had been clear the "move towards" having the Living Wage paid across all parishes, cathedrals and diocese was a gradual process.
He said: "It's embarrassing, of course, I won't say otherwise.
"But in the light of transparency, which I welcome, I will say we are a complex institution and every parish church and cathedral is an independent charity, as is every diocese.
"I'm not very keen on centralised control where, from far away, you tell people what to do"
He said change to a living wage would come "gradually" because each of the independent charities lacked the resources to move more quickly.
"As a charity they have to do that gradually," he said.
"You'll see that - and you'll see the accusations of hypocrisy, but make up your own minds."
A source close to Work and Pensions Secretary Iain Duncan Smith told the Sun: "They should practice what they preach. It is hypocritical of them to admonish others when they don't be able to keep their own house in order."
More reading
Conservative MP Charlie Elphicke said: "It's astonishing that the Church of England can call for the Living Wage by employers but don't pay it themselves."
A statement by the church said that they were "grateful to the Sun and other for highlighting the sound principles behind the living wage and for enabling us to reiterate our own commitment and hope for to be paid to all people in work."
Rhys Moore, director of the Living Wage Foundation said: "We have been pleased to accredit many churches, including both Manchester and St. Paul's cathedrals, and faith based organisations as Living Wage employers.
"We continue to work with the Church of England and others to roll out the voluntary scheme as widely as possible across UK businesses and third sector organisations wherever possible."
The letter, published in the name of CofE's 51-member House of Bishops, was meant to counter the message, promoted by Russell Brand, that taking part in politics is useless. The church had previously spoken of how they are worried that Brand's "sex appeal" might deter voters.
The letter further calls for continued membership, a re-think of nuclear deterrent, and the end of the first-past-the post voting system.
Register for free to continue reading
Registration is a free and easy way to support our truly independent journalism
By registering, you will also enjoy limited access to Premium articles, exclusive newsletters, commenting, and virtual events with our leading journalists
Already have an account? sign in
Join our new commenting forum
Join thought-provoking conversations, follow other Independent readers and see their replies