CIA wins fight to keep MPs in dark on rendition
Court keeps UK role secret – as No 10 calls for police to question Labour ministers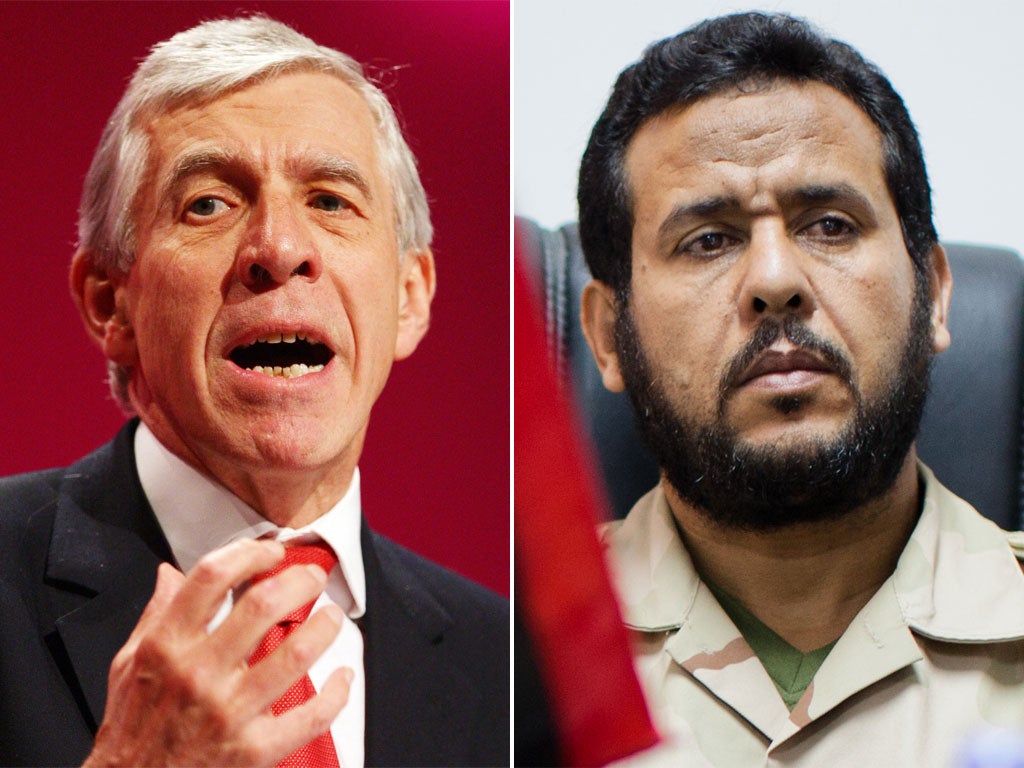 American intelligence agencies including the CIA and the FBI have won a court ruling allowing them to withhold evidence from British MPs about suspected UK involvement in "extraordinary rendition" – the secret arrests and alleged torture of terror suspects.
A judge in Washington DC granted permission for key US intelligence bodies, including the highly sensitive National Security Agency, to exploit a loophole in US freedom of information legislation which bars the release of documentation to any body representing a foreign government.
Downing Street underlined the gravity of the torture claims yesterday when it urged police to interview former Labour ministers as part of an investigation into the alleged rendition and torture of a Libyan critic of Muammar Gaddafi. Jack Straw, who was Foreign Secretary at the time and is expected to be interviewed by detectives, denies any complicity in rendition – as have his successors at the Foreign Office. Whitehall officials have made clear that the intelligence services believe their operations "were in line with ministerially authorised government policy".
The CIA's court victory over British MPs came after the All-Party Parliamentary Group on Extraordinary Rendition – which comprises about 50 backbench MPs and peers – submitted a slew of information requests to US intelligence agencies as part of its investigations into the extent of British complicity in rendition and torture. The US agencies were trying to avoid official embarrassment on both sides of the Atlantic by using a narrow legal exemption to prevent the disclosure of critical papers, said Tony Lloyd, a Labour MP and the vice-chairman of the group. He called the judgment "disappointing".
The Americans' success in resisting the MPs' inquiries will fuel the controversy over the cover-up of the role said to have been played by British intelligence operatives in spiriting away fugitives and suspects with ministerial approval to secret jails and authoritarian regimes, in particular to Muammar Gaddafi's Libya.
Files discovered by The Independent last summer in the abandoned Tripoli offices of Gaddafi's intelligence chief showed a close working relationship with Britain. Claims also emerged this week that British agents initiated the extraordinary rendition of a Libyan couple, Fatima Bouchar and Abdelhakim Belhaj, to Tripoli, where they were imprisoned and, in the case of Mr Belhaj, allegedly tortured. A letter from Sir Mark Allen, then head of counter-terrorism at MI6, to Moussa Koussa, the head of Libyan intelligence, said: "The intelligence about Abu'Abd Allah [a nom de guerre for Mr Belhaj] was British."
MPs investigating the rendition scandal, led by Tory backbencher Andrew Tyrie, requested information in 2008 from America's spy agencies on 43 separate topics. These "focused on various aspects of the US and the UK's involvement in extraordinary rendition, secret detention, coercive interrogation of suspected terrorists and the sources of information about alleged terrorist plots", according to court documents.
The requests, drafted by Mr Tyrie's office, included details on the "identity, location and treatment" of detainees. Later, MPs also cited a statement from David Miliband when he was Foreign Secretary, in which he admitted that two rendition flights landed in 2002 on the island of Diego Garcia, the British territory in the Indian Ocean leased as an airbase to the Americans.
Initially, the FBI responded by providing some documents but then, along with bodies including the Department of Homeland Security and the Department of Defence, refused any disclosure and cited a get-out clause in the US freedom of information law which exempts intelligence agencies from disclosing documents to any "non-domestic government entity" or its representatives.
More than two years after MPs submitted their case, a US judge sided with the intelligence agencies and said British parliamentarians were indeed representatives of a foreign government – despite the MPs arguing that they were independent legislators and not members of the executive or Government.
Mr Lloyd told The Independent: "It suggests this material is not really something that affects national security or intelligence, but is being withheld to prevent the embarrassment of officials."
Torture politics: No 10 accuses Labour
Downing Street yesterday urged police to interview former Labour ministers in the investigation into the 2004 rendition and torture of a Libyan critic of Muammar Gaddafi.
Abdelhakim Belhaj is suing the UK Government, security forces, and Sir Mark Allen, a former director at MI6. Jack Straw, who was Foreign Secretary, has denied any complicity in rendition – a denial repeated by later Foreign Office ministers, including David Miliband. The Prime Minister's official spokesman said yesterday police should pursue every angle, including what previous ministers knew about the alleged rendition, and when they learned it.
Asked if police should interview former ministers, he replied: "They need to follow the evidence wherever it takes them."
Asked if ministers should consent to be questioned, he said: "The police should follow the evidence wherever it takes them and they should be allowed to do that."
Nigel Morris
France: Sarkozy's spies helped Gaddafi kill dissidents
Nicolas Sarkozy authorised a purge of Libyans living in France who opposed Colonel Gaddafi, it has emerged.
Previously unpublished documents show that French secret agents regularly spied on dissidents, and passed on information which led to them being captured and killed.
This all took place while the French President was still calling Gaddafi the "Brother Leader" and treating him as an honoured guest in Paris.
The damning revelations are contained in 5,600 pages of notes uncovered in archives in Sabah, in the south of Libya.
Jomode Elie Getty, a Libyan living in France, said he found a report dated 13 June 2007 that proved a surveillance operation had been organised against him and other dissidents by France's secret service.
Another intelligence report, filed just before Gaddafi arrived on a state visit to France a few months later, read that it was necessary to "listen to contacts, to identify them and track them down" and to "prevent anti-Libyan acts". The operation was co-ordinated by loyal Gaddafi lieutenant Bashir Saleh who, intriguingly, was "rescued" by the French during the rebellion and is now under 24-hour protection in Paris.
Mr Getty's claims appear to be supported by documents from Libya published by the French investigative website Mediapart. He said numerous anti-Gaddafi protesters were arrested and killed following the 2007 surveillance, which was, "like something carried out by the Stasi", the notorious Communist security organisation in the old East Germany. He said he now intended to take Sarkozy to court, along with his Interior Minister Claude Guéant, accusing them of illegal surveillance.
As France's head of state, Mr Sarkozy cannot be prosecuted while in office.
The Élysée Palace would not comment on yesterday's revelations.
Nabila Ramdani
Join our commenting forum
Join thought-provoking conversations, follow other Independent readers and see their replies