Clegg proposes way to end 'big money' political donations
Andrew Grice
Tuesday 03 April 2012 23:18 Comments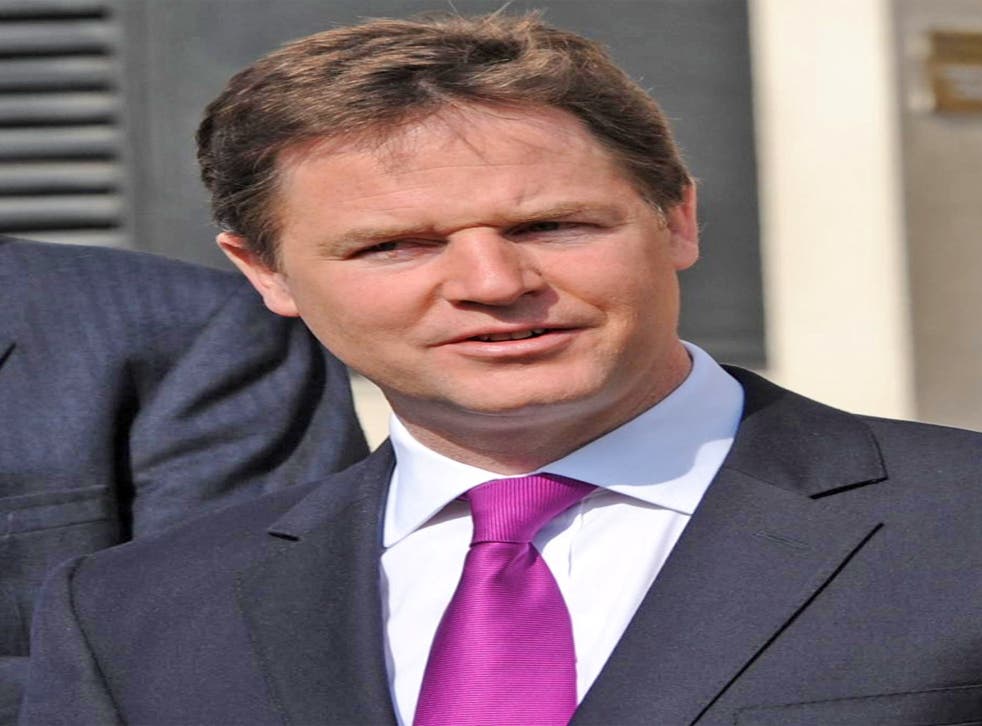 Political parties would be compensated with public money if they accept a cap on individual donations under a plan to be discussed in cross-party talks.
Nick Clegg wants to reallocate some of the estimated £75m of taxpayers' money already handed to parties over a five-year parliament in order to take "big money" donations out of politics and end the perception they buy influence. The subsidy for "free" party political broadcasts could also be axed, which could see them scaled back or even ended.
The Deputy Prime Minister, whose responsibilities include party funding, believes the recent cash-for-access scandal which engulfed David Cameron and Labour's heavy dependence on trade union donations have improved the prospects of reaching a new deal. He will warn Mr Cameron and Ed Miliband they would pay a political price if their parties walk away from an agreement when the three parties start negotiations next week.
Mr Clegg argues that there is no need for another inquiry into funding because there is already an outline deal on the table – last November's report by the Committee on Standards in Public Life, chaired by Sir Christopher Kelly. It proposed a £10,000-a-year cap on donations – much lower than the £50,000 annual ceiling favoured by the Conservatives – and that union members would have to "opt in" to paying affiliation fees to Labour rather than "opt out" as at present.
The Liberal Democrat leader believes a ceiling on donations could be coupled with a cut in the £19m spending limit for each party in the 12 months before a general election.
Mr Clegg will reject one proposal in the Kelly report – giving parties £23m a year of extra state funding to compensate them for income lost through the cap. He wants the parties to rule out taking any more taxpayers' money before the 2015 election, believing this would fail to win public support in an "age of austerity". But he believes most voters are unaware that the parties already receive millions in state funding and would be open to it being reallocated in order to "clean up" politics.
Free postage for all parties at a general election costs £28m; opposition parties in the Commons and Lords benefit from about £7m in aid and parties share a further £2m in policy development grants. "Free" airtime for party broadcasts is worth an estimated £22m in a non-election year and £85m in an election year. Under Mr Clegg's proposals, some or all of this money could be redirected to cover other costs currently paid for by donations such as running party headquarters, but a formula would have to be thrashed out between the parties.
"This is about political will," one Clegg ally said yesterday. "He is not prejudging the talks and wants everything on the table. But he believes there is a deal to be done and recent events have shown the need to sort it out as a matter of urgency ."
However, big hurdles still remain – not least the long-running divisions between the Conservatives and Labour. Senior Labour figures claim the Tories do not really want a new deal because their wealthy backers give them an advantage under the present system. Tories claim that Mr Miliband's reluctance to reform Labour's links with its union funders are the stumbling block to an agreement.
Register for free to continue reading
Registration is a free and easy way to support our truly independent journalism
By registering, you will also enjoy limited access to Premium articles, exclusive newsletters, commenting, and virtual events with our leading journalists
Already have an account? sign in
Join our new commenting forum
Join thought-provoking conversations, follow other Independent readers and see their replies