Clegg: We will defy anti-gay marriage rebellion
Andrew Grice
Wednesday 18 January 2012 01:00 Comments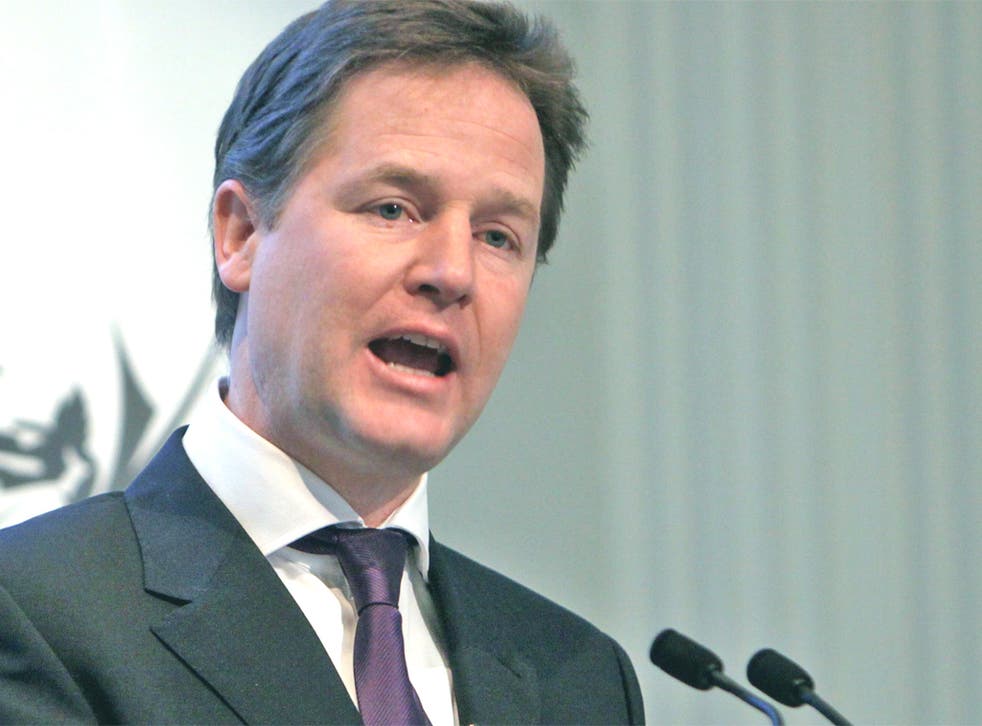 Nick Clegg has pledged the Government will not backslide on its promise to legalise gay marriage despite a revolt by Conservative MPs who oppose the plan.
The Deputy Prime Minister told the Tory rebels that they were wrong to claim that bringing in civil marriage for gays and lesbians would weaken the institution of marriage and said the reform would be driven through Parliament.
Mr Clegg spoke out yesterday after The Independent revealed traditionalist Tory MPs are plotting to derail the proposal in the Commons. Tory insiders believe 100 MPs could oppose it.
The Liberal Democrat leader insisted: "There is absolutely no question of the Coalition Government abandoning our commitment to legalise gay marriage. I wholeheartedly reject the idea that making civil marriage open to same-sex couples somehow devalues the institution of marriage. I would argue the opposite – it makes it stronger." He said Lynne Featherstone, the Lib Dem Equalities Minister, had been driving this agenda and would launch a consultation exercise in March.
Kris Hopkins, an organiser of a new Tory backbench group, 301 Plus, urging a broader agenda beyond issues such as immigration, Europe and law and order, believed the vast majority of Tory MPs would support gay marriage. "It might not be up there on the top 10 issues we are going to talk about but it is a really important issue," he said. "Since 1997, we have gone through a long period of reflection on why we lost. We have had to confront lots of issues and sexuality is a big issue for the party to face up to."
Allies say David Cameron is committed to the proposal. But some Tories fear the rebellion could send out a damaging signal. Chris Bryant, a Labour home affairs spokesman, said: "Just when you thought the Conservative Party has changed, you realise old prejudices are just beneath the surface."
Until civil partnerships were introduced in 2005, gay and lesbian couples had no legal recognition and were often refused basic rights which apply in heterosexual marriages, such as inheriting their home on their partner's death.
Campaigners say that having two forms of partnership implies that same-sex relationships are not as valid, stable or rich as those between a man and a woman.
Register for free to continue reading
Registration is a free and easy way to support our truly independent journalism
By registering, you will also enjoy limited access to Premium articles, exclusive newsletters, commenting, and virtual events with our leading journalists
Already have an account? sign in
Join our new commenting forum
Join thought-provoking conversations, follow other Independent readers and see their replies