Clegg will look 'petulant' unless he backs down, warns Lord Steel
Former Lib Dem leader says the Deputy PM's tactics on Lords reform are a 'mistake'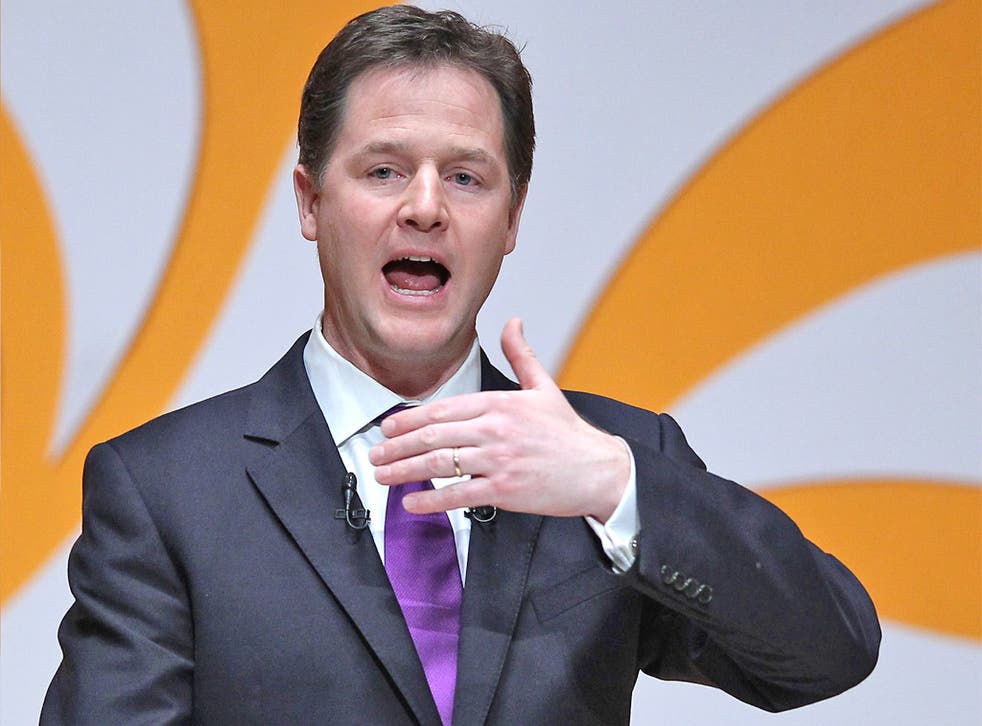 Nick Clegg was last night warned by the former Liberal Democrat leader Lord Steel that he risked looking "petulant" by refusing to back more limited House of Lords reform in the wake of his failure to achieve a democratically elected second chamber.
Amid deep Coalition tensions, the Deputy Prime Minister also came under pressure from David Cameron who insisted he would persist with moves to cut the number of parliamentary constituencies – despite the Liberal Democrats saying they would wreck the plans in response to the Tories blocking Lords reform.
Mr Clegg made clear on Monday he had no intention of supporting what he described as "House of Lords reform-lite" which he dismissed "wheeze" to "dignify an illegitimate house". But in an interview with The Independent, Lord Steel criticised his approach as a "mistake" which would impede attempts to improve the governance of the second chamber. Lord Steel is currently promoting a Bill, already passed by the Lords, which would facilitate a voluntary retirement scheme, remove non-attenders and peers who have been imprisoned. It is due to be debated in the House of Commons in its next session – and with Government support could be strengthened further.
Speaking yesterday, Lord Steel said he was "disappointed" by the Deputy Prime Minister's assertion that this support was unlikely to be forthcoming. "I think it is a mistake to walk away from House of Lords reform altogether because of the failure to ensure an elected second chamber.
"It appears to be sending the message that if I can't get my own way I won't do anything. That is not credible and makes you look petulant. I don't think Nick Clegg is petulant and I hope that he will consider what we can do now, short of elections, to tidy up the mess of the existing system."
Lord Steel added that, if it had Government support, his Bill could go much further. "If the Government were so minded [we could introduce] either a fixed retirement age at the end of each parliament or a fixed 15-year term, either of which would end membership of parliament for life and get the numbers in the Lords down to below the numbers in the Commons. They could also bring an end to entry to parliament by heredity by abandoning the by-elections.
"All of these are obtainable measures with which the Government could fill now available legislative time, rather than walk away from this issue with nothing."
But last night Liberal Democrat sources indicated that they were unlikely to throw their support behind their former leader's suggestions. "David Steel has not won himself many friends by pushing a Bill which he knows is against party policy," said one. "Our position is very clear. We are not interested in perpetuating an unelected, undemocratic second chamber or passing measures that would seem to legitimise that."
Many Tories are livid that Mr Clegg has vowed to oppose redrawing of boundaries in apparent retribution for the demise of the Lords reform plans.
Mr Cameron yesterday threw down a challenge to his Liberal Democrat deputy by signalling his determination to force a Commons vote on redrawing parliamentary boundaries. His insistence means Liberal Democrat ministers will be forced to vote against the moves, highlighting Coalition tensions. But it would also allow the Tories to argue in a future election that the Liberal Democrats sided with Labour out of self-interest to block boundary changes.
Hold on to your seats? MPs threatened by boundary changes
Nadine Dorries (Con, Mid-Bedfordshire)
There would have been few tears shed by Downing Street over the departure of Ms Dorries, the most vocal of Mr Cameron's Tory critics, after her seat vanished.
Danny Alexander (Lib Dem, Inverness, Nairn Badenoch & Strathspey)
The Chief Secretary's vast constituency was to have been absorbed into a vast Highland seat, setting up a battle with former leader Charles Kennedy for the party's nomination.
Priti Patel (Con, Witham)
A rising star of the right, Ms Patel had been facing a search for a new constituency after her Essex seat was set to be merged with Braintree.
Liam Byrne (Lab, Birmingham Hodge Hill)
Birmingham had been due to lose one of its 10 seats – and the former Cabinet minister had looked most likely to be looking for a new berth.
Register for free to continue reading
Registration is a free and easy way to support our truly independent journalism
By registering, you will also enjoy limited access to Premium articles, exclusive newsletters, commenting, and virtual events with our leading journalists
Already have an account? sign in
Register for free to continue reading
Registration is a free and easy way to support our truly independent journalism
By registering, you will also enjoy limited access to Premium articles, exclusive newsletters, commenting, and virtual events with our leading journalists
Already have an account? sign in
Join our new commenting forum
Join thought-provoking conversations, follow other Independent readers and see their replies