Cleggmania spreads across Britain
One sure-footed TV performance, and the Lib Dem leader has transformed the election campaign. Jane Merrick and Brian Brady tell the inside story of how he did it, and ask the key question: could it actually last?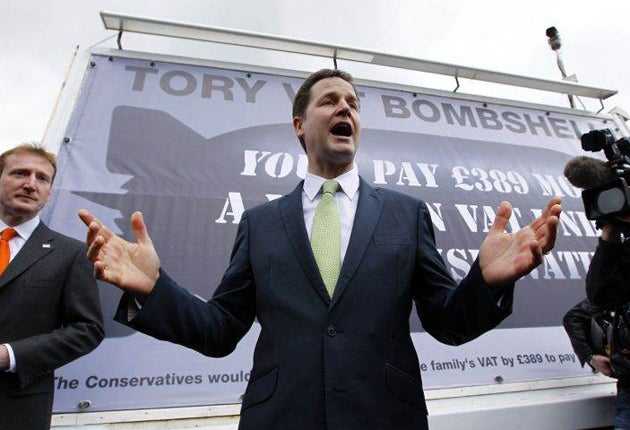 A gigantic cloud of volcanic ash may have been hanging 20,000 feet above Britain on Thursday afternoon, but the air over the Shrigley Hall luxury hotel and golf course, on the edge of the Peak District, was fresh and clear when Nick Clegg took an hour-long walk to get into the "zone" before the first televised leaders' debate in UK history.
Mr Clegg left aides behind as he walked alone, under plane-free blue skies, through the Cheshire hotel's woodland and open parkland to prepare for his most important performance since becoming Liberal Democrat leader in December 2007.
Hours later, he was opening the 90-minute debate with the lines: "I believe the way things are is not the way things have to be. You're going to be told tonight by these two that the only choice you can make is between two old parties who've been running things for years. I'm here to persuade you that there is an alternative."
This eye-catching challenge from an outsider to the "old politics" of Gordon Brown and David Cameron, Labour and Tory, put Mr Clegg ahead among the 9.4 million-strong audience – many of whom were watching the Lib Dem leader for the first time – where he remained until the end.
The ComRes/ITV poll on the night gave him a jaw-dropping victory: he won 43 per cent of audience support, with Mr Cameron on 26 per cent and Mr Brown trailing on 20.
Mr Clegg's staff had originally booked the leader into a central Manchester hotel, to be near the venue, Granada Studios. But when he discovered the arrangement last week he told them: "No way. I need fresh air and greenery, not air conditioning." So Team Clegg spent the hours before and after the debate in the 19th-century Shrigley Hall, surrounded by 262 acres of parkland, near Macclesfield. His one-man constitutional walk was a non-negotiable fixture in Thursday's campaign diary.
By contrast, Mr Brown and Mr Cameron stayed in hotels in the noise and traffic of the city centre. Mr Clegg clearly felt the fresh air made the difference to his preparation.
But the secret to his success, his team believes, was more fundamental: the simple argument he has used, and will continue to use, throughout the election campaign, of upsetting two-party rule in British politics with the offer of a third alternative.
"In his opening speech he outlined what he wanted to do, then spent the next 90 minutes doing it," said an aide. But how does Mr Clegg sustain the momentum for the next two and a half weeks, including two more live debates? And will his electrifying performance make any difference to the outcome of the election on 6 May?
The Lib Dem leader's assured performance earned him praise from Mr Cameron and the Prime Minister. Yet by Friday, senior Tories and Labour figures were already briefing that once the Lib Dems' more "eccentric" policies were exposed, people would turn away from them.
This is dismissed as "black propaganda" by the Lib Dems. Their flagship policy, to raise the income tax threshold to £10,000, giving low and middle-income earners up to £700 extra a year and removing 3.6 million people from income tax altogether, is "fully costed".
Mr Clegg can expect his opponents to get tougher. Mr Cameron, who was not his usual assured, confident self, came second, but is arguably under more pressure than Mr Brown ahead of this Thursday's debate focusing on international affairs. The Tory leader is never better than when under pressure, so goes the conventional wisdom, and will be revising hard for the next debates.
A higher bar has also been set for Mr Clegg. His tactic of addressing audience members by their first name, while effective last Thursday evening, could begin to look mannered if he repeats it too much. Likewise, the Lib Dem leader – as did his two rivals – indulged in a series of anecdotal stories that could start to sound inauthentic.
Mr Clegg stepped back from the lectern, like the Conservative leader, but looked directly into the TV camera, and therefore the audience that mattered, at home. He managed to capture, say observers, a sincerity that was lacking from the other two. Friends insist this was simply him "being himself", and the "real Nick Clegg", as he is in private – easygoing and personable, often self-deprecating. Some have even described him as "too normal", and not ruthless enough to be a party leader.
But it was more than him simply turning on a natural charm. Mr Clegg wrote his opening and closing statements himself, yet he spent hours rehearsing the questions and answers – with his home affairs spokesman, Chris Huhne, standing in for Mr Brown, and Mr Cameron played by the children, schools and families spokesman, David Laws.
The rehearsals were performed under the critical eyes of a select in-house team, including Mr Clegg's chief of staff Danny Alexander, director of communications Jonny Oates, the campaign chairman John Sharkey – a former managing director of Saatchi & Saatchi – and Mr Clegg's press secretary, Lena Pietsch.
Mr Alexander rejected suggestions that the party has sought outside help to perfect Mr Clegg's performance, notably his voice and body language.
Mr Clegg has, in fact, practised his relaxed but accessible style at town hall meetings every other Friday at modest venues around Britain.
The 70 "Nick Clegg meets ..." – similar to the Tory leader's "Cameron Direct" events – have seen him take on hostile questioning, and aides say he can be direct and combative when required.
Mr Alexander said: "These meetings haven't attracted a great deal of attention, and they haven't always had big attendances. But people have been attracted by the chance to spend an hour or two listening to Nick and asking questions, whether they support him or not. I think he's learned a lot from them, and the TV debate underlined that.
"The nation saw the Nick Clegg we have always known about, but it has never come across in the House when he is being shouted down by Labour and Conservative MPs."
In rehearsals and in the debate itself, there was careful attention to delivery. Mr Clegg accentuated his energetic, bouncy oratory, his habit of stepping back from the lectern and turning to face his rivals in a direct challenge to their positions, and, above all, his apparent sincerity, achieved by maintaining eye-contact with the audience. While he had been advised to indulge in a little "plague on both your houses" abuse, Mr Clegg's team also tailored different lines of attack for each rival.
A senior aide explained: "With Labour, the central line of attack was that they couldn't be trusted because they hadn't got things right over 13 years. With the Tories, it was that they couldn't be trusted because they say they are progressive, but we know where their true instincts are."
In the car on his way to the TV studios, Mr Clegg telephoned the elder two of his three sons, Antonio, Alberto and Miguel, who were staying with their grandmother at the family home in Olmedo, outside Madrid. They were "absolutely not interested" in the debate and were more keen to tell their father about their holiday. Alberto excitedly said he had been given a watch for his birthday next month.
After the debate was over, Mr Clegg and his entourage were driven back to Shrigley Hall, and again he made a family phone call – this time to his wife, Miriam, who had stayed behind at their Putney, south-west London, home for work reasons. She told him he had been "brilliant", although she had missed some sections of the programme because her relatives in Spain kept phoning to say how well he was doing.
Back at the hotel, the Lib Dem leader and close aides went to the bar and celebrated with wine until 1am. The mood was not triumphant but "exhausted and happy".
On Friday, after a campaign visit to Warrington, the Clegg party and accompanying journalists went by convoy to Hull (they had been due to fly, but their plane was grounded because of the volcanic ash). The bright yellow Lib Dem battle bus, with the faces of Mr Clegg and Vince Cable splashed across the side, attracted beeps of approval for most of the way up the M62. It was an extraordinary 24 hours for a party routinely treated as an after-thought in Westminster. But Mr Clegg and his aides are confident that they have struck a nerve and that they will be able to sustain momentum.
The threat from the Lib Dem leader is not that his party will win the election and he will become Prime Minister. The imbalance of the first-past-the-post system means the Lib Dems would still have fewer seats than Labour, even if they were several points ahead on vote share.
The real threat is that Mr Clegg is now more likely than before to hold the balance of power on 7 May, and therefore he, and Lib Dem demands, need to be taken seriously.
The Conservatives have around 23 Lib Dem seats on their target list, many in the South-west, where they hope to win an outright majority. If Mr Clegg can deny Mr Cameron victory in those seats, then there are more difficult Labour seats that the Tories need to win in order to triumph.
In addition, there are Labour seats on the Tory target list which the Lib Dems also have in their sights – for example, Watford and Colne Valley. If they fell to Mr Clegg's party on 6 May, the Tories would have to go hunting elsewhere to achieve their outright victory. Otherwise, a hung parliament is on the cards.
Mr Clegg's triumph allows him to emerge from the shadow of his popular Treasury spokesman, Vince Cable. Since day one of the campaign, Mr Cable, a household name, has appeared alongside the Lib Dem leader. This is no longer necessary.
Intriguingly, this could impact on the negotiations in a hung parliament. While Mr Cable has more of an affiliation with the Labour Party he was once a member of, Mr Clegg is believed to be closer, ideologically, to Mr Cameron.
Mr Clegg has previously echoed the Conservatives by calling for "savage cuts" to Whitehall, and once controversially suggested a "dismantling" of bureaucratic NHS infrastructure. He is understood to have a personal dislike of the Prime Minister, which would make a Lib-Lab coalition an unhappy one. During the debate, Mr Brown overtly flirted with Mr Clegg over Labour's plans for constitutional reform, but the Lib Dem leader refused to engage.
Even though going into coalition with the Conservatives would alienate many Lib Dem MPs and members, Mr Clegg now has a strong upper hand over Mr Cable.
But there is the sobering electoral arithmetic that should bring Lib Dems back down to earth this weekend: it is very difficult to convert vote share into Westminster seats.
At the last election, a 23 per cent share translated into 62 seats. According to the electoralcalculus.co.uk website, if they were to win a 27 per cent share, on a uniform swing away from Labour and the Conservatives, this would boost their number of seats to just 76, while a 30 per cent share – a very ambitious target – would increase it to just 93 seats.
The Tories could snatch outright victory by winning seats straight from Labour. And this is the fear that seeps into the minds of Lib Dems this weekend: that, after polling day, there may only remain the memory of a few days in April 2010, when the planes stopped flying over Britain and a Liberal Democrat leader was the most popular politician in the country.
The next debate: Clegg's honeymoon could be sweet, but short
One down, two to go. After last week's game-changing leaders' debate in Manchester, Nick Clegg now has just four days to prepare for the next, this Thursday, in Bristol.
The 90-minute live discussion, on Sky News, will show if the Liberal Democrat leader is a one-hit wonder or has something more fundamental that could help his party change the political landscape on 6 May.
Hosted by the Sky News political editor Adam Boulton, its main subject will be international affairs – which could prove a difficult area for Mr Clegg, as he has opted not to reprise his party's vote-winning opposition to the Iraq War in 2005 for the war in Afghanistan this time round. But with the Lib Dems doing so well in the polls, who's thinking about the 2005 election campaign?
Political honeymoons can be short. Gordon Brown's lasted for three months, while David Cameron's lasted a little longer.
Labour and the Tories are now targeting the Lib Dems as never before, with Labour using a "good cop, bad cop" approach by sending out figures such as Alan Johnson, a supporter of PR, to say Labour could work with Mr Clegg in a coalition. But behind the scenes Labour, like the Tories, is preparing to "expose" Lib Dem spending plans.
After their respective setbacks last week, Mr Brown and Mr Cameron are under pressure to come out on top this week, and are unlikely to play as fair with Mr Clegg as they did in Manchester.
On Thursday, it will be Mr Clegg's turn to take the centre lectern – which turned into a disadvantage for the Tory leader as he appeared squeezed by his two rivals.
The final debate will be held in Birmingham, broadcast on the BBC and hosted by David Dimbleby. The key topic will be the economy. The Lib Dems have an eye-catching tax cut for low and middle-income earners, but Mr Clegg could be weak in other tax areas. His honeymoon may last less than two weeks.
Jane Merrick
What did you make of the leaders' first television debate
Derby North is the seat the Tories must take to gain an overall marjority. We asked voters in the Labour-held seat who they thought came out best last Thursday
Maria Winder, 63, Retired
"I really thought Nick Clegg was great; I liked what he said – he was very believable. I thought David Cameron came out the worst and he seemed kind of lost. He didn't seem to know what he was saying. I really liked the things Clegg said, such as not wasting all the money on Trident. I've never voted Lib Dem before, so it really made me think: 'Why don't I give them a chance?' It's between the Liberal Democrat and the Conservatives for me now."
John McCartney, 67, Retired Engineer
"I think Nick Clegg will draw a lot of people away from voting Labour and probably increase the chances of a hung parliament. But listening to Gordon Brown, it brought home how much he just likes throwing money at any situation, regardless of the outcome, and he doesn't admit the waste and inefficiency. He's just closing his mind to it, so frankly I think he's doomed. David Cameron was OK, but I think he could have come over better. I think he was at a disadvantage being between the other two. In terms of his performance, he was all right, but he was definitely eclipsed by Clegg."
Simon Parks, 51, Business Consultant
"I don't know whether it was saddest that people really think that a sort of acting contest between two potential prime ministers and some other bloke is going to affect votes, or that the leaders are taking it so seriously. They clearly think it is going to affect people. I weep for our nation if that's the basis on which people vote and future governments are decided. It seemed that Gordon Brown had a number of facts and figures at his fingertips that he wanted to use. I didn't notice Cameron make any effort to use anything scientific in his arguments, which were anecdote-based. If you go on style, then Clegg had a good performance, but I don't think he said anything that really resonated or stuck with me."
Stevie Rosso, 64, Community Development Officer
"My daughter, who watched it with me, was taken by Nick Clegg. I always thought he was weak when he's in Parliament, but he sounded lovely – a really nice man. I still feel that Gordon's got gravitas though – that he's got us this far in the recession. My son and daughter are at least both still working because he's steered us through it. David Cameron was hopeless. He's generally a good orator, but he just looked like a banker. Nick Clegg did well: because of him not wanting Trident, a lot of my friends have gone across to the Lib Dems. I think we've got to stay with Gordon Brown while we get through these tough economic times though; he's still there, in spite of everything people are saying about him."
Josh Eades, 35, Law student
"I thought the expectations for David Cameron were a lot higher and he perhaps didn't deliver as well as people might have thought. He was very vague on the £6bn when Gordon was trying to press him, as though he didn't know what direction he wanted to go. I think Brown's explanation of the National Insurance rise made sense, whereas Cameron was trying to explain how you wouldn't raise National Insurance, but where would you find £6bn from? He didn't explain it. At times, I thought Nick Clegg was quite petulant. He wasn't pressed enough on the £17bn tax cut he was offering. His body language was interesting though – especially when he stood with his hand in his pocket."
Sarah Russell, 20, Law student
"I think that Gordon Brown handled things really well and he came across as quite statesman-like. Nick Clegg performed well, but the Liberal Democrats haven't really been considered as a political party with the potential to be running the country for quite some time. However, I think, because of his good performance, the country will have to consider whether it wants a hung parliament. But in addition, I now think that the Lib Dems are going to come under so much more scrutiny. I think they have been able to say whatever they have wanted for too long and get away with it, but I don't think that is the case any more."
Michael Priest, 42, Electrical Contractor
"I thought it was very interesting. I think the opinion polls are quite right that Nick Clegg came out on top. What impressed me the most was he didn't sway from the original question and didn't get bogged down arguing with the other two. He looked at the person who was asking him the question, in the eye, away from the camera, and he seemed genuine. Whereas the other two, all they wanted was a bit of one-upmanship over each other. David Cameron – he's just got a face like a slapped bottom! I'm waiting to see what's going to happen. I'm still aligned to Labour."
Steve Hassall, 33, Manager of Cleaning Company
"Nick Clegg seems to have come out of it as the top man – I personally didn't see that. In some respects, I don't think he came out better or worse than Cameron. I think the fact that he is perhaps the least known has given him an advantage. I believe that his success in these debates could bring about his demise in the election. Though he's come up with some fresh ideas, people aren't aware of them and will start to look further into their policies – such as their ideas on a single European currency and a deeper involvement with Europe. Once people look hard at him – and the debates will do that – they might uncover something they don't really like."
Denise Tatam, 62, Retired
"I thought Nick Clegg was best. I've always been an avid Labour supporter, but he did come off better than Gordon Brown. I think there were times when David Cameron looked like he was losing it a little and he appeared to be getting quite annoyed at times. Immigration has affected us in the sense that my husband can't get a job in the building trade. We do understand that we do need immigration, but you just can't keep supporting thousands and thousands of people who are taking jobs. So I liked Nick Clegg's policy on immigration best. As he was very good, it might sway our vote. But I'm frightened that I could end up wasting my vote if I vote Lib Dem. I'm still going to wait and see."
Hardeep Kaur Nanuwan, 23, MA Student
"I thought that Nick came off the best; the other two were just point-scoring. I think Gordon Brown did himself no favours at all. He just seemed to be trying to get one over on Cameron. I don't think it's done much for his profile. I do like him though, and I think he's had to clean up a lot of Tony Blair's mistakes. He came to Derby last week, and my father, who is quite religious, met him at our temple and said he was really nice to everyone. I think it was quite good of him to come to Derby and find out about other religions and get to know the local community. It's a shame, then, that he was just reduced to point-scoring at the debate."
Join our commenting forum
Join thought-provoking conversations, follow other Independent readers and see their replies