Clive Lewis accused of groping woman at Labour's 2017 conference
Exclusive: A Labour activist says the prominent MP inappropriately touched her at Momentum's fringe event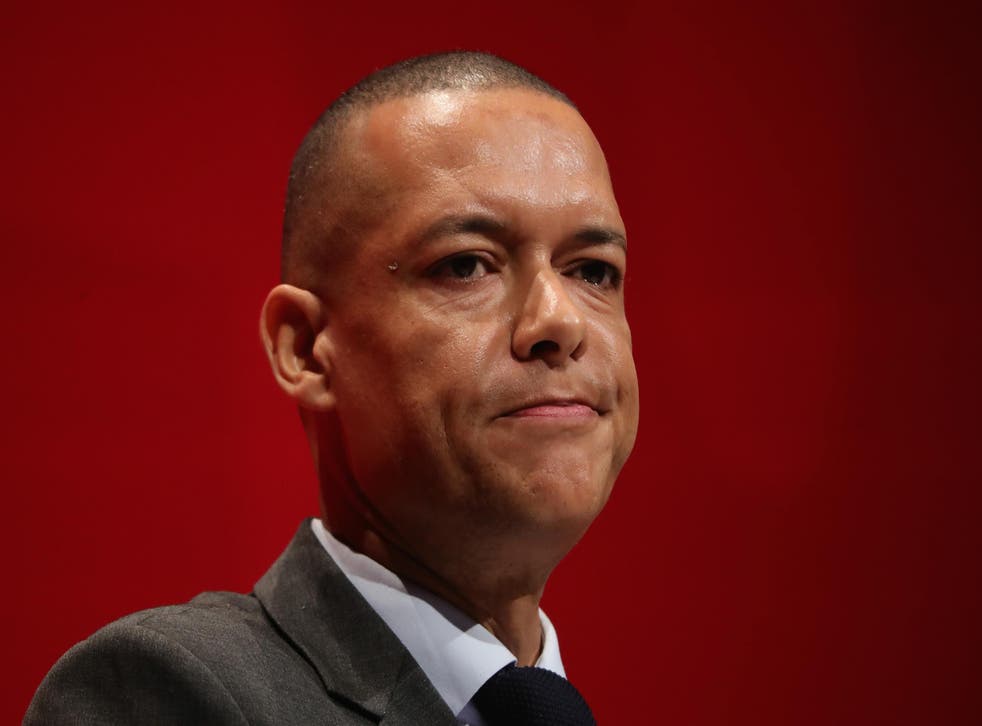 Labour is investigating an official complaint that a prominent MP groped a woman at the party's annual conference just weeks ago, The Independent can reveal.
The party member claimed the incident occurred in a room full of people when she met ex-frontbencher Clive Lewis MP for the first time.
She claims that when she greeted Mr Lewis, who has been talked of as a potential future leader, they hugged and he then gave her backside "a big squeeze".
The alleged groping, which the MP denies, occurred at the same event that Mr Lewis was recorded using the phrase "get on your knees bitch", something he has since apologised for.
But it comes amid a growing parliamentary sexual harassment scandal which saw another Labour MP suspended from party membership following allegations that he "rubbed his crotch" on a female party member.
The 39-year-old woman making the new allegation was attending Momentum's World Transformed event at September's conference in Brighton, when she claims the incident with Mr Lewis occurred.
It was her first Labour conference after she became involved in politics following the election of Jeremy Corbyn to the party leadership.
UK news in pictures

Show all 51
Before the alleged incident on 26 September, she said she thought Mr Lewis was "a good guy" who has "consistently stuck up for good left-wing values".
She claimed that at around midnight she introduced herself to the MP, adding: "We had a hug and while we were having a hug he gave my bum a big squeeze.
"My friend who was there, a fellow [constituency party] delegate ... me and him looked at each other and our eyebrows went 'whoaaa'."
She added: "You kind of jump. I didn't feel grossed out. I definitely laughed. It felt like if you are hugging a mate. I don't know. It was over familiar. I had never met him before."
The woman continued talking to Mr Lewis afterwards about issues like politics and poverty and even danced with him later.
She explained that she had not reported it in the days afterwards because, while it was a "shock", she wasn't immediately upset by it and she respected him as a politician. She then later decided to bring it forward after reconsidering what happened.
In particular, the woman took the incident to the party after receiving a recent email that was sent out, setting out Labour's sexual harassment policy and encouraging people to come forward.
Clive Lewis jokes "get on your knees bitch" to a man in panel event
She said: "When this stuff happens it is us who have to do the work, it's the women. Every single time.
"You have to put yourself out there. You have to explain why you didn't say anything at the time."
The woman's friend claimed Mr Lewis had put his arm around her and "then he put his hand on her bum", explaining that he now felt bad for not saying anything at the time.
He said: "I know she will find it tough, because there will be people in her local party who will say, 'you are exaggerating. It's happened a million times to other people, you're making a mountain out of a mole hill'. But it's not OK."
Mr Lewis told The Independent that he completely denies the allegation. He said: "I wouldn't do that to someone. It's not what I do, it's not my style, it's not how I roll. I do not do that.
"They have made the allegation and I totally refute it. If someone hugs me, I hug them back. I would completely deny it."
The woman reported it to her constituency Labour Party officer and the central complaints officer who she said gave her "amazing" support and that she was proud of the way they had responded.
A party spokesperson said: "The Labour Party is investigating a formal complaint made today against Clive Lewis."
Norwich South MP Mr Lewis has already apologised for using the misogynist phrase "get on your knees, bitch" at the event, after it attracted criticism from several prominent female colleagues.
Video of the incident was met with widespread condemnation from politicians on all sides, but the male actor at whom it was directed later described the situation as "jovial".
Carl Sargeant, the Labour Welsh Government's cabinet secretary for communities and children, stepped down on Friday after being told of "shocking and distressing" allegations against him. He said he would seek to clear his name.
Earlier in the week Kelvin Hopkins, who represents Luton North, was accused by party activist Ava Etemadzadeh of sending a series of inappropriate messages in 2015, claiming that on one occasion: "He hugged me to say goodbye, held me too tight and rubbed his crotch on me, which I found revolting."
Mr Hopkins has "absolutely and categorically" denied the allegations of inappropriate conduct made by Ms Etemadzadeh.
Michael Fallon announces resignation as Defence Secretary
The party is investigating both him and Jared O'Mara MP, who was accused of making misogynistic comments in articles. Mr O'Mara has apologised for online remarks he made between 2002 and 2004, but denies some more recent claims.
The Conservative Party is also reeling after Sir Michael Fallon quit as Defence Secretary amid claims of inappropriate behaviour. Although Sir Michael has said his general conduct fell short of expected standards, he has denied allegations he made "lewd remarks" to fellow minister Andrea Leadsom.
First Secretary of State Damian Green and minister Mark Garnier both face separate Cabinet Office investigations into their behaviour.
Mr Green has denied making advances on a journalist, while Mr Garnier has admitted asking a female member of staff to buy two sex toys for him.
Join our new commenting forum
Join thought-provoking conversations, follow other Independent readers and see their replies