Coalition close to breaking-point over press regulation as Labour and Lib Dems set out rival plans to David Cameron's proposals
Tempers fray as Leveson decision day approaches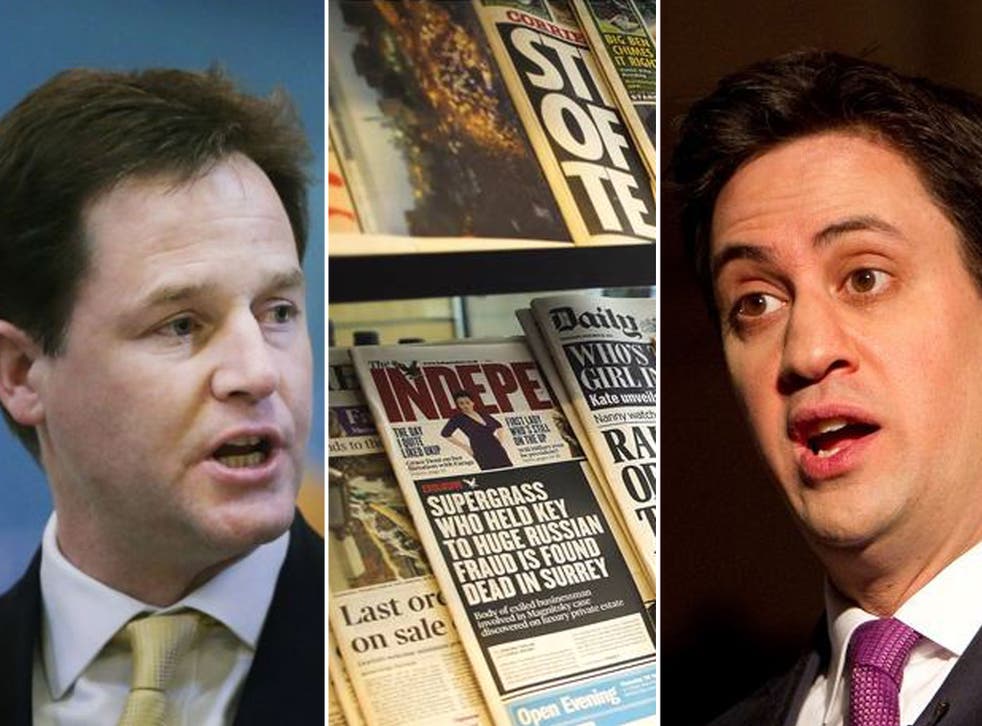 Coalition tensions intensified tonight as the Conservatives and Liberal Democrats traded blows before next week's crunch parliamentary vote on press regulation.
Tory anger boiled over after the Liberal Democrat leader, Nick Clegg, joined forces with Labour to set out an alternative vision of how best to curb media excess in the wake of Lord Justice Leveson's report.
Party sources accused the Deputy Prime Minister of "massive political game-playing" by backing Labour's plan for a strengthened Royal Charter underpinned by statute to establish an independent press regulator.
David Cameron is also proposing a Royal Charter to create a regulator, but does not believe any statutory underpinning should be involved as it could be seen as interfering with press freedom. The two sides published rival plans on regulation yesterday, which will be put to a vote in the Commons on Monday. The debate could be heading to a cliffhanging result with the outcome potentially depending on whether rebel Tories and minority parties back a Labour-Liberal Democrat amendment. Labour indicated it spoke to several Conservatives who share Lord Justice Leveson's view that a press regulator should have an element of statutory underpinning. Up to 20 Tories are thought to be considering defying a three-line whip to support Mr Cameron.
The Coalition was already under strain on Thursday after the Prime Minister dramatically scrapped all-party talks on how to implement the Leveson report. His move took Mr Clegg as much by surprise as it did the Labour leader, Ed Miliband.
But Conservative sources were scathing about the Liberal Democrat leader's decision to take up common cause with Labour instead of working with the Prime Minister to bridge their differences. A senior Tory told The Independent: "Nick Clegg is Deputy Prime Minister and he's part of the Coalition and he should have put his amendment on the Coalition Royal Charter.
"His position was always that he wanted a full Press Bill. And then they publish a Royal Charter. This is a complete U-turn and massive political game-playing. It's astounding."
A Liberal Democrat source responded: "We were initially sceptical about a Royal Charter, but we think a [charter] with improvements can work. That is how negotiations can work – you don't arbitrarily pull the plug on talks when you think you can find a solution."
However, he dismissed suggestions that Mr Clegg could veto a form of the Royal Charter of which he did not approve. The exchanges follow increasing strains between the two Coalition parties over the economy in the run-up to the Budget next Wednesday. Vince Cable, the Liberal Democrat Business Secretary, has called for a rise in borrowing to fund infrastructure projects and kick-start growth, but has been slapped down by Mr Cameron.
The Tories claimed their proposals did allow the regulator to enforce prominent apologies and said claims of big differences between the two documents were based on nuance.
It is critical for the success of the Labour and Liberal Democrat strategy that they can present the two Royal Charters as fundamentally different.
The two parties had been sceptical of such a procedure and their members in the House of Lords supported statutory amendments to the Defamation Bill, designed to introduce press reform by law. Both Labour and the campaigning group Hacked Off have previously put forward draft bills for regulating the press through statute.
Brian Cathcart, head of Hacked Off, which has worked closely with Labour and the Liberal Democrats, claimed the difference between the two documents was clear-cut. "It's Leveson or not Leveson," he said.
Mr Cathcart denied Tory claims that the key issue was whether to introduce statute and said he had always had "an open mind" about the idea of a Royal Charter although he admitted "we don't like it in principle".
He said the Tory document allowed the newspaper industry to veto appointments to the new regulator and gave the new watchdog insufficient powers to force a publication to publish an apology in a given place. He also said clauses in the Tory Royal Charter would restrict the investigatory arm of the new regulator.
Gerry McCann, father of the missing Madeleine McCann, said it was essential that the regulator was backed by legislation.
"Lord Justice Leveson was absolutely clear on this. He said that statutory underpinning was essential," Mr McCann told BBC News. Until the announcement I had never really heard of a Royal Charter. It seems something of an archaic system to underwrite something so important. I would much, much prefer that this was put properly into the statute book."
Where they stand: the party lines
Labour/Lib Dems
An alternative Royal Charter has been introduced because Labour and the Liberal Democrats believe the Tory version fails to deliver the Leveson proposals. In particular, there is a feeling that statutory underpinning is crucial to the integrity of a Royal Charter document because it will prevent meddling by future governments and to this effect an amendment will be tabled to the Enterprise and Regulatory Reform Bill.
Labour and the Liberal Democrats also claim the need for unanimous approval of members of the panel that will oversee the regulator means the press could veto people it does not approve of.
Conservatives
The Tories are furious a device to avoid introducing a press law has been adopted by Labour and the Liberal Democrats, who previously expressed doubts over such an "undemocratic" procedure. The Tories argue their opponents are involved in nothing more than political chicanery.
There is a sense of betrayal that Nick Clegg has chosen to throw his weight behind a rival Royal Charter rather than seeking to introduce amendments to a similar document put forward by his coalition partners.
Ian Burrell
Register for free to continue reading
Registration is a free and easy way to support our truly independent journalism
By registering, you will also enjoy limited access to Premium articles, exclusive newsletters, commenting, and virtual events with our leading journalists
Already have an account? sign in
Register for free to continue reading
Registration is a free and easy way to support our truly independent journalism
By registering, you will also enjoy limited access to Premium articles, exclusive newsletters, commenting, and virtual events with our leading journalists
Already have an account? sign in
Join our new commenting forum
Join thought-provoking conversations, follow other Independent readers and see their replies