UK slashes aid to Commonwealth countries by 'staggering' £500m
Exclusive: Foreign Office assistance to countries such as Bangladesh and Nigeria falls by £500m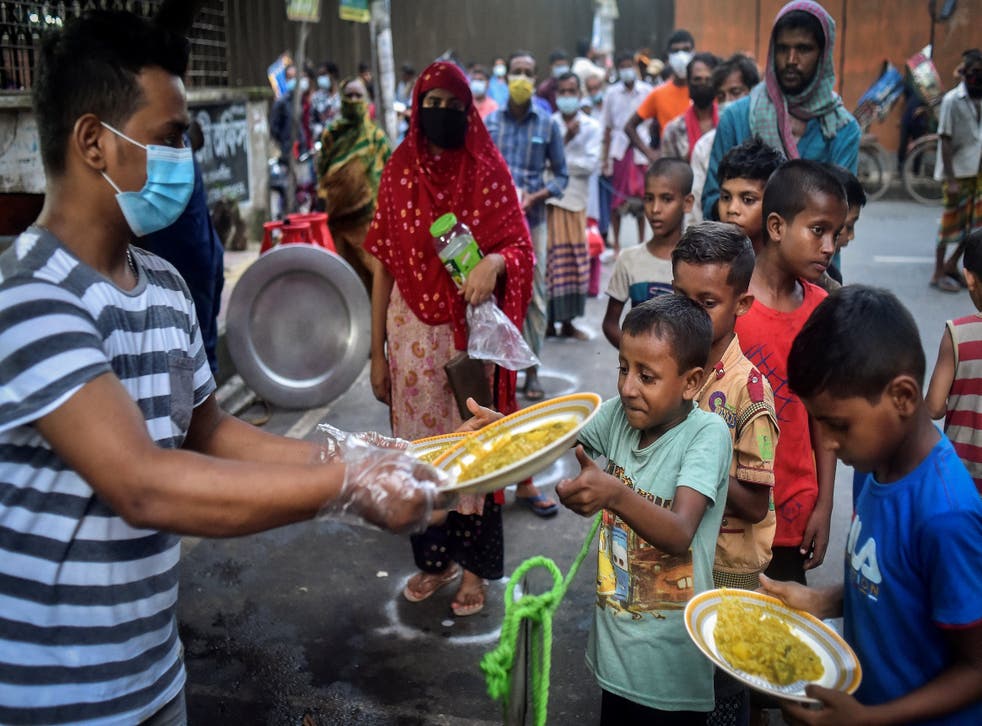 UK aid to the Commonwealth has been slashed by almost half in a deep blow to the government's Global Britain agenda, according to new analysis obtained by The Independent.
Analysis of official figures by Liberal Democrats, released on the day of Liz Truss's first speech to Conservative annual conference as foreign secretary, shows a precipitous £500m fall in support for countries including Bangladesh, Nigeria and Tanzania.
The reduction comes despite ministers' claims that Brexit would allow the UK to strengthen ties with the other 53 members of the global organisation, and Ms Truss's claim on her first day at the Foreign, Commonwealth and Development Office (FCDO) that she was committed to a "strong and prosperous future" for the Commonwealth.
Total bilateral overseas aid committed by the FCDO to programmes in Commonwealth countries is projected to be cut by 46 per cent, from around £1.1bn in 2020/21 to £600m in 2021/22.
While some of the UK's aid spending is directed via other departments, the bulk goes through the FCDO, meaning sharp overall reductions in a number of countries.
UK news in pictures

Show all 50
Deepest cuts include Bangladesh (down from £190m to £73m, a reduction of £117m) Nigeria (down by £114m from £209m to £95m) and Tanzania (down by £61m from £89m to £28m). Other countries losing out include Pakistan, Ghana, Kenya, Malawi, Mozambique, Rwanda, Sierra Leone, Uganda, Zambia and several Caribbean island states.
The reduced spending comes after chancellor Rishi Sunak announced a cut in UK spending on overseas aid from 0.7 to 0.5 per cent of GDP, in response to the economic difficulties caused by the Covid-19 pandemic.
The figures suggest that Commonwealth countries have been hit harder than some other recipients of UK assistance.
Ms Truss said in 2019 that Brexit would present an opportunity to forge "new partnerships with some of our oldest allies across the Commonwealth", while the then international development secretary Alok Sharma said that UK aid was "vital in reducing barriers to trade and investment across the Commonwealth".
The cuts are taking place at a time when Boris Johnson is serving a two-year stint as chair-in-office of the organisation, made up mostly of countries with historic and colonial ties to the UK.
Lib Dem foreign affairs and development spokesperson Layla Moran called for the reversal of the cuts, which she said "show the Conservatives' 'Global Britain' agenda is nothing more than empty words".
"Liz Truss may talk a good game on the Commonwealth, but no amount of rhetoric will be able to mitigate the impact of this £500m cut," said Ms Moran.
"Our Commonwealth partners and friends will be reeling as a result of these staggering cuts, which will have a huge impact on people on the ground.
"We need to restore our reputation as a dependable ally, particularly ahead of the crucial COP26 climate change summit in Glasgow next month. Instead this Government seems to want to burn as many of our bridges as possible."
"If Liz Truss cares about our standing on the world stage, she will reverse these cruel cuts straight away."
A government spokesperson said: "The UK is a world leader on international development.
"In 2020 we spent £14.5bn in aid fighting poverty and helping those in need, despite the seismic impact of the pandemic on the UK and global economy. This included £1.7bn supporting the effort to fight coronavirus and £1.5bn in humanitarian assistance. We gave more than half of our regional bilateral aid to countries in Africa.
"We remain committed to leading the global fight against poverty.  As the third largest international donor, the UK will ensure aid is spent even more effectively in 2021 to fight global challenges while working in the UK's national interest."
Join our new commenting forum
Join thought-provoking conversations, follow other Independent readers and see their replies