'Death tax' abolished by George Osborne as Tories seek to limit damage from resignations of Mark Reckless and Brooks Newmark
Defection and resignation 'not an ideal start' to party conference, David Cameron admits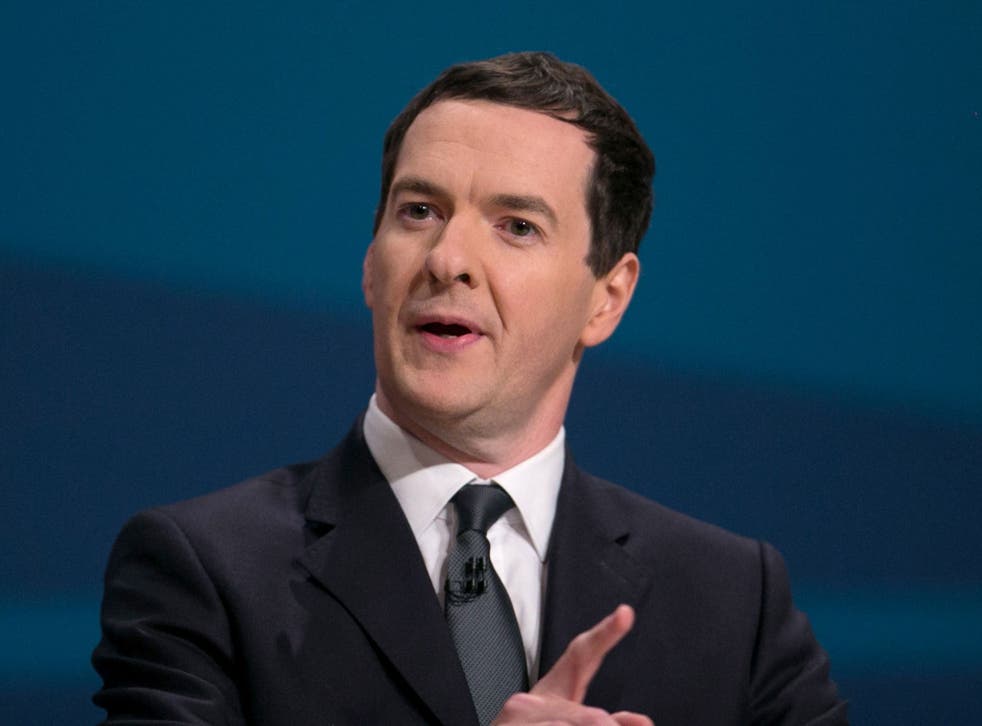 George Osborne will attempt a Conservative Party fightback today by announcing a cut in the "tax on death" paid by spouses and children when the main earner in the family dies.
In his speech to the Tory conference in Birmingham, the Chancellor will unveil a £150m pre-election sweetener that could benefit hundreds of thousands of people by abolishing a 55 per cent tax on pensions handed down to family members.
The move is part of a drive by the Tories to brand themselves as the party for "hard-working taxpayers" at next May's general election.
Conservative ministers admit privately that they need to "change the music" after the start of their conference was overshadowed by the defection of a second MP, Mark Reckless, to Ukip and the resignation of Brooks Newmark as a Cabinet Office minister for sending an explicit picture of himself to an undercover reporter. David Cameron admitted it was "not an ideal start" to the conference.
The tax cut on inherited pensions will be confirmed in the Autumn Statement by the Chancellor later this year and will take effect next April, allowing the Tories to highlight their ability to act while Labour makes post-election promises.
About 12 million people in the UK have some form of defined contributions pension and about 320,000 retire each year.
At present, when someone aged 75 or over dies, a 55 per cent tax is levied on such a pension pot.
The same level of tax is also applied when someone under 75 dies, if their pension pot is already in a drawdown account. Only spouses and financially dependent children under the age of 23 are currently exempt from the 55 per cent tax, and pay their marginal income tax rate.
In future, when the person who dies is 75 or over, all beneficiaries will have to pay only their marginal income tax rate, normally 20 per cent. They will be able to access the pension funds at any age, with no restriction on how much of the fund can be withdrawn.
When someone under 75 dies, their pension pot will in future pass tax-free to any nominated beneficiary, who will also not have to pay tax when they withdraw money from the pension.
Mr Osborne will tell the Tory conference: "People who have worked and saved all their lives will be able to pass on their hard-earned pensions to their families tax free. The children and grandchildren and others who benefit will get the same tax treatment on this income as on any other, but only when they choose to draw it down."
The Chancellor will hail the change as "a pension tax abolished. Passing on your pension tax free. Not a promise for the next Conservative government – but put in place by Conservatives in government now."
Ros Altmann, a pensions expert, said it was "great piece of news for pension savers. Instead of having to pay a punitive 55 per cent tax charge, they will be able to pass on any money left in their pension funds tax free to their loved ones.
"Those who inherit pension funds can choose to keep it as a tax-free pension, or they can just pay income tax on it and spend the money perhaps to help them on to the housing ladder or with education fees. Retirees will have a real incentive to keep money in their pension funds now that the threat of a 55 per cent tax penalty is being removed. This makes pensions more attractive than ever before."
Turning his fire on Labour, Mr Osborne will say: "The idea that you can raise living standards, or fund the brilliant NHS we want, or provide for our national security without a plan to fix the economy is nonsense. It's the economy that builds houses. It's the economy that creates jobs. It's the economy that pays for hospitals. It's the economy that puts food on the table. That's why it's the economy that settles elections. And the Conservatives are the only people in British politics with a plan to fix the economy."
There is huge frustration in the Tory high command that its carefully laid plans for the conference were derailed at the weekend. It had hoped the early headlines would be dominated by a proposal to cut the cap on the benefits paid to any family from £26,000 to £23,000 a year. The savings would be spent on creating 3 million apprenticeships.
But pressure groups attacked the cap, which would not be implemented until after the election because it is not supported by the Liberal Democrats.
Alison Garnham, chief executive of Child Poverty Action Group, warned: "This is likely to increase the headcount of children in poverty in working and non-working families. It would also bypass the root causes of higher social security spending, which include soaring childcare and housing costs and low pay. Politicians from all parties need to tackle these root problems."
Chris Goulden, head of poverty research at the Joseph Rowntree Foundation, said: "Providing routes to secure, well-paying work is the right approach to reducing poverty. But this should not come at the expense of people in receipt of out-of-work benefits. The household benefit cap… does little to cut the deficit. The existing cap affects just 40,000 families, cutting their incomes by £93 a week on average."
Shelter attacked plans to curb housing benefit and jobseeker's allowance for under-21s. Campbell Robb, its chief executive, said: "Taking away the safety net that stands between some young people and homelessness would be a disaster."
Mr Cameron told the BBC's Andrew Marr Show: "I want us to effectively abolish youth unemployment. I want us to end the idea that aged 18 you can leave school, go and leave home, claim unemployment benefit and housing benefit. We shouldn't be offering that choice to young people; we should be saying, 'you should be earning or learning'."
Independent Partners; get a free factsheet on 2014 pension rules changes from Hargreaves Lansdown
Register for free to continue reading
Registration is a free and easy way to support our truly independent journalism
By registering, you will also enjoy limited access to Premium articles, exclusive newsletters, commenting, and virtual events with our leading journalists
Already have an account? sign in
Register for free to continue reading
Registration is a free and easy way to support our truly independent journalism
By registering, you will also enjoy limited access to Premium articles, exclusive newsletters, commenting, and virtual events with our leading journalists
Already have an account? sign in
Join our new commenting forum
Join thought-provoking conversations, follow other Independent readers and see their replies