Conservative LGBT activists raise fears over DUP's 'appalling' record on gay rights
Party now propping up Theresa May has consistently opposed equal marriage and has a history of controversial remarks about homosexuality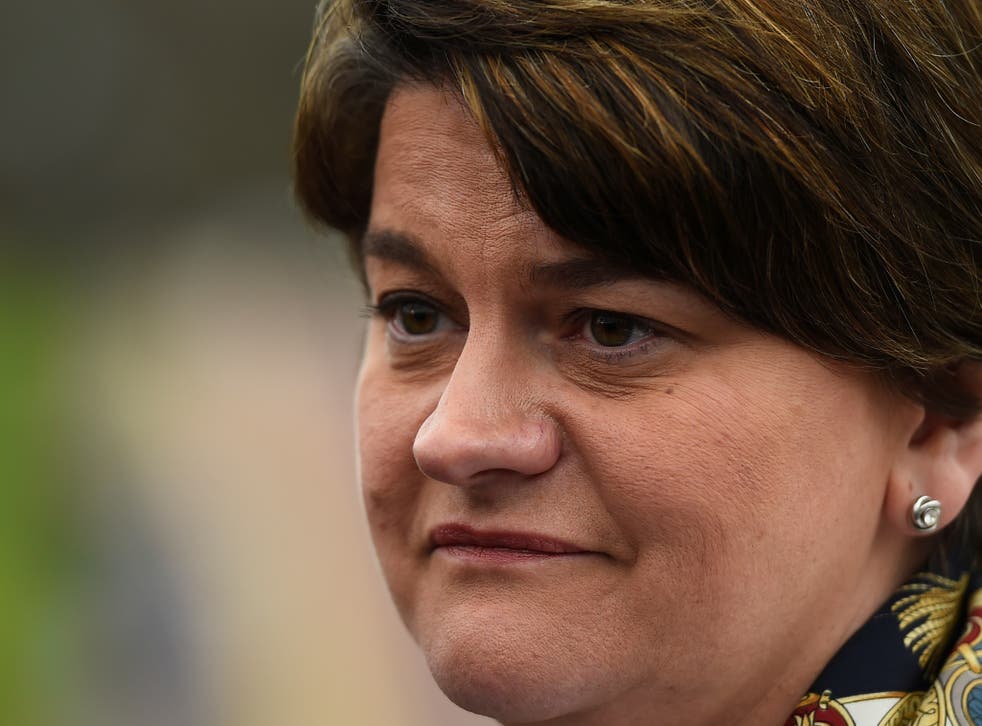 Conservative gay rights campaigners have raised concerns over the views of Theresa May's new parliamentary allies in the Democratic Union Party (DUP).
The Prime Minister was forced to enter discussions with the DUP after failing to secure a House of Commons majority following the general election.
Ms May will need the Northern Irish party's 10 MPs to help her pass key legislation after the Conservatives fell eight seats short of winning a majority of their own.
However, the DUP's opposition to gay marriage and a history of controversial comments about homosexuality led many to question whether they would be given influence over Government equalities policy.
Matthew Green, chairman of LGBT+ Conservatives, said the DUP's stance on gay rights was "appalling".
"The DUP and some of its MLAs [members of the Northern Irish assembly] hold some pretty appalling views on LGBT rights", he wrote in an article for the Huffington Post. "The party's entrenched opposition to equal marriage has prevented the LGBT population in Northern Ireland from benefitting for the same rights as LGBT people in the rest of the United Kingdom and this is unacceptable."
Mr Green said it was "unpalatable" for the Conservatives to work with the DUP but said he "understood" why the Prime Minister had taken the decision to do so.
And he said he did not believe the DUP would have any influence on the Conservatives on the issue of LGBT rights.
"I cannot imagine a situation in which the DUP will have any influence on the Conservative Party or the Government's policies on equality" he said. "And, I even hope, that closer co-operation between the DUP and the Conservative Party will lead to a change in the DUP's attitude towards LGBT rights, especially with a view to unblocking the issue of equal marriage Northern Ireland."
UK Election Day 2017

Show all 38
It comes after Ruth Davidson, the openly gay leader of the Scottish Conservatives, said she had sought personal assurances from Ms May that the Tories' commitment to gay rights would not be influenced by its dependence on the DUP.
Ms Davidson told the BBC: "I was fairly straightforward with her and I told her that there were a number of things that count to me more than the party.
"One of them is country, one of the others is LGBTI rights. I asked for a categoric assurance that if any deal or scoping deal was done with the DUP there would be absolutely no rescission of LGBTI rights in the rest of the UK, in Great Britain, and that we would use any influence that we had to advance LGBTI rights in Northern Ireland.
"It's an issue very close to my heart and one that I wanted categoric assurances from the Prime Minister on, and I received [them]."
Meanwhile former Northern Ireland secretary Owen Paterson said he did not foresee any changes to gay rights laws – but did raise the possibility that the DUP could be granted a debate on restricting abortion.
"I don't see many major social issues coming up in the next parliament. You might get a debate I suppose on further reduction of abortion times as medical science advances", he told BBC Radio 4's Today programme. "But the stuff you mention like gay rights and all that, which you're probably referring to, that is all devolved."
Asked if he shared Ms Davidson's concerns about LGBT rights being diluted, he replied: "No, I don't see that [happening] at all. She's perfectly fair to raise it. These issues are devolved, and if they were sorted in the UK Parliament they'd be free vote issues. I really don't see them colouring the talks."
The DUP has consistently blocked attempts to introduce gay marriage in Northern Ireland, despite a majority of assembly members supporting equal rights.
It had previously campaigned against the legalisation of gay sex as part of the Save Ulster from Sodomy movement.
The party was founded on evangelical Christian principles and has been denounced as homophobic by critics. One of its former MPs, Iris Robinson, the wife of former DUP leader and Northen Ireland First Minister, Peter Robinson, has described homosexuality as an "abomination". Another MP, Ian Paisley Jr, whose father Ian founded the DUP, said he was "repulsed" by homosexual acts.
"I am pretty repulsed by gay and lesbianism", he said in 2007. "I think it is wrong. I think that those people harm themselves and – without caring about it – harm society. That doesn't mean to say that I hate them. I mean, I hate what they do."
A DUP councillor claimed in 2005 that Hurricane Katrina, which killed more than 1,500 people in the US, was God exacting revenge on the city of New Orleans for hosting a gay rights event.
DUP leader Arlene Foster has previously rejected claims that her party is homophobic and said critics do not understand her party's motivations.
"They are wrong and they need to understand why we take those positions from a faith point of view and why we want to protect the definition of marriage," she said.
"I could not care less what people get up to in terms of their sexuality, that's not a matter for me: when it becomes a matter for me is when people try to redefine marriage."
The Conservative Party has been contacted for comment.
Join our new commenting forum
Join thought-provoking conversations, follow other Independent readers and see their replies