Tories 'spent more than £1m' on negative Facebook adverts attacking Jeremy Corbyn
But combination of celebrity endorsements and slick, shareable videos helped Labour win online campaign battle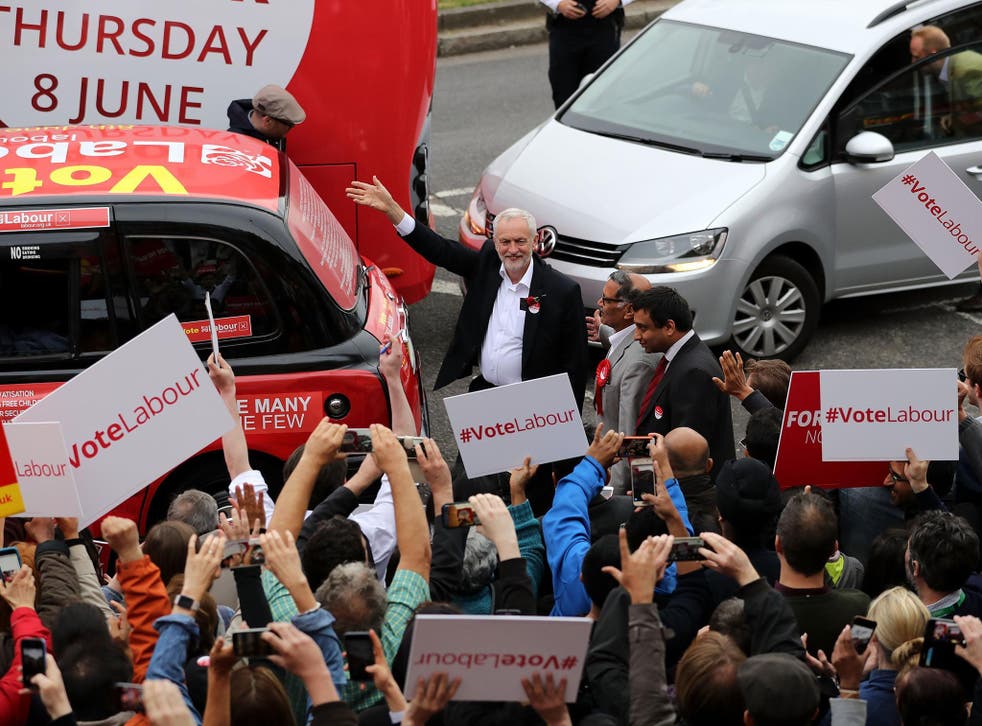 The Conservatives spent more than £1m on negative Facebook campaign adverts attacking Jeremy Corbyn, reports suggest.
A series of videos and graphics showing the Labour leader's past comments on debt, anti-terror laws and the IRA were promoted by the official Tory account.
In contrast, Labour focused on a positive, uplifting campaign aimed at rallying its own supporters – a strategy that experts say helped the party to a shock election result that saw it gain votes and seats, although still fall short of the Conservatives.
Labour began its online campaigning early, investing in a huge social media effort to encourage voters, and particularly young people, to register to vote. A record 622,000 people joined the electoral roll in the final 24 hours of the registration period alone – many of them believed to be young voters who had been inspired by Jeremy Corbyn and Labour.
Both main parties targeted Facebook adverts at specific constituencies, with the Conservatives reported to have focused their efforts on battleground seats in the north of England.
However, the Who Targets Me? project, which monitors advertising on Facebook, suggested Labour's messages were targeted more broadly than the Tories'. In the last two days of campaigning, the project reported Labour adverts being displayed to voters in 464 constituencies, compared to Tory adverts in just 205.
Labour's campaign featured endorsements from a number of celebrities and grime stars including Stormzy, JME and Akala, which helped promote the party's message to voters who were not traditionally engaged in conventional politics.
According to analysis by Buzzfeed News, stories about Mr Corbyn's celebrity endorsements were the most shared election-related articles on Facebook. In total, such articles were shared around 971,700 times, significantly more than stories relating to Labour's rise in the opinion polls, which received around 557,600 shares.
Labour's social media strategy was supported by grassroots campaigning organisations such as Momentum, which produced its own video and social media content. According to the group, almost a quarter of all UK Facebook users (12.7 million people) saw a Momentum video on their Facebook feed in the last week of the campaign.
Whereas the Tories focused on simply producing videos for people to watch, Momentum and others prioritised content that was likely to be shared between friends. Evidence suggests voters find content more convincing if it has been sent to them by someone they know rather than a political party.
UK General Election 2017

Show all 47
Sharing between users also meant Momentum only needed to spend £2,000 advertising its content on Facebook. In contrast, the Conservatives spent more than £1m on Facebook posts, which mostly included negative messages attacking Jeremy Corbyn for comments he had made in the past.
Despite one such video attracting nine million views – more than any other online political campaign advert in British history – experts said the negative tone did not inspire voters in the way that Labour's upbeat messages did.
"Essentially, Labour got more for less from their Facebook investment," Daniel Gilbert of marketing agency Brainlabs told The Times.
"This is likely because their content was more appealing to their chosen target audience. The Conservatives have failed to understand the basics of Facebook advertising – their algorithm rewards advertisers who are more relevant, which they measure by engagement with posts."
Labour's final campaign video symbolised its innovative approach to social media. The film ditched the traditional political format and instead sought to adopt a music video style. Without any text or dialogue, it showed a series of clips of Jeremy Corbyn and members of the British public set to the tune of the Keane song "Somewhere Only We Know", sung by Lily Allen.
By contrast, the Conservatives' video showed clips from Theresa May's speeches interspersed with what the party believed were unpopular comments made by Mr Corbyn.
Join our new commenting forum
Join thought-provoking conversations, follow other Independent readers and see their replies