Conservatives are selecting fewer women in winnable seats than in 2010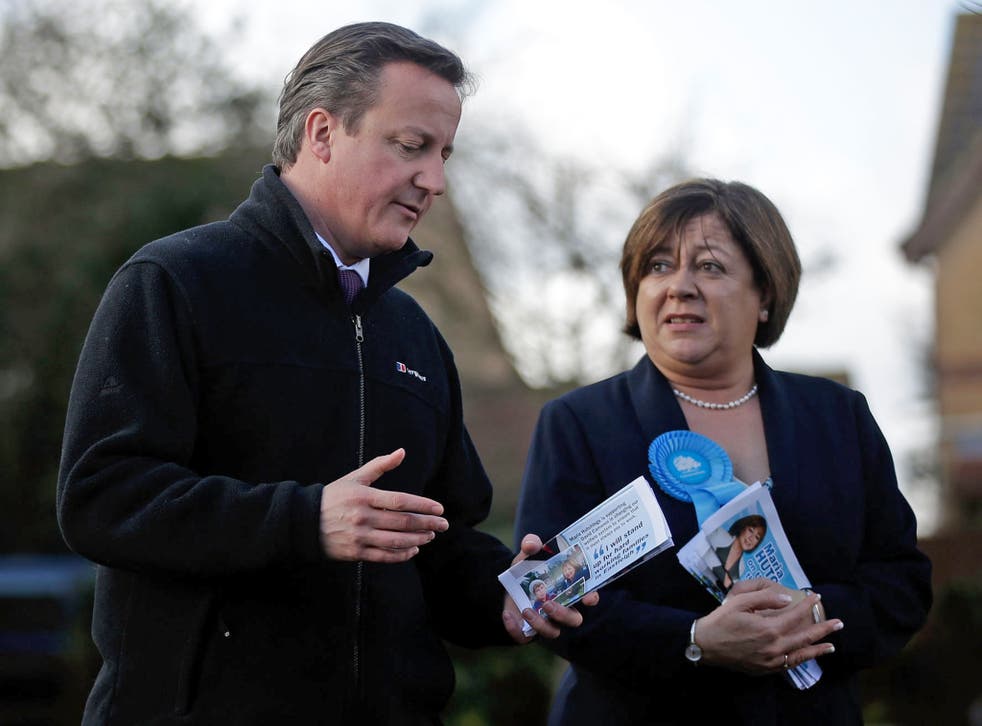 The Conservatives are selecting fewer female candidates in winnable seats than the party did at the election in 2010, undermining attempts by David Cameron to solve the Tories' "women problem".
Research by The Independent shows that while the proportion of women selected as candidates for seats so far shows a slight increase on the percentage of women selected in 2010, the proportion of women chosen to fight in marginal seats that the party hopes to win looks set to drop.
So far, the Conservative party has selected 123 candidates to fight for seats at the 2015 general election. Of these, 43 are women (35 per cent) – up from just 24 per cent of candidates in 2010.
However, when it comes to key marginal seats – those with a majority less than 5 per cent, which the Conservatives will be desperate to claim to hold on to power – the statistics aren't as encouraging.
Thirty-two candidates have been announced for these marginal seats so far, with only seven of them being female (21.9 per cent).
In contrast, the percentage of women chosen to compete for seats with a majority of less than 5 per cent in 2010 was 26.4 per cent – meaning the Conservatives are currently looking at a marked drop in female representation for these seats.
Of those candidates selected in seats where the current MP is standing down, 32 per cent are women – also below the average figure.
However, Conservative sources said they were making good progress in increasing female representation on its candidates list. They stressed there was not a direct correlation between those seats with small majorities and those on the party's target list.
The Prime Minister has ordered party chairman Grant Shapps to get more women into winnable Tory seats. But while it appears this has been working to an extent, there is still a lack of women contesting the seats that are most winnable.
Daisy Sands, head of policy the Fawcett Society, a charity for women's rights and equality, said that the lack of women contesting marginal seats represents a "missed opportunity" for any party.
"A general election is the most significant opportunity a party has to increase the number of women in Parliament," said Ms Sands. "Failure to field a sufficient number of women to stand in marginal seats is a missed opportunity for all parties.
"However, concentrating women in marginal seats is not a reliable method of ensuring long-term change to the gender balance of Parliament. The parties must also ensure female candidates are prioritised for safe retirement seats which are likely to be safer in the long run."
Privately Mr Cameron has become increasingly frustrated at his party's local associations for failing to shortlist and then select more women when deciding on candidates, despite his repeated pleas.
There have been calls for the introduction of all-women shortlists – a method pioneered by Labour in the 1990s and one that remains deeply unpopular with some sections of the Conservative party.
The Prime Minister has said he would be "open" to such an approach, as has Liberal Democrats leader Nick Clegg – and Ms Sands believes such an idea could benefit all parties.
"When progress is so painfully slow, all parties must have a hard look at whether their current approach is working and, where necessary, consider the use of positive action measures such as all-women shortlists," Ms Sands said.
Register for free to continue reading
Registration is a free and easy way to support our truly independent journalism
By registering, you will also enjoy limited access to Premium articles, exclusive newsletters, commenting, and virtual events with our leading journalists
Already have an account? sign in
Register for free to continue reading
Registration is a free and easy way to support our truly independent journalism
By registering, you will also enjoy limited access to Premium articles, exclusive newsletters, commenting, and virtual events with our leading journalists
Already have an account? sign in
Join our new commenting forum
Join thought-provoking conversations, follow other Independent readers and see their replies