Conservatives issue local election leaflet boasting of 'what we're doing/have done for ward/area name'
Template 'sent to the printers in error' is distributed to voters in East London, telling them to vote for the Tories because of 'issues we've done'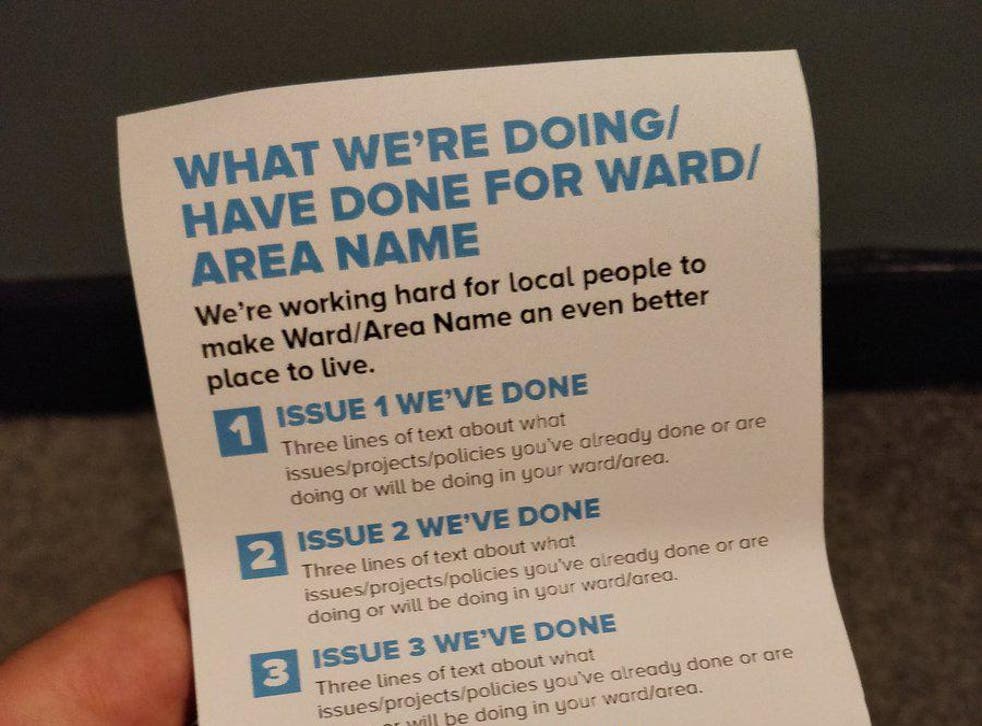 The Conservatives have distributed a local election campaign leaflet urging voters to support them in Thursday's poll because of "ISSUES WE'VE DONE" for "AREA NAME".
The template, which was designed to be tailored to each local area, was printed and distributed in Ilford, east London, without any of the details having been filled in.
As a result, it encourages people to vote Conservative because of "WHAT WE'RE DOING/HAVE DONE FOR WARD/AREA NAME".
The embarrassing mistake was made on a flyer promoting the Conservative candidates for Ilford Town ward in the borough of Redbridge.
Where candidates were supposed to list four ways in which the Tories have helped the local area, the leaflet instead included a numbered list of four "ISSUES WE'VE DONE", with each one saying: "Three lines of text about what issues/projects/policies you've already done or are doing or will be doing in your ward/area name."
Photos of the leaflet were posted on social media by local residents and quickly went viral.
One of those who received it, Keir Richardson, told The Independent: "It took me a while to work out what they had done. Then I thought, that's quite embarrasing and wouldn't look good for them, especially with what is going on at national level."
A spokesperson for Ilford Conservatives said: "This was a template that was sent to the printers in error.
"Our Ilford Town candidates have been out campaigning to ensure they deliver cleaner streets, better roads and less waste for the residents of Redbridge."
The local Conservative leader, Councillor Paul Canal, wrote on Twitter: "To err is human, to forgive divine."
He attached a video of the Rag'n'Bone Man song "Human", which includes the lyrics: "I'm only human after all, don't put your blame on me, don't put the blame on me."
The song continues: "I'm only human, I do what I can, I'm just a man, I do what I can."
It also contains the lyric, "Maybe I'm foolish, maybe I'm blind."
UK news in pictures

Show all 50
In response, the local Labour Party branch wrote on Twitter: "Thinking of voting Conservative in Redbridge? Well aside from selecting most of their candidates in the past few weeks they are actually distributing incomplete leaflets like this. They don't respect you, your vote or our borough."
The gaffe came to light the day after a Conservative council candidate in the Midlands was suspended for distributing a leaflet claiming Labour was responsible for bringing hepatitis to the local area.
The leaflet promoted Kamran Razzaq, who is standing for a seat on Dudley Council in Thursday's local elections.
It listed "hepatitis" alongside "decline of our area" as problems it said "Labour have delivered".
Comparing a long list of what it said were Conservative successes, the leaflet claimed Ukip had only delivered "two defibrillators" and "petitions" to the council ward.
A Conservative Party spokesperson said: "Kamran Razzaq has been suspended and an investigation is underway."
Join our new commenting forum
Join thought-provoking conversations, follow other Independent readers and see their replies