Jeremy Corbyn calls for Boris Johnson to be sacked over Nazanin Zaghari-Ratcliffe blunder
Labour leader says Foreign Secretary has put UK citizen at risk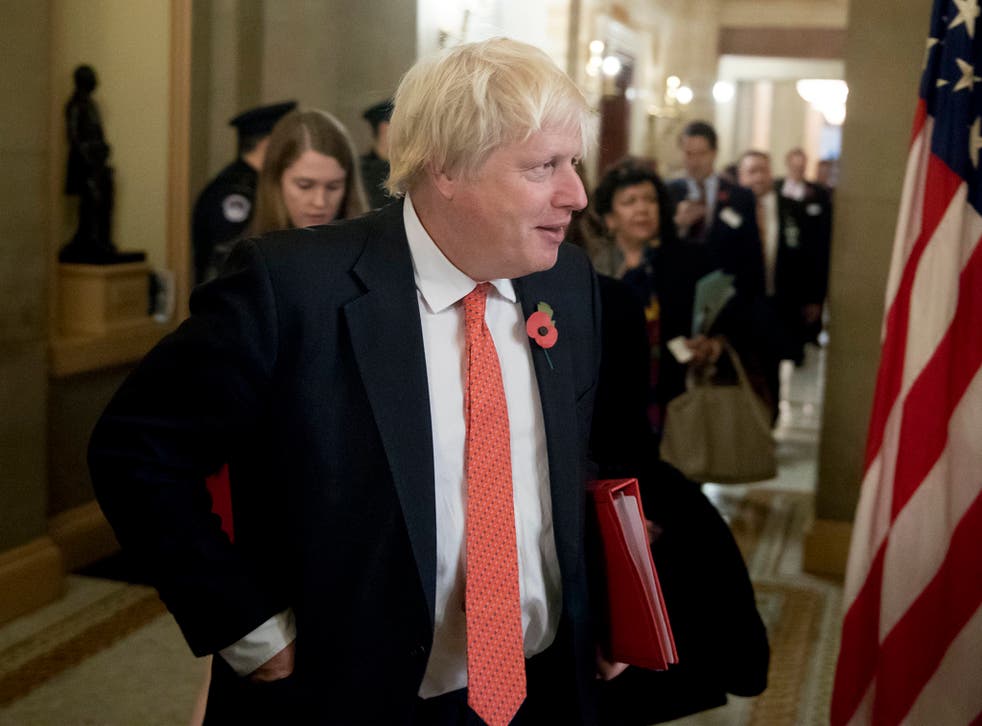 Jeremy Corbyn has called for Boris Johnson to be immediately sacked as Foreign Secretary following his diplomatic blunder in the case of imprisoned British woman, Nazanin Zaghari-Ratcliffe.
Mr Corbyn accused Mr Johnson of "undermining our country" and putting UK citizens at risk after he said that Ms Zaghari-Ratcliffe, who has been in an Iranian jail for the past 18 months, was "training journalists" there.
In a statement given to The Observer, the Labour leader lists a series of other diplomatic gaffes and poorly-chosen statements from Mr Johnson, who was appointed as Foreign Secretary by Ms May when she took over as Prime Minister last summer.
Mr Corbyn said: "We've put up with Johnson embarrassing and undermining our country with his incompetence and colonial throwback views and putting our citizens at risk for long enough. It's time for him to go."
His call adds to the growing pressure on the Prime Minister to sack Mr Johnson following his remarks about Ms Zaghari-Ratcliffe.
Ms May has suffered a tumultuous fortnight with two members of her cabinet forced to resign – Michael Fallon for his past behaviour towards women and Priti Patel for holding unauthorised meetings with Israeli officials.
The political future of Mr Johnson now hangs in the balance with the Iranian judicial system considering whether or not to increase the five-year sentence handed down to Ms Zaghari-Ratcliffe for charges of plotting against the Iranian Government.
Boris Johnson tries to dodge reporter's question on jailed British-Iranian Nazanin Zaghari-Ratcliffe
Ms Zaghari-Ratcliffe, who has dual citizenship and lives in West Hampstead in London, worked as a charity project manager with the Thompson Reuters Foundation and was in Iran to visit her parents with her toddler daughter, Gabriella.
She was detained while trying to board a plane back to the UK with Gabriella, and was at first unaware of the charges against her. Her daughter, now aged three, remains in Iran in the care of her grandparents.
Her family, including her husband Richard Ratcliffe, were furious at Mr Johnson's comments, which they maintain are completely without foundation and place Ms Zaghari-Ratcliffe at further risk.
Mr Ratcliffe has not called on the Foreign Secretary to resign - rather, he wants to meet him and accompany him on a trip to Tehran. The pair are due to meet for the first time since the crisis errupted on Sunday.
The Government has previously been accused of being slow to act in her case, although diplomatic sources insist work has been going on behind the scenes.
Some have suggested that Ms May cannot afford to lose such a high-profile Brexiteer MP from her Cabinet hard on the heels of fellow Leave backer Ms Patel. Mr Johnson remains popular with many of the party faithful while others see him as a liability.
Brexit Secretary David Davis leapt to the defence of Mr Johnson as the calls for him to go mounted.
"Why would you want to sack him? He's a good Foreign Secretary," he told Sky News.
Register for free to continue reading
Registration is a free and easy way to support our truly independent journalism
By registering, you will also enjoy limited access to Premium articles, exclusive newsletters, commenting, and virtual events with our leading journalists
Already have an account? sign in
Register for free to continue reading
Registration is a free and easy way to support our truly independent journalism
By registering, you will also enjoy limited access to Premium articles, exclusive newsletters, commenting, and virtual events with our leading journalists
Already have an account? sign in
Join our new commenting forum
Join thought-provoking conversations, follow other Independent readers and see their replies