Corbyn critics using antisemitism row to undermine leader, Momentum claims
Jewish peer Lord Mitchell quit the party on Sunday in protest at Mr Corbyn's re-election
Ashley Cowburn
Political Correspondent
Sunday 25 September 2016 20:23 Comments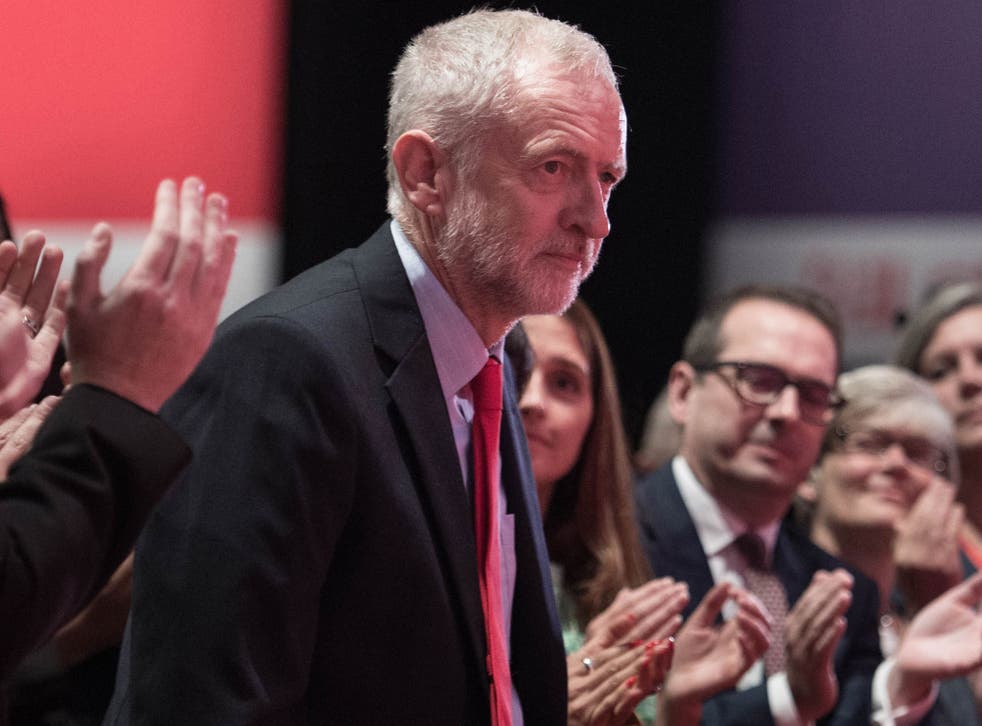 Momentum's vice chair has accused Jeremy Corbyn's critics of trying to "weaponise" antisemitism allegations in a bid to undermine the leader.
Despite various allegations over the summer, Mr Corbyn himself calling an inquiry into allegations and a string of suspensions including those of Ken Livingstone and Naz Shah MP, Jackie Walker argued there was "little if any" evidence of racism.
It comes after the Jewish peer Lord Mitchell quit the party on Sunday in protest at Mr Corbyn's re-election as leader of the party on Saturday, while Jewish MP Ruth Smeeth last week revealed she had received thousands of abusive messages
Ms Walker, vice-chair of Momentum, however, said there was "little if any" hard evidence that there was a major problem of anti-Semitism within the Labour ranks. But she claimed the allegations had been used to silence Mr Corbyn's supporters and critics of the Israeli state.
Ms Walker, who is also Jewish, blamed opponents of Mr Corbyn for the row. Speaking at a festival organised by Momentum on the fringes of the Labour conference in Liverpool, she said: "Let me make it clear: all racism is abhorrent and I am not saying that anti-Semitism does not exist in the Labour Party.
"The Labour Party, after all, is simply a reflection of society. But I am saying that claims of its significance are being exaggerated for political purposes.
"This has been done at huge cost to our movement, to our communities and to many individual people in and outside of our party.
"Anti-Semitism is no more special than any other form of racism. All racisms have their own characteristics and histories.
"All genocides have their own concepts, all holocaust denial - whether it the denial of the Jewish or African holocaust - is a blasphemy against humanity."
The issue was examined in a report by Shami Chakrabarti and Ms Walker said: "It seems to me that there is little if any hard evidence that the Labour Party has a major problem with anti-Semitism though there is, as Chakrabarti said, an occasionally toxic atmosphere.
"The most fundamental aim of such allegations is to undermine Jeremy, silence his supporters and ensure any chance of an alternative to the neoliberal diet of cutting services and taxes that had been dished up to us as politics until Jeremy got the leadership, never actually gets to our table as voters.
"It is the silencing of any criticism or potential criticism of the Israeli state, attacking and undermining anyone who supports Palestinian rights."
Labour leadership contest: Jeremy Corbyn vs Owen Smith

Show all 8
She added: "This political use of accusations has not only weaponised anti-Semitism, it has become a weapon of political mass destruction and like all nuclear options has entailed a high degree of collateral damage, not just to the Labour movement as a whole."
She said: "We have been told that Jews are terrified - note the word - terrified to go to Labour Party meetings, that women are terrified, that Momentum is anti-Semitic.
"Now let's just forget that both the chair and the vice chair of Momentum are Jewish and many of the leading figures of Momentum are also Jewish.
Register for free to continue reading
Registration is a free and easy way to support our truly independent journalism
By registering, you will also enjoy limited access to Premium articles, exclusive newsletters, commenting, and virtual events with our leading journalists
Already have an account? sign in
Join our new commenting forum
Join thought-provoking conversations, follow other Independent readers and see their replies