Jeremy Corbyn strengthens his grip on the Labour party as harshest critics change their tune
Defying the pollsters, the Labour leader has cemented the Corbynistas' control for years to come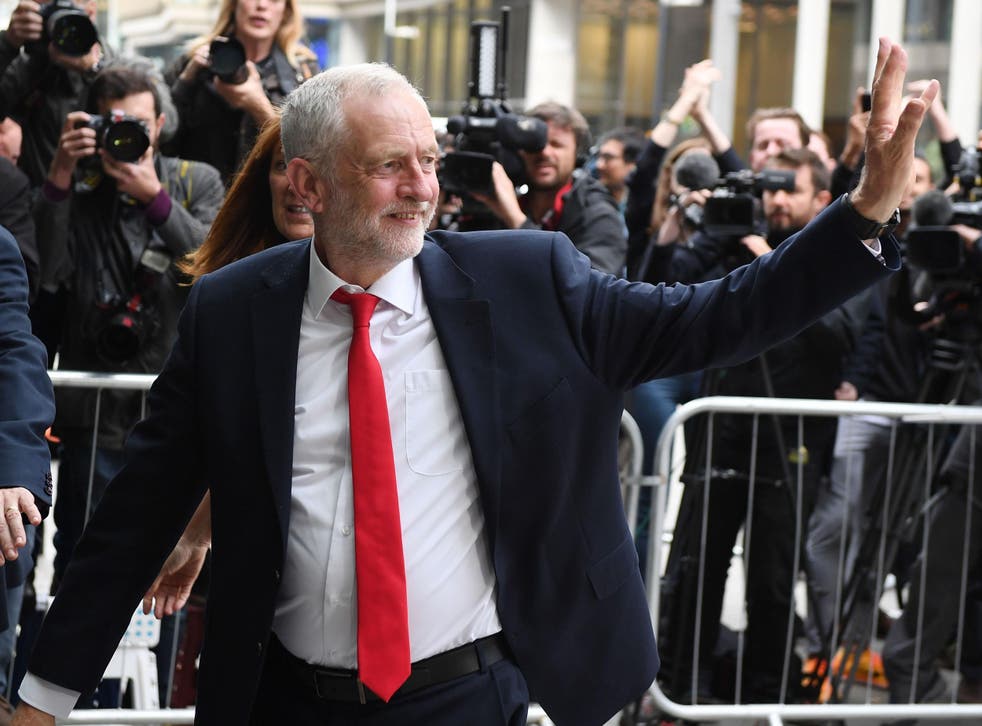 A hugely strengthened Jeremy Corbyn has been praised by friend and foe alike, after his stunning success in denying Theresa May a Commons majority.
The Labour leader was hailed by everybody from trade union leaders and a Hollywood star to former Blairite giants Peter Mandelson and David Miliband.
One exiled Labour rising star, Chuka Umunna, said he would like to return to the shadow cabinet, admitting he had changed his mind about Mr Corbyn, because of the election result.
However, it was thought unlikely that he would turn to MPs who had refused to serve him, having strengthened the hold of the Corbynistas on the Labour party, probably for years to come.
One analysis was that Mr Corbyn had increased Labour's share of the vote by more than any other leader in any election since Clement Attlee in the 1945 post-war landslide.
Mr Corbyn celebrated defying the pollsters and gaining 29 seats in what an aide called "characteristic style", with lunch in an Italian café in his north London constituency.
Having demanded that Theresa May resign – stating Labour was "ready to serve" – he argued it was "pretty clear who has won this election".
And he heaped praise on Labour supporters, saying: "Your vote for us was a vote for change, a vote for our country, and a vote for hope. Theresa May underestimated our party and she underestimated you."
The unthinkable happened when Lord Mandelson acknowledged it had been Mr Corbyn's "very sure footed" campaigning which had delivered the political "earthquake".
Just four months ago, the former cabinet minister had described himself as working "every single day" to bring down Mr Corbyn who had "no idea" how to be a 21st century leader.
Labour's former foreign secretary David Miliband tweeted: "Wow. So good Labour stronger. So good Brutal Brexit rejected. So good next generation realised the stakes and spoke up".
The US actor Danny DeVito celebrated Labour's gains with a Twitter post saying: "Way to go U.K. Congrats! Recognize the real deal! Jeremy Corbyn showing us how it's done! "London Calling"."
And the left-wing US presidential candidate Bernie Sanders described Labour's strong showing as part of growing protest against inequality "all over the world".
"People in the UK the US and elsewhere want governments that represent all the people, not just the one per cent. I congratulate Jeremy Corbyn for running a very effective campaign."
Even Michael Fabricant, returned as the Conservative MP for Lichfield, said Mr Corbyn had fought "a brilliant campaign", particularly on social media, and had mobilised young voters.
Labour's dramatic turnaround was traced back to the week in which the party's draft manifesto was leaked, amplifying coverage of policies that proved truly popular with the public.
Nationalising key industries, spending more on the NHS and education, abolishing university tuition fees, and taxing the top five per cent of earners and big corporations to pay for it, hit home on the doorstep.
As the Tories hit turmoil over the "dementia tax", Mr Corbyn delivered impassioned speeches to ever-growing rallies while Ms May was ridiculed for robotic performances in front of hand-picked activists.
When the focus switched to security, after the terror attacks, his attacks on her record of presiding over cuts in police officer numbers while Home Secretary also appeared to get cut through.
Register for free to continue reading
Registration is a free and easy way to support our truly independent journalism
By registering, you will also enjoy limited access to Premium articles, exclusive newsletters, commenting, and virtual events with our leading journalists
Already have an account? sign in
Register for free to continue reading
Registration is a free and easy way to support our truly independent journalism
By registering, you will also enjoy limited access to Premium articles, exclusive newsletters, commenting, and virtual events with our leading journalists
Already have an account? sign in
Join our new commenting forum
Join thought-provoking conversations, follow other Independent readers and see their replies