Jeremy Corbyn tells Labour MPs: 'We are a government in waiting'
The Labour leader said: 'We must remain in permanent campaign mode on a general election footing'
Ashley Cowburn
Political Correspondent
Wednesday 14 June 2017 10:55 Comments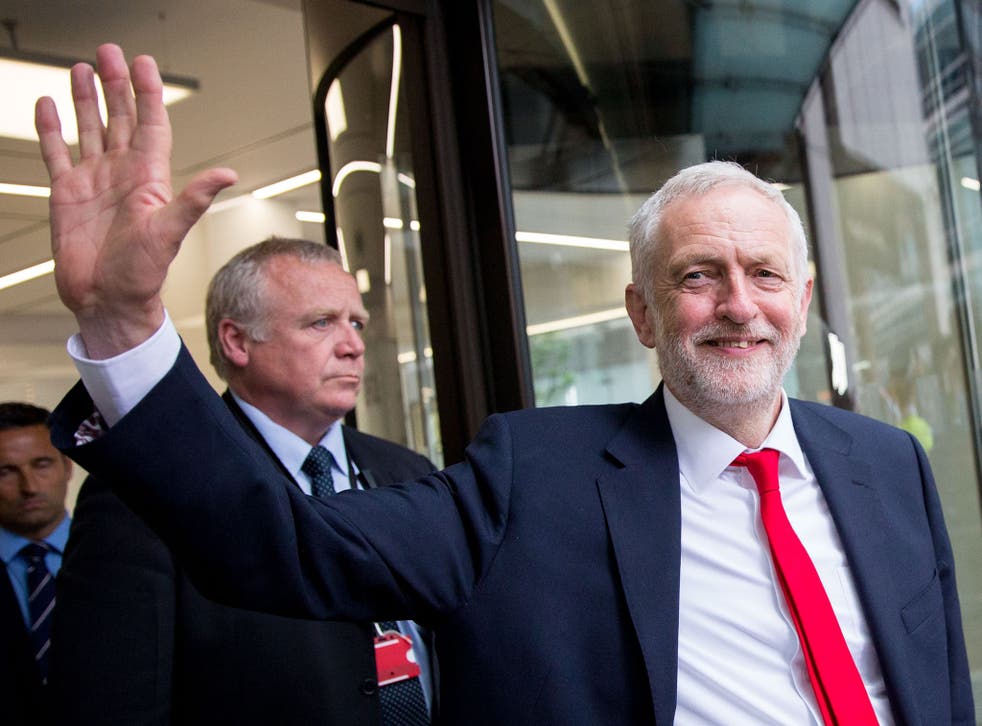 Jeremy Corbyn received a rapturous applause from Labour MPs at the party's first Westminster meeting since the general election as he told them: "We are now a government in waiting."
Speaking at the weekly Parliamentary Labour Party (PLP) meeting, Mr Corbyn, who received a 45-second ovation for the party's performance in last week's election, told his colleagues that 35,000 people have joined Labour since Friday.
The Labour leader said: "Last Thursday, we turned the tables on Theresa May's gamble and gained seats in every region and nation of Britain and I'm particularly delighted that we increased our representation in Scotland.
"We increased the Labour vote by the largest margin in any election since 1945 and gained seats as a party for the first time since 1997.
"So now the election is over, the next phase of our campaign to win power for the majority has already begun. We must remain in permanent campaign mode on a general election footing."
The meeting was a stark contrast to previous gatherings of the parliamentary party, which have been characterised by bitter divisions and anonymous briefings in recent months. Leaving the gathering on Monday, Chuka Umunna, a Labour MP who has previously been a prominent critic of Mr Corbyn, described the session as "excellent".
He added: "Unity is a watchword – government is the aim".
A Labour source later said some of Mr Corbyn's critics in Parliament were "gracious enough to point out that they hadn't always had confidence in his leadership but they did now and that they had underestimated him".
It also comes as Labour's top team prepares to announce the line-up of its shadow cabinet in the next few days. The Independent understands no major changes will be made to the most prominent roles but the party will seek to fill the dozens of positions that have remained vacant since last summer.
Speaking at the meeting, Mr Corbyn also told his colleagues that the party would continue to "take the fight" to Theresa May's party by campaigning around the country in Conservative marginals across the summer in an anticipation of another general election.
He added: "Now as Parliament returns, we have a Government in complete disarray still unable to reach an agreement, it seems, with the DUP and desperately delaying the Queen's Speech and Brexit negotiations.
"Far from being strong and stable, the Government Theresa May is putting together is weak, wobbly and out of control. This is a Government on notice from the voters.
General Election 2017: Big beasts who lost their seats

Show all 7
"Theresa May has no mandate and no legitimacy for policies that do not have the support of the majority of the British people. We are now a government in waiting and we must think and act at all times with that in mind."
Register for free to continue reading
Registration is a free and easy way to support our truly independent journalism
By registering, you will also enjoy limited access to Premium articles, exclusive newsletters, commenting, and virtual events with our leading journalists
Already have an account? sign in
Join our new commenting forum
Join thought-provoking conversations, follow other Independent readers and see their replies