Jeremy Corbyn set to call for navy shipbuildings contracts to stay in Britain
Labour leader will also accuse the Conservatives of 'thrashing' the UK's shipbuilding tradition and attempting to accelerate its decline
Ashley Cowburn
Political Correspondent Comments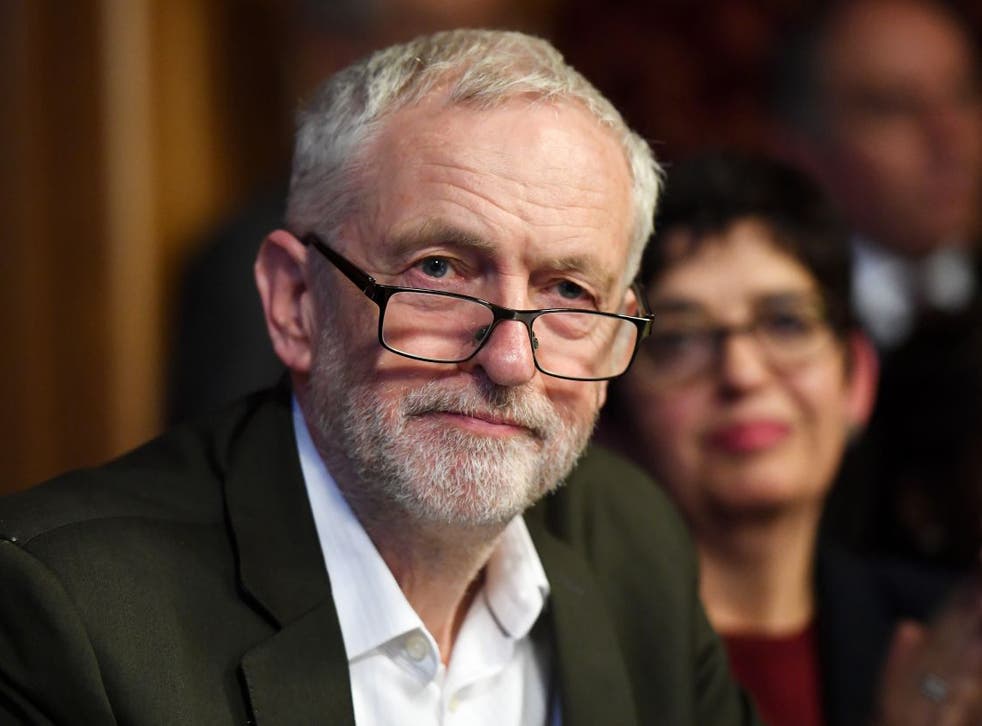 Jeremy Corbyn is set to call for navy shipbuilding contracts to stay in the UK as he accuses the government of being "hell-bent" on accelerating industrial decline.
The Labour leader will urge ministers to reverse the decision to put the £1bn contract for the ships out to international tender this month and will insist the three new royal fleet auxiliary vessels must be manufactured in British shipyards.
Mr Corbyn will accuse the Conservatives of "thrashing" the UK's shipbuilding tradition and attempting to accelerate its decline during a visit to the historic shipbuilding heartland of Govan in Glasgow on Friday.
Labour pointed to Article 346 of the Lisbon Treaty that grants an EU member state – within the rules of the bloc's single market – freedom of action over defence procurement.
He is expected to claim that if the contract remains in the UK it would create around 6,500 domestic jobs with 1,800 of them in British shipyards.
Mr Corbyn will say: "Workers in British shipyards, from Plymouth to Rosyth, share a proud tradition – building the best ships in the world.
"But the Conservative government is trashing that tradition by offering up the Ministry of Defence's most recent contract for three new fleet solid support ships to overseas companies to build abroad.
"This decision is wrong. Today we are calling on the government to guarantee that these three new ships for the Royal Fleet Auxiliary will be built in domestic shipyards."
"Our shipyards used to produce half of all new ships worldwide. Our current market share is now less than half a per cent. The Tories seem hell-bent on accelerating and deepening this industrial decline," Mr Corbyn will add.
His call follows the GMB union's demand for the government to use the order to "buy for Britain" and estimated £285m could be returned to taxpayers through income tax and national insurance contributions if the auxiliary vessels were built in the UK.
UK news in pictures

Show all 50
"The next Labour government will use public contracts as part of our bigger plans to upgrade our economy. Don't listen to anyone who says we can't build things in Britain and that a casino economy, which produces little but soaring inequality and insecurity, is our only future.
"Shipbuilding is not a lame duck, and can have a high tech, high skilled and exciting future right here in the UK."
He will continue: "The government claims that it is overseeing a 'renaissance' in British shipbuilding. But Scottish employers have pushed through one set of redundancies after another in recent years.
"Our proposal would both sustain existing shipbuilding and supply chain jobs, and create new ones – right here in Scotland and also across the UK."
But an MOD spokesman said Britain was witnessing a "renaissance in national shipbuilding", saying all its warships are built in the UK, with the Clyde securing 4,000 jobs until 2035, having been given a commitment it will build the Navy's eight planned Type 26 Frigates.
"We are launching a competition for three new fleet solid support ships this year and strongly encourage British yards to take part," they added.
"Since 2010 this government has invested more than £6bn in shipbuilding in the UK, securing thousands of jobs. While in 2018-19 we expect to spend in excess of £750m supporting the fleet."
Register for free to continue reading
Registration is a free and easy way to support our truly independent journalism
By registering, you will also enjoy limited access to Premium articles, exclusive newsletters, commenting, and virtual events with our leading journalists
Already have an account? sign in
Join our new commenting forum
Join thought-provoking conversations, follow other Independent readers and see their replies