Coronavirus 'amnesty' to get undocumented migrants vaccinated will not be enough, ministers warned
Coalition of 140 organisations write to ministers urging concrete action to end 'hostile environment'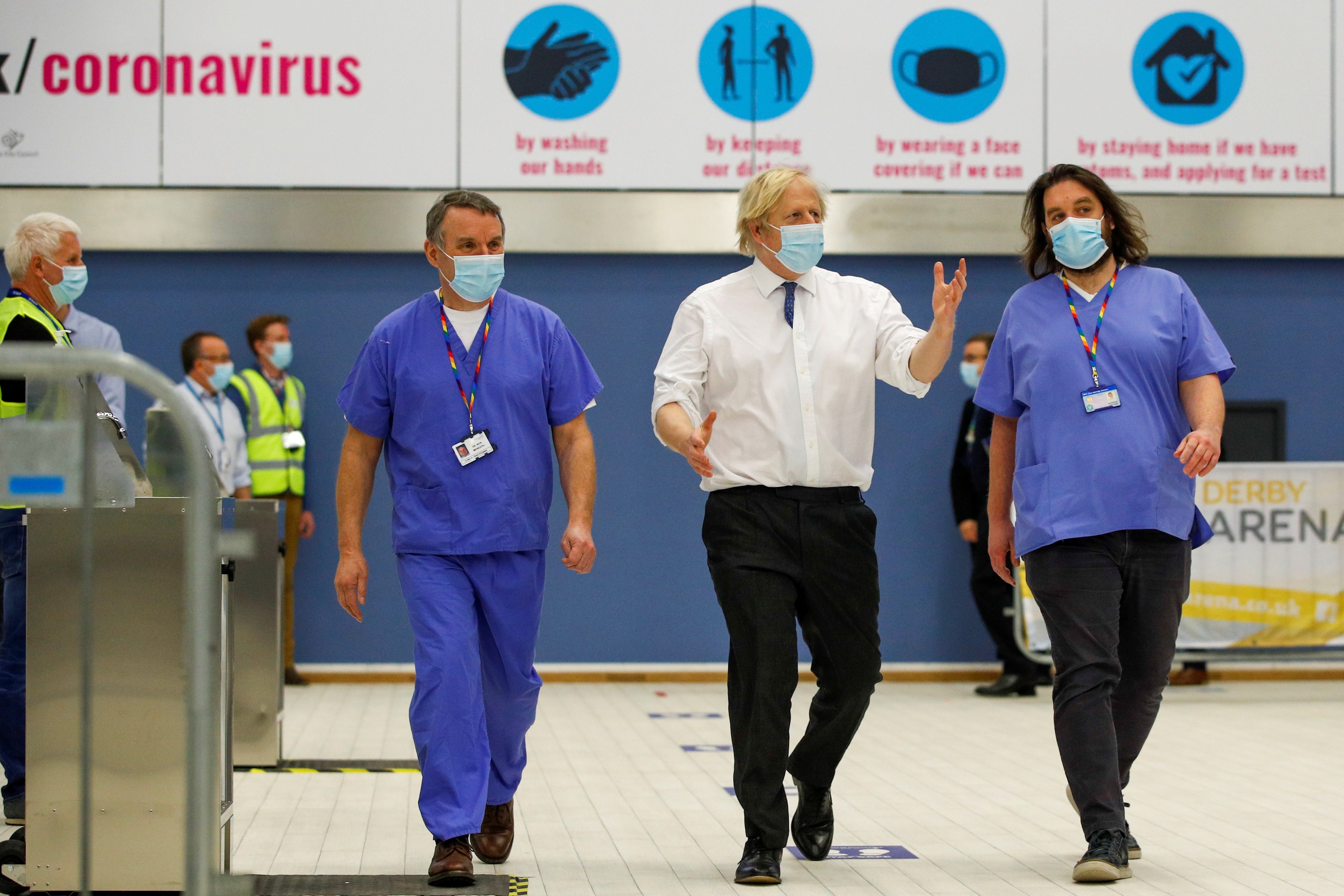 A government "amnesty" for undocumented migrants to encourage them to come forward for Covid vaccines will not be enough, minsters have been warned.
Over 140 charities, faith groups, local authorities and medical organisations have written to the government urging more action to ensure an estimated 1.3 million people feel safe coming forward.
Downing Street on Monday said there would be no checks on immigration status at vaccine centres and that "those who are here illegally can come forward to receive a vaccine".
But groups including the Refugee Council, The Faculty of Public Health, Trades Union Congress, Medact, Migrants Organise, and the Joint Council for the Welfare of Immigrants (JCWI) say many could still be left unvaccinated unless concrete action is taken to roll back aggressive policies.
In a joint letter to the health department shared with The Independent, the organisations say people "are afraid to access services because of longstanding and entrenched barriers to healthcare" and are thus at risk of being left unvaccinated.
The organisations want the government to guarantee a "firewall" to prevent patient data gathered under test-and-trace being used for immigration enforcement, and an end to the "hostile government" measures such as charging migrants to use the NHS.
They are also calling for support to be provided to GP surgeries to register "everyone, including undocumented and under-documented migrants and those without secure accommodation", and a public information campaign to ensure everyone is aware of their right to access a vaccine.
"Today's announcement by the Government is a clear admission that the 'hostile environment' is incompatible with public health," said James Skinner, a former NHS nurse who is now programme lead for health and human rights at the charity Medact.
"At the start of the pandemic we warned that the fear created by NHS charging and data sharing would prevent migrant communities accessing treatment for coronavirus, yet it has taken almost a year for the Government to even acknowledge the harm these policies are causing.
"It will be hard for anyone to trust these assurances from the Government while the rest of the NHS continues to charge people for care and share patient data with the Home Office."
Research by the JCWI carried out in January found that 43 per cent of migrants surveyed would be scared to access healthcare for fear of being charged or having their data shared with the Home Office.
Half of surveyed people with refugee status, 56 per cent, would be scared to access healthcare, citing the risk of the NHS sharing data with the Home Office.
The research found that 17 per cent of people with Indefinite Leave to Remain would be fearful, 24 per cent of those with a temporary visa such as a work or spouse visa, and 81 per ecent of those without any form of status.
Anna Miller, head of policy at Doctors of the World UK said: "While we welcome the government proactively encouraging migrants to come forward to register with a GP and receive the vaccine, and GP practices to register patients, this exemption doesn't go far enough to undo the fear and mistrust created by the hostile environment.
"The migrant charging policy has done great damage to the relationship between migrant communities and the NHS, creating a situation where patients don't trust nurses and doctors and avoid healthcare services.
"All the evidence shows that removing charges and status checks for a specific health service is not enough to make sure people with insecure immigration status access that service."
The government's original announcement of an amensty was announced in the Daily Mail newspaper through a "government source", with no on-the-record press release, and was confirmed on-the-record by officials later on Monday.
Satbir Singh, chief executive of JCWI, said the governments has "a very poor record in building trust with migrant, refugee and BAME communities" and that "as long as the Hostile Environment policies which underpin rules around migrants using the NHS remain in place, people will still be fearful".
Aliya Yule, access to healthcare organiser at the charity Migrants Organise, said the experiences of the groups members showed the hostile environment "fosters a culture of discrimination in the NHS, and creates fear and mistrust".
She added: "Temporary offers of safety are not enough to undo the decades of harm caused by structurally racist policies that have embedded immigration controls into vital public services.
"The only viable solution is the immediate repeal of all Hostile Environment policies and the creation of an NHS that truly lives up to the principle of universal access for all."
While primary care including at a GP has always been free regardless of immigration status, most undocumented migrants are not registered with a GP.
Officials said that data sharing between the NHS and the Home Office "is limited" and that the health department has made clear to NHS trusts that "patients undergoing vaccination, testing and treatment for coronavirus only are not subject to immigration status checks".
A Government spokesperson said: "Coronavirus vaccines will be offered to everyone living in the UK free of charge, regardless of immigration status.
"Those registered with a GP are being contacted at the earliest opportunity and we are working closely with partners and external organisations to contact those who are not registered with a GP to ensure they are also offered the vaccine."
Asked about the issue at a regular briefing of journalists in Westminster, Boris Johnson's spokesperson said: "As we've said before, coming forward to receive a vaccine will not be linked to any immigration status, so those who are here illegally can come forward to receive a vaccine. That is obviously important for us to tackle the transmission rate of the virus across the UK."
Asked whether the Home Office's hostile environment policies might deter undocumented migrants from getting the jab, the spokesman said: "It's important that everybody comes forward to take a vaccine in order that we can successfully tackle the virus in all communities across the UK."
Join our commenting forum
Join thought-provoking conversations, follow other Independent readers and see their replies