Ministers warned not to 'alienate' sections of population and undermine 'collective solidarity' when relaxing lockdown
Comments come during inaugural session of 'independent Sage' group
Ashley Cowburn
Political Correspondent Comments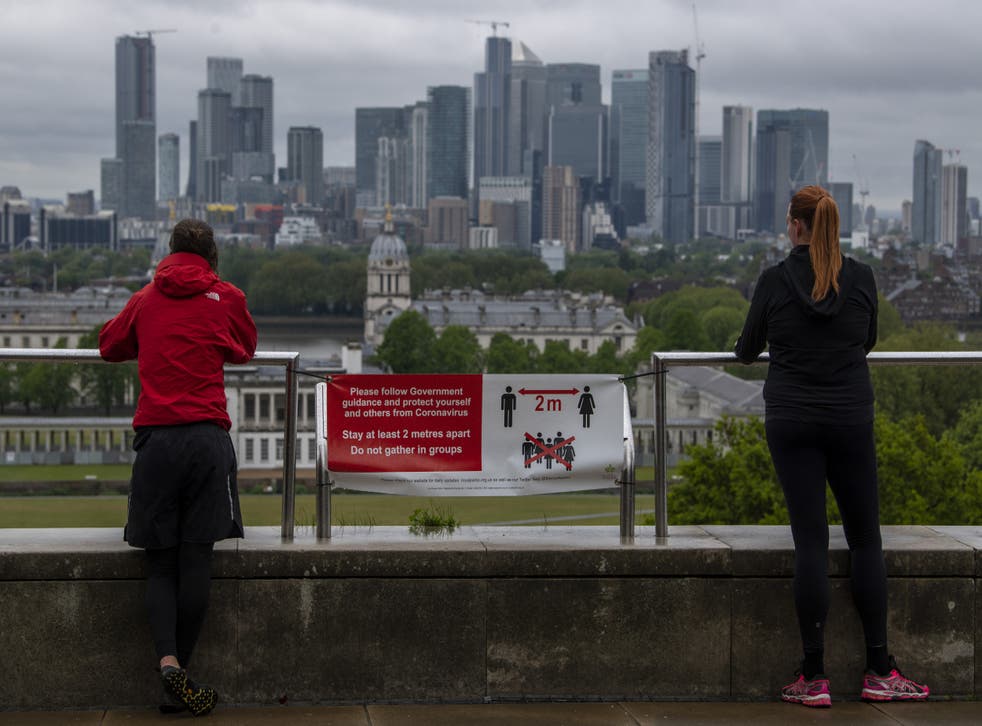 Ministers risk undermining the "collective solidarity" among the British public, sowing division, anger and resentment if the relaxation of the lockdown is not handled well, a senior behavioural scientist has warned.
The comments came during the inaugural session of a group of experts shadowing the government's scientific advisory group for emergencies (Sage), and amid calls for greater transparency on the advice provided to No 10 by the body.
Led by Sir David King – a chief scientific adviser to government between 2000 and 2007 – the newly-created "independent Sage" held its first session on Monday, with nearly a dozen experts analysing the UK's response to the coronavirus pandemic.
Later this week, Boris Johnson must review the current lockdown and the prime minister will launch an action plan to ease the country out of its current restrictive measures.
How coronavirus lockdowns changed the world's most polluted cities

Show all 6
Rather than being sudden return to the "old normal", cabinet minister Michael Gove said on Sunday that the government would pursue a "phased approach" to any relaxation of rules.
Susan Michie, a behaviour psychologist at UCL, who also sits on a sub-committee of Sage, said during the virtual session that people were surprised at "how adherent" the British public had been to government guidance so far.
"I think a lot of that has been down to the collective solidarity that has been built up as people have been rising to the challenges which for some people in some living conditions has been extremely challenging indeed," she said.
But going forward, professor Michie added: "In terms of lifting the lockdown its going to be a very different situation because in the lockdown similar measures were being carried out across the whole population by and large. But what we are going to be seeing is different measures for different sections of the population.
"This has the potential for undermining the collective solidarity that has been so important for trust, for adherence, for helping each other. If it's not handled well risks potential division between groups, risked perceived inequality and injustice and unfairness which can lead to resentment and anger and people getting alienated."
Prof Allyson Pollock, the director of Newcastle University's centre for excellence in regulatory science, also claimed during the session that covid-19 has "shone a spotlight on widening inequalities" in Britain, as she criticised the austerity cuts to public services and local authorities.
And she described the government's publication of the daily death toll and testing counts as a "propaganda tool" because the data "is unreliable when reported daily".
Prof Allyson recommended that the Office for National Statistics (ONS) publishes the statistics either once a week, or once a fortnight, to combat the "inaccurate and incoherent" data sent out to the public.
Register for free to continue reading
Registration is a free and easy way to support our truly independent journalism
By registering, you will also enjoy limited access to Premium articles, exclusive newsletters, commenting, and virtual events with our leading journalists
Already have an account? sign in
Join our new commenting forum
Join thought-provoking conversations, follow other Independent readers and see their replies