Coronavirus: NHS drug stockpiles meant for no-deal Brexit 'used up entirely' in pandemic
Pharmaceutical industry says that sufficient restocking before December may not be possible in the event that UK leaves single market without trade deal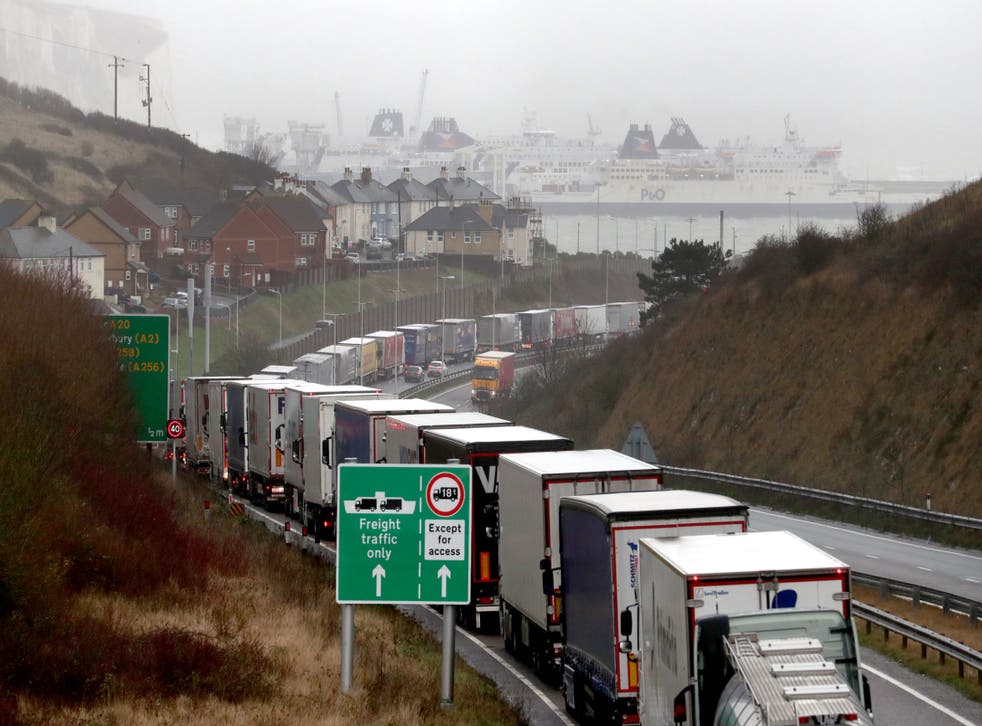 Some stockpiles of drugs and medical supplies earmarked for weathering a no-deal Brexit have been "used up entirely" during the coronavirus pandemic, the pharmaceutical industry has said.
Drug manufacturers wrote to ministers to warn that it may not be possible to sufficiently build stockpiles back up for the eventuality that the UK leaves the single market without a trade deal on 31 December.
A no-deal Brexit would be expected to disrupt international trade for medicines and foodstuffs among other items, with retailers warning last week that food shortages could be significantly worse than those in the early stages of the Covid-19 lockdown.
The government said it was "working to ensure" that there would be enough to go around if the UK leaves the single market without a trade deal.
An internal pharmaceutical industry memo, which was prepared for the government in May, warned that there would be "less or zero product available in the market to allow for stockpiling a broad range of products".
The memo, first reported by the BBC, adds that the supply of medicine was kept in place during the outbreak by "international coordination and information-sharing within global companies to ramp up, and where necessary, redirect manufacturing".
The pharmaceutical industry consequently argues: "We would warn against any drastic policies mandating wholesale changes to global supply chains, as this could fundamentally disrupt the supply of medicines for the NHS and patients in other countries."
Boris Johnson has refused to extend Brexit talks past December despite negotiations having been disrupted by the pandemic and there being no deal within sight.
A high-level meeting between Mr Johnson and the European Commission's president, Ursula von der Leyen, later this month will be the last opportunity for an extension under the agreement signed by the prime minister in January.
Opposition leaders branded the approach "reckless" and called for a change of course.
"These reports show the recklessness of the government's approach to Brexit negotiations and protecting our economy and NHS," said acting Liberal Democrat co-leader Ed Davey.
"The stockpiles created to protect against the risk of a no-deal Brexit have now been used up, and building them back up to safe levels by the end of the year is going to be very difficult.
"So by pushing the UK into a no-deal Brexit, the Conservatives could be putting more lives and more jobs at risk.
"The calls to extend the transition period have come from people who voted leave and remain alike. The government must put national interest ahead of Brexit ideology and extend the transition period."
Asked about the depletion of stockpiles, the prime minister's official spokesperson said: "Any responsible government has a duty to prepare for all scenarios and we are in regular contact with partners to ensure that robust contingency plans are in place.
Care home hit by coronavirus: A rare glimpse of life inside

Show all 18
"We continue to hold stockpiles to cope with a range of scenarios. This includes stockpiling a small number of medicines to support treatment of coronavirus patients and to help deal with any potential shortages."
Asked if the government could guarantee that there wouldn't be shortages in the case of the transition period ending without a trade deal, the spokesperson said: "We have a duty to prepare for all scenarios and that is what we are working to ensure."
A government spokesperson said: "The government continues to prepare for all scenarios and robust contingency plans are in place.
"We want a relationship with the EU which is based on friendly cooperation between sovereign equals and centred on free trade."
Register for free to continue reading
Registration is a free and easy way to support our truly independent journalism
By registering, you will also enjoy limited access to Premium articles, exclusive newsletters, commenting, and virtual events with our leading journalists
Already have an account? sign in
Register for free to continue reading
Registration is a free and easy way to support our truly independent journalism
By registering, you will also enjoy limited access to Premium articles, exclusive newsletters, commenting, and virtual events with our leading journalists
Already have an account? sign in
Join our new commenting forum
Join thought-provoking conversations, follow other Independent readers and see their replies