Covid face visors used as food-trays after Department of Health over-estimates PPE demand
Contracts being renegotiated to avoid adding to stockpile of masks, gowns and gloves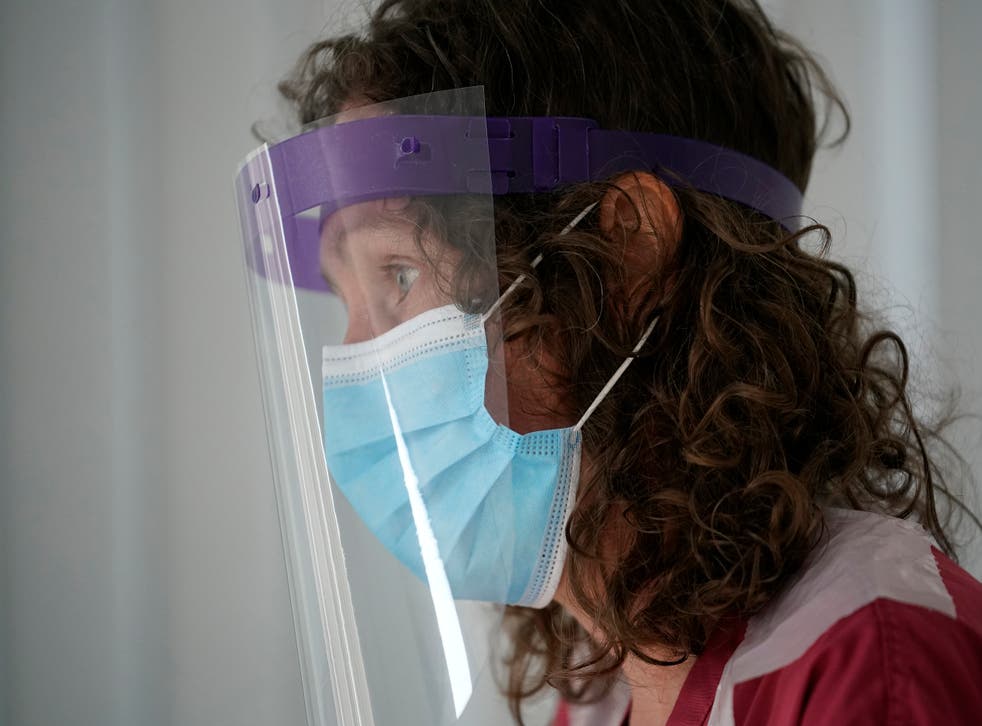 Surplus face-visors have been "repurposed" as food-trays in the NHS after the Department of Health and Social Care "over-estimated" the amount of personal protective equipment (PPE) in the coronavirus pandemic, MPs have been told.
The House of Commons Public Accounts Committee heard that DHSC is now in negotiations to cancel or amend contracts signed at the height of the pandemic last year, to try to avoid adding billions more items to a PPE stockpile of tens of billions of masks, gowns and gloves.
A senior DHSC official told MPs that a total of 32 billion items of PPE were purchased, and around 1bn are now being distributed to health and social care users.
Director general of public health Jonathan Marron told MPs that 11.7bn items have been supplied and DHSC expects a further 11bn to be used.
But committee member Nick Smith demanded to know what the department was doing to make savings on potentially "hundreds of millions of pounds of what may be unnecessary expenditure" on PPE deliveries still to come in.
A National Audit Office report in November found that the government had budgeted an "unprecedented" £15bn of taxpayers' money to buy PPE for England during 2020-21, paying "very high prices given the very unusual market conditions", with hundreds of millions of pounds' worth expected not to be used for their original intended purpose.
Mr Marron today told the PAC that contracts for 1bn items with a value of £475m had already been cancelled or renegotiated to prevent the arrival of unnecessary PPE.
And he said commercial discussions are under way on a further 40 contracts worth £1.2 bn relating to another 1.7 billion items which have been ordered but are not now believed to be needed.
UK news in pictures

Show all 50
Mr Marron said that in the high-pressure environment of spring 2020, DHSC was driven by the priority of purchasing enough PPE to deal with shortages at a time when frontline health workers were complaining of having to make gowns from beanbags.
"The mission was to make sure we had enough," he told the committee. "And if we took some conservative assumptions around what we would need, it was driven by the fact we did not want to run out."
With no prior experience to draw on, Mr Marron said DHSC planners calculated need according to theoretical models of how many interactions were likely between health and care staff and Covid patients and with the general public.
Planners also worked on worst-case assumptions that a proportion of orders would not be fulfilled, but in the event while many were late, the number which failed to arrive was lower than expected.
Mr Marron said: "As it turns out, our model was generous on the amount of activity that would be undertaken and therefore the amount of PPE needed, so our model probably overestimated."
Around 0.5-0.8 per cent of PPE supplied was not fit for use - sometimes because it did not meet UK standards, but sometimes because it did not fit with NHS practices, such as preferring to use gowns from a roll rather than packed in boxes, he said.
And he told MPs: "We started to look at repurposing that. We've managed to recycle some of our out-of-date visors into food trays."
Mr Marron said the UK had been left with "very significant stocks, which have allowed us to be really confident that we can meet the needs of health and social care, and indeed provide it to the wider economy, schools and transport."
Join our new commenting forum
Join thought-provoking conversations, follow other Independent readers and see their replies