Coronavirus and sick pay explained
Coronavirus: Rishi Sunak warned against cutting support for workers hit by crisis
Unions and businesses insist that any modifications of job retention scheme must be introduced flexibly
Unions have warned Rishi Sunak against cutting support for workers affected by the coronavirus crisis, amid claims that the chancellor is considering cutting the value of the furlough scheme under which the state pays part of their wages.
And businesses are calling for clarity on the chancellor's intentions, warning that support must remain in place as long as firms' activities are impacted by restrictions on normal life.
The British Chambers of Commerce (BCC) floated proposals for a move to partial furloughs, allowing firms to phase in their return to pre-pandemic working practices.
Mr Sunak is facing growing pressure over the cost of the job retention scheme, with the latest government figures showing that 6.3 million people are having up to 80% of their salaries paid by the Treasury, at a price of £8bn.
A decision on whether to extend the support beyond the current cutoff of the end of June is needed by the middle of next week in order to avoid companies starting redundancy processes to lay off staff in July.
Care home hit by coronavirus: A rare glimpse of life inside

Show all 18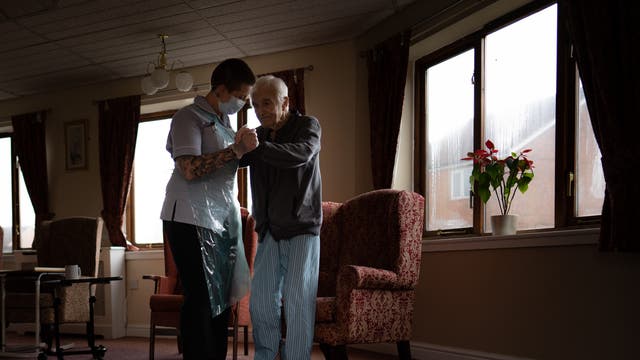 The Times reported that Mr Sunak will announce plans next week to wind down the scheme from July, with options including cutting the subsidy level and lowering the £2,500 cap on monthly payments.
However, Treasury sources insisted that no decisions have yet been made, saying that "everything is still on the table".
The TUC director general, Frances O'Grady, warned that any changes must not undermine the incomes of workers who are currently furloughed.
"The job retention scheme must be flexible enough to allow for a gradual return to work," she said.
"But that can't be achieved by cutting support for workers.
"Workers must get at least 80 per cent of their wages paid for every hour they are furloughed."
The BCC also called for flexibility, saying that the job retention scheme should be "adapted" as the UK gradually moves away from lockdown, rather than withdrawn in an abrupt cliff-edge.
The BCC's director general, Adam Marshall, said: "The job retention scheme has been successful in its aim to protect livelihoods.
"Ministers should adapt the scheme in alignment with any phased restart of the economy. Support must remain in place for firms that are not able to operate for an extended period and for those who face reduced capacity or demand for their services as a result of ongoing restrictions.
"Adaptations could include the ability to partially furlough staff to support a phased rebuilding of capacity.
"Businesses need clarity on this, and the future of other support schemes, so they can plan ahead, survive this crisis and thrive in the future."
The health secretary, Matt Hancock, has previously said the government must "wean" businesses off the scheme "as the economy gets back on its feet".
And a senior government source told The Times that "people are addicted to the scheme", adding: "We're not talking about a cliff edge, but we have to get people back to work."
Angela Rayner, Labour's deputy leader, criticised Mr Hancock and the source for using "dreadful terms" against "workers who through no fault of their own have been told to stay away from work" during the pandemic.
And the party's leader, Sir Keir Starmer, called on ministers to set out the next steps for the "lifeline" scheme.
"It's important that that scheme is in place," Starmer's spokesperson said. "The government does need to provide clarity about the future status of that scheme.
"What we've said is that the government should allow for greater flexibility for businesses, with some staff able to semi-furlough to ensure that they do not face a cliff edge when the scheme comes to an end."
Mr Sunak has previously acknowledged the current level of expenditure is not "sustainable" in the long term and said ministers were investigating ways to wind it down in a "measured way".
Liberal Democrats have called for a "tapered" end to the programme, with the Treasury paying 50% of salaries for the first month after people return to work, falling to 30% after the third month, with employers picking up the full bill after the fourth.
And the Scottish National Party's Treasury spokesperson, Alison Thewliss, said it was "vital the UK government does not take premature steps to wind down measures".
The Unison union has called on the government to extend the furlough scheme beyond private companies and open it up to the self-isolating staff of employers that receive public money to help provide services – such as charities, businesses providing contract cleaning or catering services for hospitals and schools, and nurseries receiving state support to provide free childcare.
In a letter to Mr Hancock, the union also asked for employees who are off work because they are protecting vulnerable loved ones to be treated the same as those in self-isolation and therefore be eligible for statutory or occupational sick pay and leave.
Unison's general secretary, Dave Prentis, said: "Key workers are being forced to choose between protecting vulnerable loved ones or losing pay.
"Employers putting their staff under pressure need to stop hiding behind public health guidance and use more common sense. Leaving staff with no income when there are other options to pursue is simply wrong.
"Unison has put forward simple solutions that we hope ministers will take on board before more livelihoods, and potentially lives, are lost."
Join our new commenting forum
Join thought-provoking conversations, follow other Independent readers and see their replies