Coronavirus: Scottish government 'pauses' work on plans for independence referendum this year
Scottish minister also urges UK government to halt Brexit talks for at least six months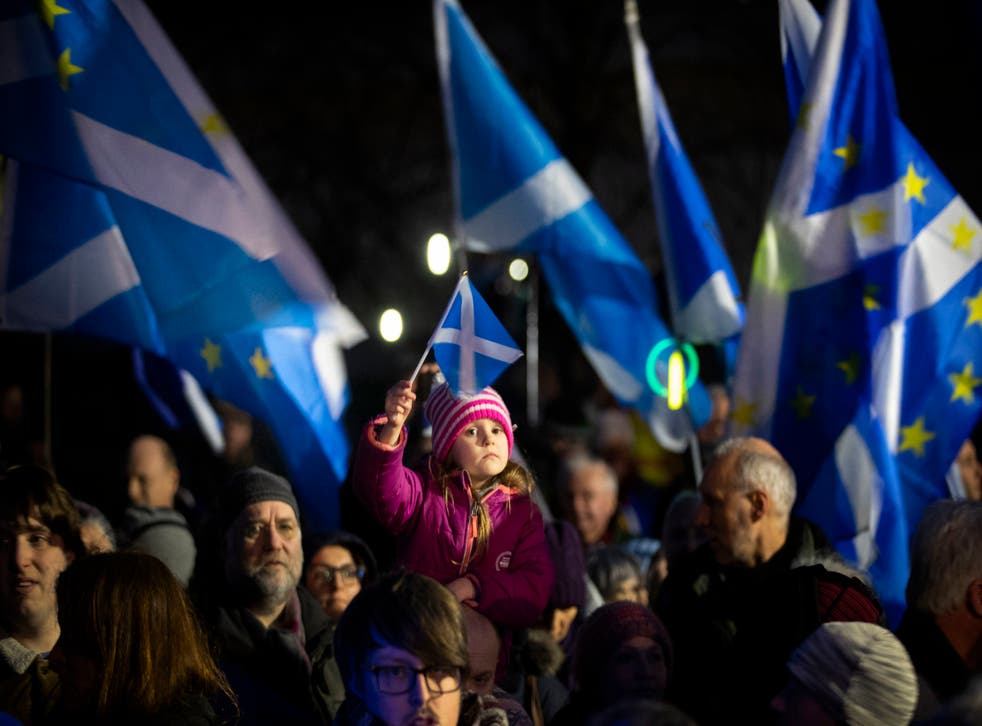 Preparations for a Scottish independence referendum this year have been put on ice due to the coronavirus outbreak, a senior minister has said.
Mike Russell, the Scottish constitution secretary, revealed that preparations for a second referendum have been "paused" to allow ministers cope with the global pandemic.
Nicola Sturgeon previously insisted that another vote could take place this year, despite Boris Johnson's formal refusal to grant powers to Holyrood to hold a fresh poll.
But work towards a fresh referendum this year have now been formally abandoned, Mr Russell told his Westminster counterpart Michael Gove.
In a letter to Mr Gove, he said: "Because of the crisis, the Scottish Government has paused work on preparing for an independence referendum this year.
"We have also written to the Electoral Commission to make clear we do not expect it to undertake testing of a referendum question until public health circumstances permit such activity (while also urging the commission to reject the UK Government's objections to testing).
"That will allow us to focus all available resource on current and future demands in what is an unprecedented set of circumstances.
"It follows from this that a referendum will not take place this year."
Mr Russell urged the British government to consider put the Brexit talks on hold for at least six months, arguing that all attention must be focused on the coronavirus crisis.
He added: "It would seem impossible for business and others to cope with the enormous challenge of Coronavirus while at the same time preparing for a completely new relationship with the EU in nine months' time.
"A pause is also necessary given the inevitable lack of parliamentary and public scrutiny of the negotiations and their progress over that period, when all attention and effort will be focused on our collective actions to tackle and defeat the Coronavirus."
Before and after photos show impact of coronavirus around the world

Show all 20
The move was welcomed by unionist politicians, with Labour deputy leadership candidate Ian Murray praising the SNP for putting constitutional politics aside.
Mr Murray, the MP for Edinburgh South, said: "This is the right decision by the SNP government, but it should never have devoted resources to an unwanted second independence referendum in the first place.
"This is no time for constitutional politics.
"Not only should there be no second independence referendum, the Brexit timeline should also be extended.
"It was already virtually impossible to secure a deal that protects businesses and workers, and now there is zero chance of securing that before the end of the year."
Scottish Tory shadow constitution secretary Murdo Fraser said: "Since the scale of this outbreak became clear, it's been necessary for all governments and political parties to work together.
"This announcement from Mike Russell is very much in keeping with that spirit.
"Now we can really dedicate all our efforts to enduring this crisis, supporting those who will be worst hit, and ensure we can come out the other side looking forward to a bright future."
The move comes after cracks emerged in the SNP's usually unified facade over the best route to independence.
Some figures have expressed concern that Ms Sturgeon has been too cautious in her approach and urged the SNP leader to push for a Catalonia-style wildcat referendum - without Mr Johnson's permission.
Angus MacNeil, the Western Isles MP, said publicly spoke out about "dithering" by the SNP leadership for delaying its request for referendum until after the election, which he said had denied the party the opportunity to set out a position in its manifesto for the 12 December poll.
Join our new commenting forum
Join thought-provoking conversations, follow other Independent readers and see their replies