Plan to beat 'pingdemic' branded shambles as firms report frustration trying to register staff
'Completely in the dark': Companies struggle to work out if they are regarded as essential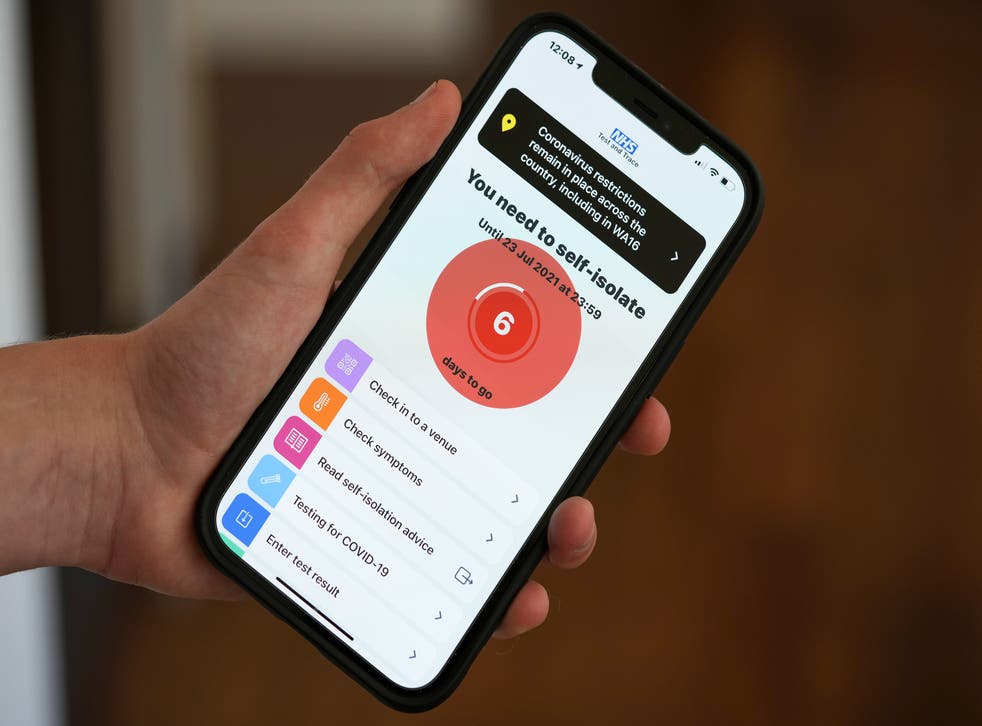 A government scheme to beat the "pingdemic" by exempting essential workers from self-isolation has been denounced as a shambles, as small businesses warned they were facing frustration and delays in trying to sign up staff.
Ministers last week announced 800 daily testing sites would be set up around the country to allow food industry and emergency services staff to show they are safe to work, and a further 1,200 were announced on Monday as the scheme was expanded to include jobs including binmen, prison warders and energy workers.
Some 500 are supposed to be operational by the end of this week, with only a few dozen thought to be up and running now.
But representatives of small businesses said they had struggled to find lists of venues for workers to take tests, and the Department of Health was unable to provide The Independent with a figure for how many have so far been set up.
The national chair of the Federation of Small Businesses, Mike Cherry, said that when the daily testing scheme was announced last week, many firms hoped it would end problems caused by staff being identified as contacts of Covid-positive people and told to stay home ahead of the 16 August date for all double-jabbed adults to be exempted from self-isolation.
But he said they had been "disappointed" by the bureaucratic burden of applying for exemptions and the limited number of workers who appear to be eligible. And he warned that "countless" businesses could be put at risk as a result.
"The increasing list of those allowed to take a PCR test after being pinged does not include the vast majority of small business workplaces," said Mr Cherry. "Those that hope that they do fall into scope are finding out that they do not.
"For a small business without a big HR or legal department, that does not have an account manager within a government department like a large business does to ask and manage the process, the exemption application process is demanding and hard to navigate.
"A fundamental question is, how are we defining 'essential'? One of the many lessons of the pandemic has been how interconnected our economy is – it's no good getting food and essential supplies to remote convenience stores if those stores are shut because all the staff have been pinged and they're not classed as essential.
"Unless these issues are sorted, and sorted rapidly, we risk undoing provisional progress towards recovery, putting the 'staycation summer' at risk, while endangering countless businesses."
Road Haulage Association managing director for policy and public affairs Rod McKenzie told The Independent: "It's a shambles.
"What hauliers are telling us is that it is too complicated, it's too hard to understand what you have to do and work out whether you are exempt or not."
Mr McKenzie said government had been "secretive" about the number of testing sites which have been set up and where they can be found.
With just three weeks to go until the 16 August date for lifting the threat of self-isolation for the double-vaccinated, he said many truckers viewed the time and effort required to register for exemption as more trouble than it was worth.
"Our members find it confusing and bureaucratic and a lot of them are just not bothering to apply," he said. "These guys were essential workers before, they are essential now. We're seeing empty shelves in supermarkets which are used to two or three deliveries a day and are maybe only getting one. If they are double-jabbed and they're testing negative, why not let them work?"
UK news in pictures

Show all 50
Food wholesalers Birchall Foodservice of Burnley, which supplies care homes, hospices, hospitals, schools and colleges as well as restaurant, said they were "completely in the dark" about how to access teh exemption scheme for their staff.
HR manager Krissy Fremont told Radio 4's Today: "There's still a total lack of detail. We were told yesterday the government would directly contact wholesale food service providers that were going to be on the list, and we haven't been contacted.
"We were given an email to contact and ask if we were on the list. I did that yesterday and got an automated response saying 'We're receiving a high volume of emails, we'll get back to you'. So we're as much in the dark as we were."
Ms Fremont said that she and other office workers had been out in vans making deliveries to ensure that customers did not miss out because drivers were absent after being pinged.
"Our care sector can be anything from a care home to a hospice or some levels of hospital, so these are vulnerable people who need their food deliveries," she said. "We support holiday hunger campaigns for children receiving free school meals and without our deliveries those children aren't going to get those meals."
Labour's shadow transport secretary Jim McMahon said: "Ministers have been told time and time again that their short-term fixes are merely a sticking plaster on a crisis that is only going to worsen.
"They must act fast to clear the testing backlog and boost driver recruitment before the impact on workers and consumers becomes critical. Boris Johnson's usual corner-cutting approach is simply not good enough."
The Department for Transport did not respond to The Independent's request for a comment on suggestions the scheme was a "shambles" and there was no immediate reply to requests for details of the number and location of testing sites.
Join our new commenting forum
Join thought-provoking conversations, follow other Independent readers and see their replies