Scathing report blasts 'unimaginable' £37bn cost of coronavirus test and trace system
No measurable evidence that scheme made difference in slowing progress of pandemic, cross-party committee finds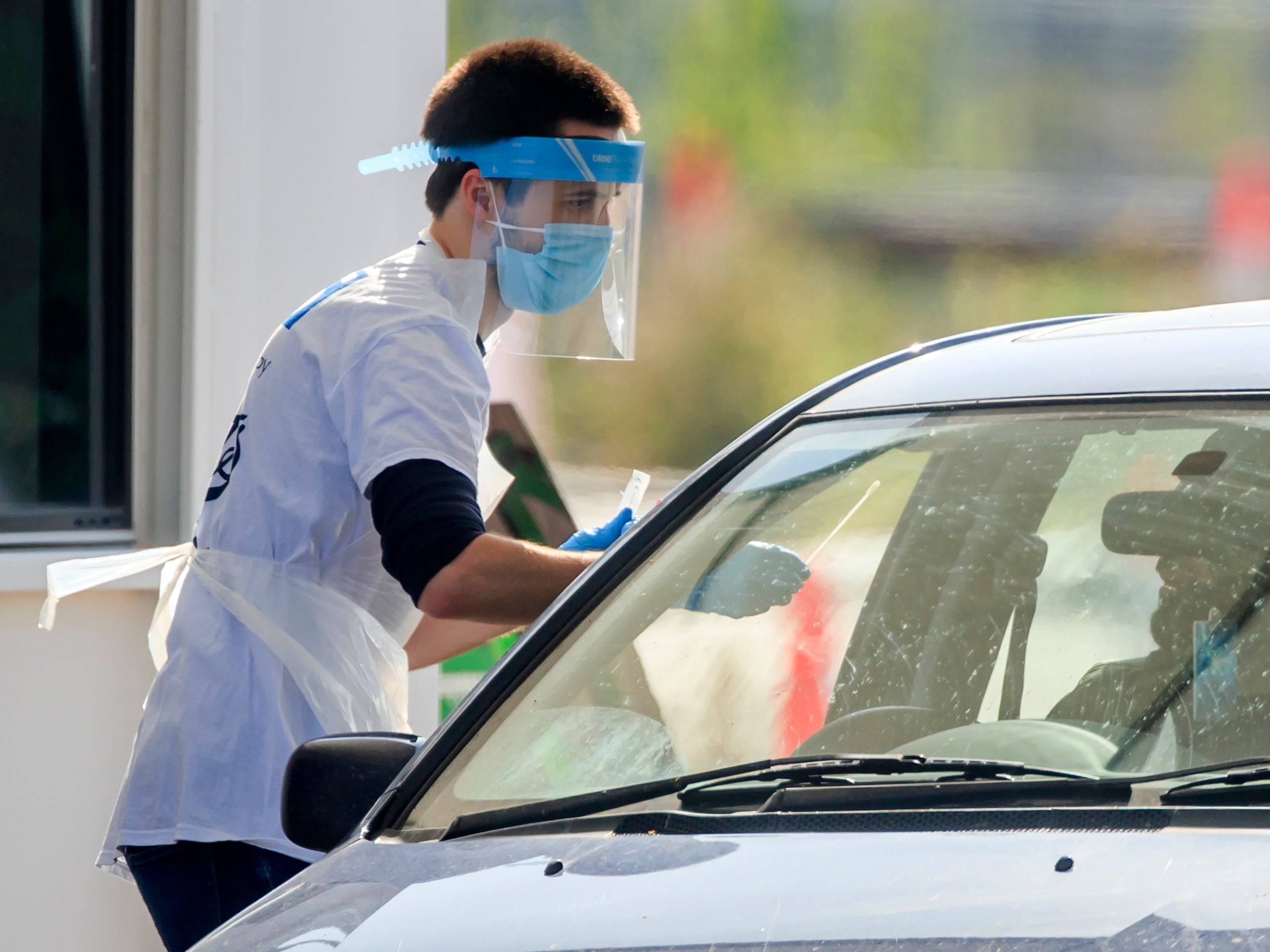 Dido Harding's test and trace system has swallowed up "unimaginable" amounts of taxpayers' money with no evidence of any measurable difference on the progress of the coronavirus pandemic, a scathing report by a Westminster spending watchdog has found.
The report said NHS test and trace must "wean itself off" its reliance on private-sector consultants, after figures showed it was still employing around 2,500 in early February on an estimated daily rate of £1,100 a head – with the highest-paid individual costing taxpayers £6,624 a day.
Despite its £23bn budget in its first year of operation, test and trace failed in its task of preventing the second and third lockdowns, found the cross-party House of Commons Public Accounts Committee. 
And there was still no clear evidence of its effectiveness in driving down Covid-19 infection rates. The committee said it was "not clear" that its contribution to the fight against coronavirus justified its astronomical cost.
Committee chair Meg Hillier demanded better control of costs, accusing the government of treating taxpayers "like an ATM machine".
And unions said that vast sums had been "frittered away" on poorly performing parts of the test and trace system, rather than investing in NHS staff or in the financial support needed to persuade people to stay at home when told to self-isolate.
The report found that the system had increased testing levels to more than 800,000 a day, contacted over 2.5 million people who had tested positive and 4.5 million of their contacts.
Chancellor Rishi Sunak's Budget last week included an additional £15bn for test and trace, taking the total bill to more than £37bn over two years.
But the report said that claims that test and trace activities have cut the reproduction rate – known as R – by 0.3 to 0.6 rest on the assumption that people self-isolate as required, when in fact compliance with self-isolation rules has been "low".
The proportion of available laboratory testing capacity used by test and trace was often well below 50 per cent into the months to October and remained below 65 per cent in November and December as cases soared, the report found.
Test and trace "significantly underestimated" the increase in demand when schools and universities returned in September and "still struggles to consistently match supply and demand" for its services.
Ms Hillier said: "The £23bn test and trace has cost us so far is about the annual budget of the Department for Transport. Test and trace still continues to pay for consultants at £1,000 a day.
"Yet despite the unimaginable resources thrown at this project, test and trace cannot point to a measurable difference to the progress of the pandemic. And the promise on which this huge expense was justified – avoiding another lockdown – has been broken, twice."
She said that Matt Hancock's Department for Health and Social Care (DHSC) and test and trace must "rapidly turn around these fortunes and begin to demonstrate the worth and value of this staggering investment of taxpayers' money".
Today's report called on test and trace to put in place a clear plan to reduce its reliance on costly consultants. And it said DHSC should produce a strategy within the next six to nine months for maintaining testing readiness for future pandemics.
"Not only is it essential it delivers an effective system as pupils return to school and more people return to their workplace, but for the billions of pounds spent we need to see a top-class legacy system," said Ms Hillier. 
"British taxpayers cannot be treated by government like an ATM machine. We need to see a clear plan and costs better controlled."
Today's report follows a National Audit Office analysis in December which found that too few test results were delivered within 24 hours and too few contacts told to self-isolate.
Some call handlers were said to have been busy for only 1 per cent of their paid hours in the service's early days, rising to less than 50 per cent in October.
Labour's shadow Cabinet Office minister Rachel Reeves said that the new report showed that "this government's outsourced, Serco-led test and trace system failed the British people and led our country into restrictive lockdown after lockdown".  
She called on ministers to ditch their "wasteful obsession" with outsourcing and give responsibility for contact tracing to public health teams.
"It underlines the epic amounts of waste and incompetence, an over-reliance on management consultants, taxpayers' cash splashed on crony contracts, all while ministers insist our NHS heroes deserve nothing more than a clap and a pay cut," said Ms Reeves.
TUC general secretary Frances O'Grady said that the test and trace system had been "massively undermined" by the government's refusal to provide decent sick pay for all.
She called for the £96-a-week statutory sick pay to be increased to the level of the real living wage of £10.85 an hour in London and £9.50 elsewhere in the UK.
"No one should be forced to choose between self-isolating and paying their bills," said Ms O'Grady.
"Ministers must urgently raise statutory sick pay to the level of the real living wage and make everyone eligible.
"The government's plans to reopen the UK will be in jeopardy if people aren't able to self-isolate."
Dame Donna Kinnair, general secretary at the the Royal College of Nursing , said: "Nursing staff who have been offered a 1 per cent pay increase will be furious to hear of the millions of pounds being spent on private-sector consultants.
"The public know more nurses, not more highly-paid consultants, means better care."
Responding to the report, NHST&T chief Baroness Harding said: "NHS Test and Trace is essential in our fight against Covid-19 and regular testing is a vital tool to stop transmission as we cautiously ease restrictions. 
"Protecting communities and saving lives is always our first priority and every pound spent is contributing towards our efforts to keep people safe - with 80 per cent of NHS Test and Trace's budget spent on buying and carrying out coronavirus tests.
"After building a testing system from scratch, we have now carried out over 83m coronavirus tests - more than any other comparable European country - and yesterday alone we conducted over 1.5m tests. We are now rolling out regular rapid asymptomatic testing which is supporting children to go back to school, people to go to work and visitors to see their loved ones in care homes.
"NHS Test and Trace has successfully reached 93.6 per cent of the contacts of positive cases - with 98 per cent being contacted within 24 hours, and the contact tracing service has already reached more than 9.1m cases and contacts, making a real impact in breaking chains of transmission."
Tamzen Isacsson, chief executive of the Management Consultancies Association (MCA) said that the consulting sector had worked alongside healthcare organisations, the military, public bodies and private firms as "an integrated team to set up and scale the Test and Trace system, a vital service needed to help control this pandemic"
"Consultants from across a wide range of firms are working shoulder-to-shoulder together with civil servants as part of one national team to help run the technology platforms and systems for testing the population," she said.
"Our MCA member firms have highly stringent governance procedures which adhere to the government-set criteria and which ensure staff working on public sector projects meet the highest standards in ethics and are held to account to ensure the public interest is being served and that firms are providing value for money."
Join our commenting forum
Join thought-provoking conversations, follow other Independent readers and see their replies