Coronavirus: Tests to allow care home residents to have visitors over Christmas
Visits to be allowed throughout England, regardless of local restriction tier
Andrew Woodcock
Political Editor
Tuesday 01 December 2020 19:52 Comments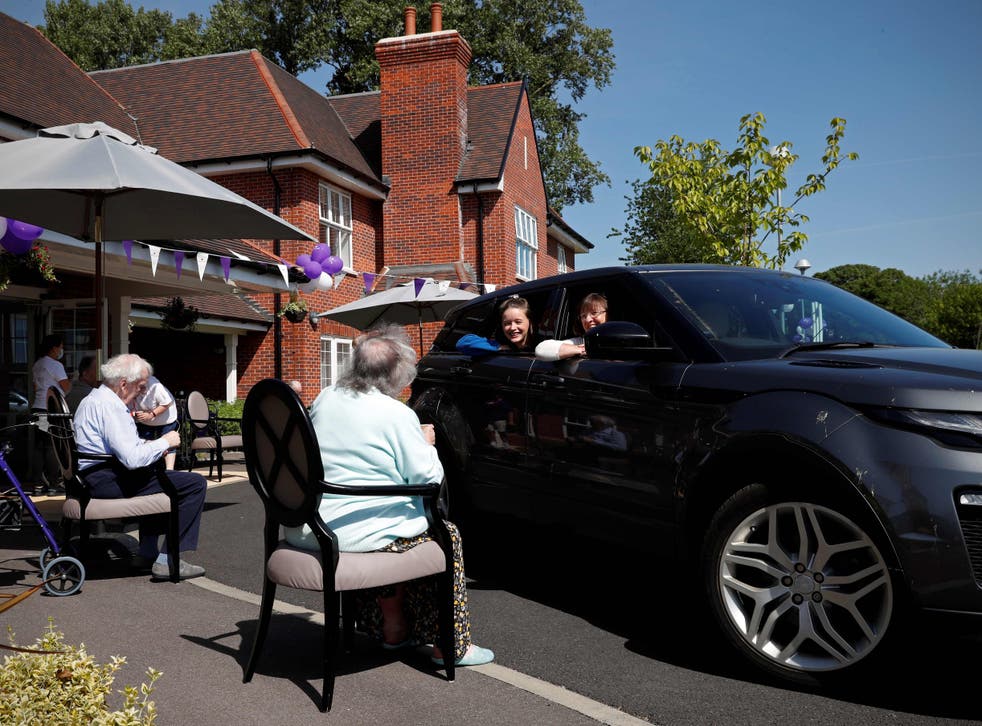 Leer en Español
Care home residents in England are to be able to see loved ones over Christmas, after health secretary Matt Hancock announced the deployment of 1 million rapid-turnaround testing kits to check that visitors are safe to come in.
Enough kits will be supplied over the coming weeks for each resident to receive two visitors coming to see them twice a week each, regardless of the local tier of coronavirus restrictions.
And there will be opportunities for residents aged under 65 to leave care settings to visit their families at home.
These trips home will be subject to individual risk assessments, a negative test for Covid-19 and a period of self-isolation on return. Residents may only visit one household and will not be allowed to form a three-household "Christmas bubble".
Age UK charity director Caroline Abrahams hailed the move as "really good news" that will lead to "many families being reunited with their loved ones after an awfully long time". 
Many care home residents had feared that visits would only be made available in lower-tier areas and would welcome the government's decision as a "much fairer and more proportionate" approach, she said. But she warned that practical arrangements must be well planned to avoid setting families up for disappointment.
"Research we have carried out and will be publishing soon demonstrates just how searing an experience this has often been, both for care home residents who yearn for the day they can see and touch those closest to them once again, and for family members and friends desperately worried and upset by being kept apart," said Ms Abrahams.
Coronavirus restrictions over the past nine months have led to heart-rending scenes of elderly people being denied contact with children and grandchildren, or only being able to see them only through prison-style screens or the window of their room.
Now the Department of Health and Social Care believes that pre-testing of family members will allow homes to strike a balance between infection control and the benefits of visits to the health and wellbeing of residents.
Mr Hancock said: "I know how difficult it has been for people in care homes and their families to be apart for so long. The separation has been painful but has protected residents and staff from this deadly virus.
"I'm so pleased we are now able to help reunite families and more safely allow people to have meaningful contact with their loved ones by Christmas.
"This news has been made possible by the unprecedented strides made in testing technology and capacity, as well as extra PPE supplies."
Visitors will be required to book slots with care homes in advance and wear personal protective equipment (PPE) and follow infection control measures while on the premises.
An extra 46 million items of free PPE will be sent to care home providers.
More than a million lateral flow rapid-turnaround tests have already been sent out to the 385 biggest care homes as the first tranche of a phased approach to make visits safer.
The chief executive of Care England, Prof Martin Green, welcomed the move.
"We appreciate the continued risks associated with visits, but this represents a positive step forwards," he said. "The most important relationships in most people's lives are with their families or other people, where love and trust are shared."
Register for free to continue reading
Registration is a free and easy way to support our truly independent journalism
By registering, you will also enjoy limited access to Premium articles, exclusive newsletters, commenting, and virtual events with our leading journalists
Already have an account? sign in
Join our new commenting forum
Join thought-provoking conversations, follow other Independent readers and see their replies