Councils paid to cut smoking, but have £2bn of tobacco shares
Campaigners say 'blood money' investments conflict with local authorities' public health role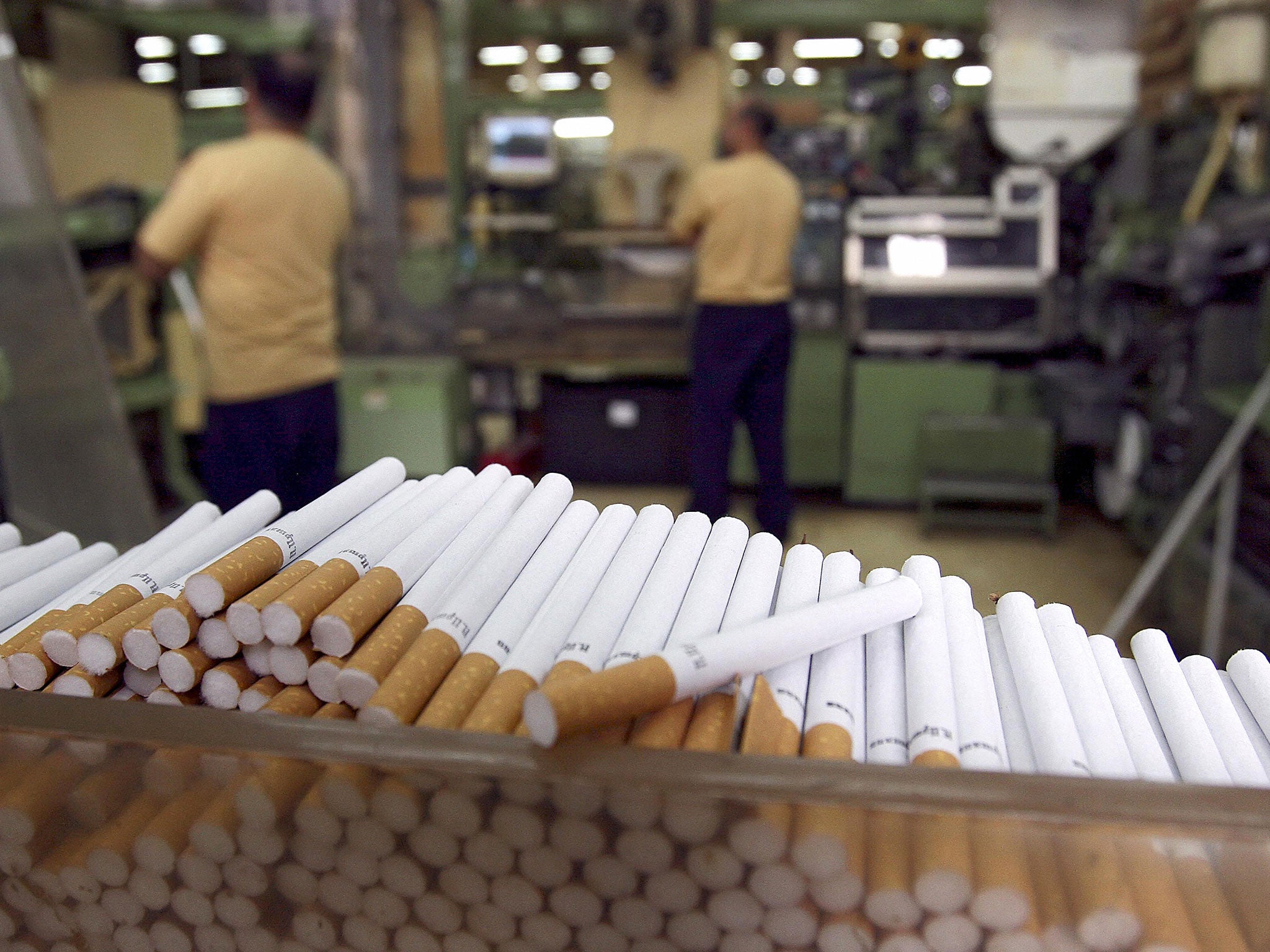 Local authority pension funds have nearly £2bn invested in the tobacco industry despite the county councils they represent being responsible for promoting public health, including anti-smoking campaigns, The Independent on Sunday can reveal.
Figures obtained under the Freedom of Information Act show for the first time the full extent to which the 99 regional pension funds, representing 4.6 million public sector workers, own shares in the tobacco giants that promote smoking around the globe.
Local authorities in England and Wales have holdings in cigarette producers worth £1.8bn, of which more than half – £953m – is invested in a single company, British American Tobacco.
BAT, which is one of the world's largest tobacco companies and is based in London, is among the companies lobbying against the introduction of plain packaging for cigarettes in Britain as well as pushing sales in developing countries. It has recently set out a "harm reduction" strategy aimed at developing safer nicotine-based products such as e-cigarettes, although the vast majority of its earnings still come from selling normal cigarettes.
Campaigners and experts say the substantial holdings amount to "blood money investment" by local authorities and are unacceptable because of the transfer last year of responsibility for improving public health through promotions, including high-profile anti-smoking campaigns, to councils in England. This year, the Department of Health paid £2.79bn to local authorities for public health campaigns on subjects including smoking prevention and cessation, such as the "Stoptober" campaign.
According to the FoI figures, some eight in 10 of the regional pension funds have tobacco holdings, and just 10 funds are responsible for nearly half of the total – £822m worth of shares.
The tobacco shares are held as a mixture of direct investments by funds and indirect holdings through managed or pooled funds.
The largest investor is West Yorkshire, with shares worth £186m, followed by the London Borough of Barnet, with £116m. The five local authorities making up the West Yorkshire fund will receive £128m this year for public health promotions – representing more than two-thirds of the value of their tobacco investment – while Barnet will receive £14.3m.
John Middleton, the policy head at the Faculty of Public Health, said: "These amount to blood money investments. They are simply incompatible with the role local authorities now have in assuring the health of the populations they serve. There is a clear case for local authorities to disinvest from these funds or risk undermining their credibility.
"We have a situation where, if a local authority employee is a smoker, then they risk not seeing their pension through premature death. How can investing in a strong tobacco industry be in the best interests of those fund members?"
Campaigners said the figures should increase the pressure on council committees and trustees who oversee the pension funds to liquidate their tobacco holdings, on both ethical and investment grounds.
The number of smokers in England fell by 1.1 per cent last year to a historic low of 18.4 per cent of the population. At the same time, smoking remains the single largest cause of preventable illness and premature death in Britain, costing the NHS an estimated £2bn a year.
A global squeeze on tobacco sales following the introduction of anti-smoking legislation in key markets such as China and the effects of the economic slowdown have also hit the performance of some of the big so-called "sin stocks".
Imperial Tobacco, the second largest recipient of local authority investments, last year announced its first fall in profits in 17 years; while, in October, BAT, whose brands include Lucky Strike and Dunhill, revealed that it had sold 495 billion cigarettes in the first nine months of 2014 – a 1 per cent fall year on year. Both companies insist their overall financial performance remains strong.
Stewart Brock, of the Tobacco Free Pensions campaign, said: "Tobacco has seriously underperformed the market in the past year or so, when it has previously always done well in recessions. Tobacco volumes are falling worldwide. The economic case for divestment is getting stronger."
Pension funds say they have a legal or fiduciary obligation to "maximise financial return" and cannot give consideration to ethical issues. But new regulations for the Local Government Pension Scheme, the umbrella body for the 99 council funds, allow local authorities to take into account the "public health implications" of their investments, opening the way for divestment.
This summer, Croydon Borough Council became the latest of a small number of local authorities to declare that its pension holdings would become tobacco free and placed instead with an ethical fund, following the example of two other London authorities, Newham and Brent. Suffolk County Council has asked its pension trustees to take similar steps.
Simon Hall, Croydon's cabinet member for finance, said: "The council will be getting a better investment deal, as ethical funds are performing favourably against other schemes. Tobacco is not the low-risk, high-profit investment it once was."
The tobacco companies insist the sector's financial performance remains robust. In a statement, the Tobacco Manufacturers' Association said: "Tobacco is a legitimate industry and people are free to choose to invest in tobacco stocks. Fund managers should be free to make the best financial decisions for their investors."
Deborah Arnott, the chief executive of the health charity ASH, said: "Councils have a legal duty to get the best deal for their pensioners and taxpayers, and another legal duty to promote the health of local people, so we recommend they take legal advice on this tricky issue."
Additional reporting by Ed Jones
Join our commenting forum
Join thought-provoking conversations, follow other Independent readers and see their replies