Scientific adviser backs rethink of experts' thumbs-down for teenage Covid jabs
With significant pressure on the NHS, England has little 'wriggle room' to avoid new lockdowns
Andrew Woodcock
Political Editor
Saturday 04 September 2021 20:05 Comments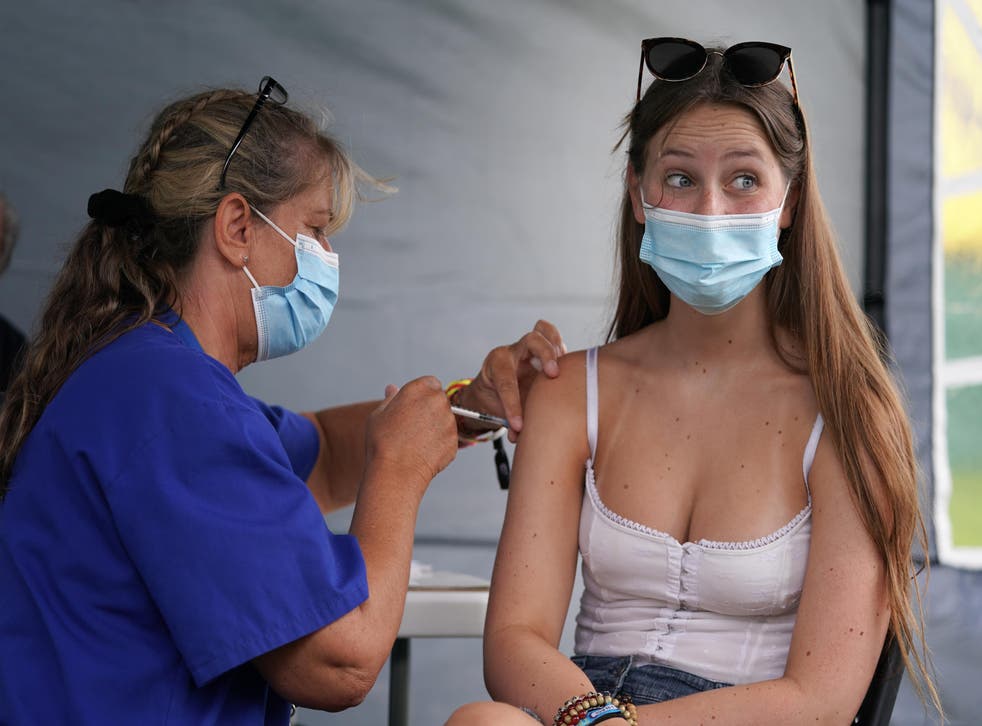 A senior government scientific adviser has backed the decision to review experts' rejection of vaccines for teenagers, warning that England has little "wriggle room" to avoid new coronavirus lockdowns.
Professor John Edmunds, a member of Sage (the Scientific Advisory Group for Emergencies), said England was likely to see a big increase in Covid-19 infection rates as unvaccinated children go back to schools.
Independent body the Joint Committee on Vaccination and Immunisation (JCVI) rejected universal jabs for 12- to 15-year-olds on Friday on the grounds that benefits to their health were only "marginal", giving the green light for the inoculation of only 200,000 children with underlying health conditions.
And a member of the committee warned today that the vaccine "could do more harm than good" to healthy youngsters.
But ministers ordered a review by the chief medical officers (CMOs) of the four nations of the UK – including Professor Chris Whitty – to determine whether social and educational impacts on children might tip the balance in favour of mass vaccination.
They are expected to report by the end of the coming week, with ministers thought to be all but certain to give the green light for all 12- to 15-year-olds to have the Pfizer vaccine.
Prof Edmunds said today that it was right for the CMOs to look at the issue from a broader perspective than that of the JCVI, which is only qualified to consider health factors.
"Obviously we need to take into consideration the wider effect that Covid might have on children in their educational and developmental achievements," the epidemiologist from the London School of Hygiene and Tropical Medicine told BBC Radio 4's Today programme.
UK news in pictures

Show all 50
"It's difficult to say exactly how many children haven't been infected, but it's probably about half of them. So that's about 6 million children.
"If we allow infection just to run through the population that's a lot of children who will be infected, and that will be a lot of disruption to schools in the coming months. I think you have to take that into account."
Prof Edmunds said a big increase in cases in England was "likely", not only because of classrooms opening for the autumn term, but also because of employees returning to the office.
He said he hoped the UK would avoid further lockdowns, but warned that pressure on the NHS was currently "significant" and that the return of such measures to stem the spread of Covid-19 could not be ruled out.
"If you look at what the pressure is on the NHS at the moment, it's much less than it has been previously, but it's significant," said Prof Edmunds. "There are significant numbers of cases in hospital at the moment – about the same level as there were in mid-October last year, which was shortly before we went into a lockdown – so we don't have a lot of wriggle room."
Former government chief scientific adviser Sir Mark Walport said that it was right for Boris Johnson and other policy-makers to ask medical advisers to consider broader aspects of the decision on jabs for teens.
"My child's or my grandchild's health is also affected by their social environment, by their ability to go to school, by what happens in the family," he told Today. "There are broader factors as well."
Ministers could in theory press ahead with the mass vaccination of teens, even if the CMOs advise against it, he said.
"The role of the government scientific adviser, and of course Chris Whitty as the CMO, is to provide the advice to government, who in principle can take it or leave it," said Prof Walport.
But JCVI member Adam Finn defended the decision not to approve universal jabs for teenagers.
"We know that these vaccines work, they do prevent the disease," he told Sky News. "But we also know that healthy children aged 12 to 15 very seldom get seriously ill with Covid.
"And in that situation, the fact that there are side effects, albeit very rare, which we don't really understand at this point, means that there is a risk that we could be doing more harm than good with this vaccine.
"And in that situation – even though it's not very likely – we really are cautious to advise that all children should receive the vaccine. It's really mostly to do with the fact that the risks of Covid are so small in healthy children."
The general secretary of the Association of School and College Leaders, Geoff Barton, said that headteachers and principals would "absolutely" back instructions to assist in the vaccination of pupils if the review determines that it would reduce disruption to education.
"If the guidance is that this will reduce the disruption for all those young people, we'll absolutely back that," said Mr Barton.
"Disruption to young people doesn't just mean they're missing some time with their history teacher. In the most extreme cases – as the Centre for Social Justice showed us last autumn – (we have) 90,000 children missing from schools, some of those being drawn into gang culture, some of them potentially never coming back into education.
"So the government is right on this that we have to look at the broader picture.
"And frankly in England, specifically, where we've got so few measures now, this is going to be one of the most reassuring ways of telling those 12- to 15-year-olds, 'Have the kind of jab that your parents are likely to have had, because that is going to minimise the disruption for you.'"
Register for free to continue reading
Registration is a free and easy way to support our truly independent journalism
By registering, you will also enjoy limited access to Premium articles, exclusive newsletters, commenting, and virtual events with our leading journalists
Already have an account? sign in
Join our new commenting forum
Join thought-provoking conversations, follow other Independent readers and see their replies