Covid would have been dealt with better if key decisions weren't all made by men, says Labour frontbencher
Exclusive: Marsha de Cordova says ministers have refused to acknowledge Covid emergency's profoundly unequal impact on women and ethnic minorities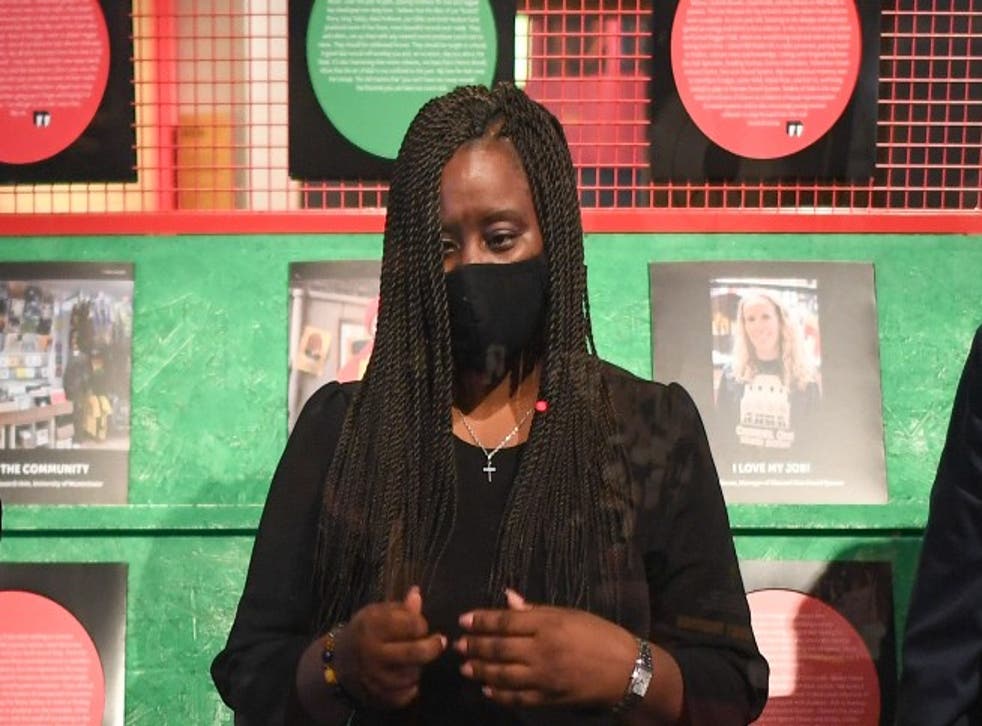 The government would have handled the coronavirus crisis better if major decision-making had not been left mostly to men, according to the shadow women and equalities minister.
Ministers have faced criticism throughout the pandemic for failing to better contain the virus, leaving Britain this week with the highest rate of death in the world. The past month alone accounts for more than a quarter of the UK's total Covid deaths.
Meanwhile, studies have shown that nations led by women have fared better than average during the coronavirus crisis.
Marsha de Cordova, the Labour MP for Battersea, pointed to the lack of diversity in government, with women accounting for just five of the 20 cabinet members. Home secretary Priti Patel is the only one to hold one of the four great offices of state. 
For more than six months at the height of the pandemic there was not a single Downing Street press conference that was not led by a man.
Ms De Cordova told The Independent: "More needs to be done to create better women's representation at the leadership table. This government could have handled some of the problems in this pandemic better, if they had greater diversity at the decision-making table.
"Because we know it is mainly men making the big decisions. Part of me believes if they had a bit more diverse representation, better decisions could have been made."
Ms De Cordova said she believed entrenched structural inequalities and racism existed across UK society, adding the public health crisis had both "exposed" and "exacerbated" them.
"The pandemic has had such a hugely unequal impact," she said. "If we ignore this fact, this will risk further entrenchment of these inequalities way into the future. We will be turning back the clock on all the progress that has been made over the last few decades."
Last month women and equalities minister Liz Truss gave a speech in which she criticised "identity politics" and "the idea of lived experience", claiming race and gender were "fashionable" issues.
Addressing her speech, Ms De Cordova said: "Well obviously, she is trying to create division and seeking to be divisive. But the facts speak for themselves.
"We have seen Covid have a disproportionate impact on people from ethnic minority communities. Such as those that have died from Covid also. We have seen disabled people hit hardest by the pandemic. Women have also been bearing the burden of this crisis."
Minority groups have faced a higher risk of death from coronavirus, with findings in October showing there would have been 58,000 more deaths in the first wave had Britain's white population faced the same risk factors as the black population. Earlier this month charities and politicians called for more action to protect these groups as cases rose. The TUC found minorities had also been hit hardest by job losses.
Studies have shown women have had to take on the majority of childcare responsibilities when schools have been shut, while they are also over-represented in sectors hit hardest by lockdown such as hospitality, retail, leisure, tourism and the arts. 
Ms De Cordova, who has been an MP since 2017, called for "bold responses" to the pandemic from the government as she warned their handling of the crisis has been "very imperfect" and "disappointing".
She noted many pregnant women were unlawfully sent home on statutory sick pay or unpaid leave rather than being put on furlough during the first lockdown – branding the move "an injustice to women".
"Women have really borne the brunt of this," Ms De Cordova added. "That is why we need a proper gender response in the government's recovery. That is why we are calling for flexible furlough. Women shouldn't have to be choosing between their career and looking after their child. We need a bit more fairness and justice in the system."
The UK's dearth of female politicians involved in fighting the Covid crisis starkly contrasts with Germany, New Zealand, Finland, Taiwan, and Denmark – all countries with female leaders which have been greatly praised for their handling of the health emergency.
UK news in pictures

Show all 50
A study by the Centre for Economic Policy Research and the World Economic Forum found nations led by women rather than men had more successful responses to the coronavirus outbreak and implemented lockdowns more quickly as well as experiencing half as many deaths.
Christine Lagarde, the president of the European Central Bank, said last year that the policies and communication of female-led nations had been "quite stunning", adding: "I would say for myself I've learned that women tend to do a better job."
A No 10 spokesperson said: "Whether it's Kate Bingham securing one of the widest and most diverse vaccine portfolios for this country, Dido Harding leading NHS Test and Trace, or Priti Patel doing invaluable work to enforce the current restrictions, women have been at the forefront of the UK's fight against coronavirus.
"We understand it's a very difficult time for parents with childcare responsibilities and we have extended the furlough scheme through to April, supporting employees who are struggling to work due to childcare.
"This government has put more than £280bn in to protect lives and livelihoods, and as we defeat Covid and look to rebuild the economy, we will do all we can to build back fairer and support women across the country."
Register for free to continue reading
Registration is a free and easy way to support our truly independent journalism
By registering, you will also enjoy limited access to Premium articles, exclusive newsletters, commenting, and virtual events with our leading journalists
Already have an account? sign in
Register for free to continue reading
Registration is a free and easy way to support our truly independent journalism
By registering, you will also enjoy limited access to Premium articles, exclusive newsletters, commenting, and virtual events with our leading journalists
Already have an account? sign in
Join our new commenting forum
Join thought-provoking conversations, follow other Independent readers and see their replies