Curious career of James Wharton - David Cameron's EU Referendum Bill stooge
MP who accused party of talking too much about Europe is leading backbench revolt to ensure in/out vote held by 2017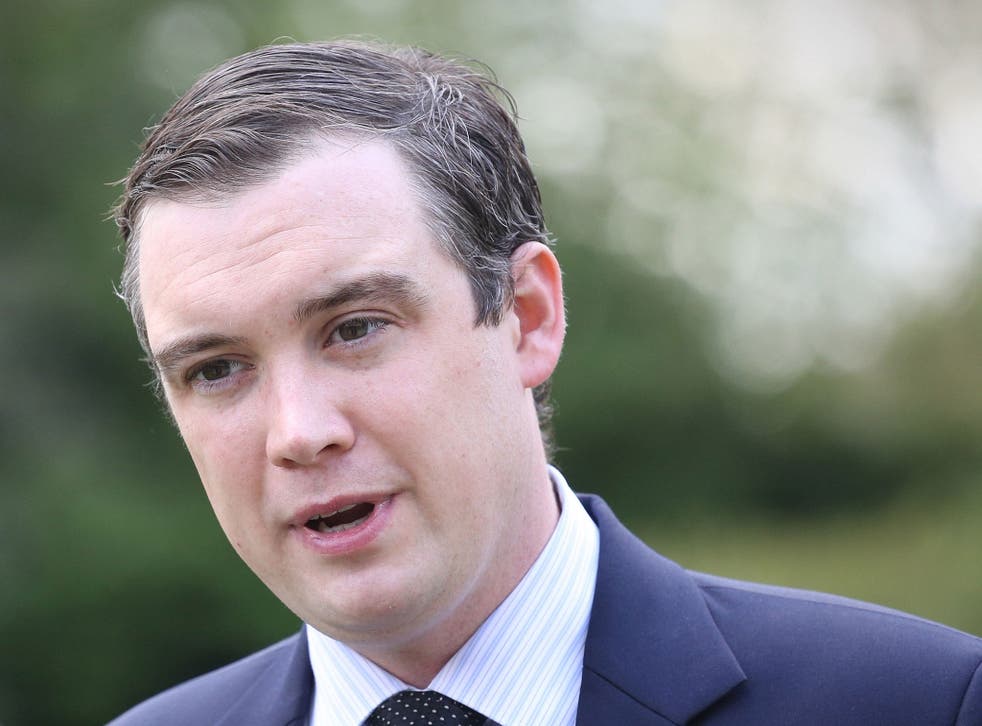 A Tory MP who told his party to stop banging on about Europe is to bring in a backbench Bill to guarantee an in/out referendum on the EU by 2017.
James Wharton adopted the European Union (Referendum) Bill drafted by the Conservatives after winning the right to bring in a Private Member's Bill in the annual ballot among MPs. It marked a swift U-turn by the Eurosceptic MP, who admits he would vote to leave the EU if a referendum were held now.
On Wednesday, he told the BBC that while Europe was "important", if the Conservatives talked about it "to the exclusion of other things" – such as the cost of living, immigration, education and tax – there was a risk the party would be seen as not speaking about "the things people care about". Asked about those remarks, he argued: "The reality is we need to be seen to be talking about things that matter to people in places like Stockton South, which I represent, which is the cost of living, it's jobs. Things we need to get right to improve people's lives. This is the best possible way of getting to that position because once we've had this debate [on Europe] and once Parliament's had its say, we will know what Parliament's position is."
Mr Wharton, who at 29 is the youngest Tory MP, was among the 114 Eurosceptics who defied David Cameron on Wednesday by voting for an amendment to the Queen's Speech regretting that it did not include a Referendum Bill. But he is clearly trying to catch the eye of senior Tories. He recently backed a controversial plan for a free school in his Stockton South, where Mr Wharton has wafer-thin majority.
The MPs is only otherwise notable for his frequent trips to Sri Lanka.
He said that he had pledges of support from some Labour MPs but admitted that it would be "much more difficult" for his measure to become law without the formal backing of Labour and the Liberal Democrats.
Mr Cameron hopes the Bill will unite his fractious party after a week of damaging headlines about their divisions over Europe. He announced that Tory MPs would be on a three-line whip to support Mr Wharton's measure, which is due to be debated on 5 July.
But Labour and the Liberal Democrats, who oppose announcing a referendum now, made clear they would frustrate the Bill's passage at every opportunity, making it very difficult for it to reach the statute book. A Liberal Democrat source said: "The Tories can bang on and on about Europe if they wish, but we will focus on jobs and growth." A Labour source added: "There are several ways to kill a Private Member's Bill."
The looming battle over the Bill raised tensions inside the Coalition. Vince Cable, the Liberal Democrat Business Secretary, warned that the "endless, self-indulgent civil war" in the Conservative Party over Europe was creating instability and doing "serious damage" to the country.
"There are large numbers of potential investors in the UK, who would bring employment here, who have been warned off because of the uncertainty this is creating," he said.
Nick Clegg warned that leaving the EU would be a "calamitous mistake" for the UK and predicted the Prime Minister's plan to win a "new settlement" would result in only "symbolic" changes. He said the Tories' position was "as clear as mud" because they had not set out which aspects of the relationship with Brussels they wanted to change.
Grant Shapps, the Tory chairman, attacked Labour for opposing the Bill. He said: "David Cameron wants the British people to decide our European future with an in/out referendum. And we want to turn this commitment into law. Ed Miliband is making clear he'll never give the public a say because he doesn't trust the British people. But we know there are Labour MPs who want that referendum and we want them to back our Bill."
Mr Miliband is under pressure to soften his opposition to a referendum. Keith Vaz, Labour chairman of the Home Affairs Select Committee, claimed his party leadership is shifting. He told the London Evening Standard: "They have already changed their position from being a situation of 'never' and never being on the agenda to a position of 'not now' and 'we will look at it in the future'. That's a big change already."
Meanwhile, in France, a beleaguered President François Hollande went on the offensive - calling for an "economic government" for the eurozone and "political union" in Europe within two years.
Stung by accusations that he has been too passive in his first year in office, Mr Hollande rolled the dice on the future of the EU – to the potential embarrassment of Mr Cameron and the German Chancellor, Angela Merkel. In a two-hour press conference at the Elysée Palace, Mr Hollande announced a string of new initiatives including a four-point plan for rapid progress towards a more federal Europe.
"I can understand countries don't want to join the euro but they cannot impede the consolidation and strengthening of the eurozone," he said. "If they want to go further and refuse powers, then the risk is of a splintered Europe … If Europe does not advance it will fall or even be wiped out from the world map."
Q&A: What's likely to happen?
Why are the Conservatives banging on about Europe?
Eurosceptic Conservative MPs want to firm up David Cameron's pledge to hold an in/out referendum on the European Union in 2017. They want to pass a Bill before the 2015 general election guaranteeing one afterwards.
Why are the Conservatives supporting a Private Member's Bill rather than a government one?
Nick Clegg did not allow David Cameron to include a government Bill in the Coalition's programme set out in the Queen's Speech last week. The Liberal Democrats and Labour oppose fixing the time for a referendum now, warning that the UK could miss out on job-creating foreign investment because of the uncertainty over Britain's EU membership.
Why did 114 Tory MPs defy David Cameron in a Commons vote on Wednesday?
They voted for an amendment to the Queen's Speech regretting the absence from it of a Referendum Bill. The move was defeated by Labour and Lib Dem MPs. Tory ministers were ordered to abstain, to prevent the bizarre spectacle of them opposing their own Queen's Speech.
What does the European Union (Referendum) Bill say?
A referendum must be held before 31 December 2017. The question on the ballot paper will be: "Do you think that the UK should remain a member of the EU?"
What are the prospects of it becoming law?
Slim. Although Conservative MPs will be under a three-line whip to support it, most Labour and Lib Dem MPs will oppose it. The Bill will get some Parliamentary time, but less than if it were a government measure. Normally, such backbench measures are on less controversial issues and need all-party support to reach the statute book. It could also face opposition in the House of Lords.
If the Bill does become law, would the next government be bound by it?
No. One administration cannot bind the next. A Labour Government or Lib-Lab Coalition could pass a law overturning the Referendum Act. But it would be politically risky to deny the public a vote they had been promised.
Will Labour and the Liberal Democrats offer a referendum?
Mr Clegg said on Wednesday that it was a matter of "when not if" one is held. The Lib Dems support a referendum if the UK-EU relationship changes fundamentally. Labour has not gone that far but some of its MPs fear the party will be isolated and are pressing for a referendum pledge in its 2015 manifesto.
Andrew Grice
Join our new commenting forum
Join thought-provoking conversations, follow other Independent readers and see their replies