Cuts will force one million more children into poverty by end of decade, says Institute for Fiscal Studies
Recent gains in household incomes will be reversed by government policies
Charlie Cooper
Whitehall Correspondent
Wednesday 02 March 2016 01:52 Comments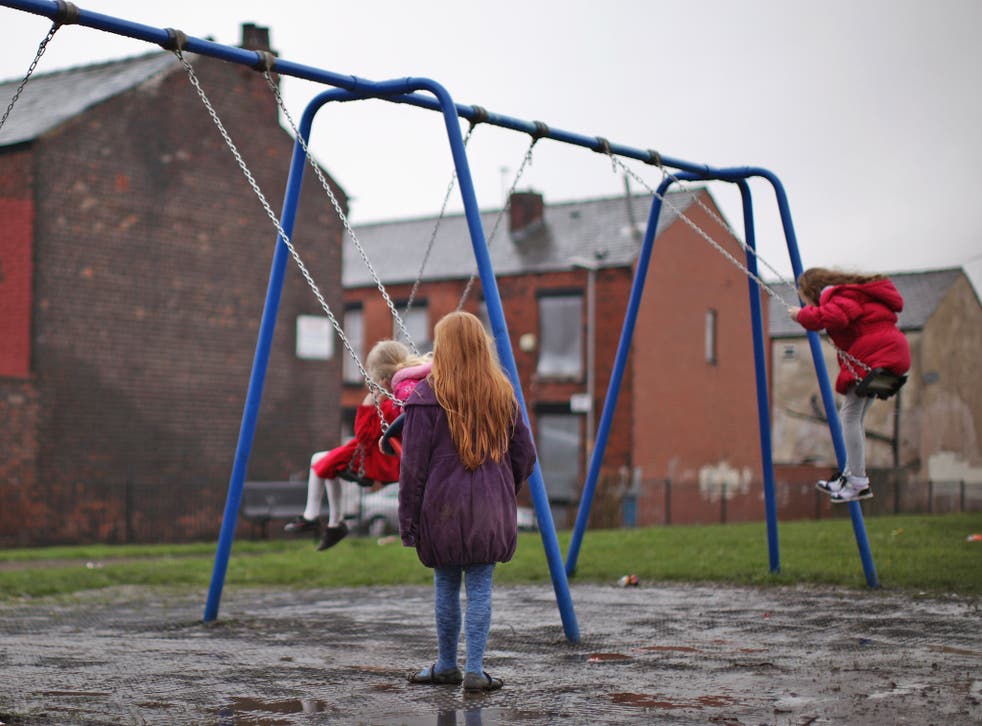 One million more children could be in poverty by the end of the decade, economic analysts have said, as the Government's welfare cuts reverse recent gains in household incomes.
The independent Institute for Fiscal Studies (IFS) said that relative child poverty rates were likely to rise by eight per cent between now and 2020-21, driven by cuts to the income of families with three or more children, who will be hit hardest by cuts to benefits and tax credits.
By contrast, poverty rates among the elderly are set to continue their long downward trend, as pensioners enjoy the benefits of recent reforms and increases in private pension income, the report said.
Overall, income growth among the poorest households will stall, while median household income is set to increase, albeit at a slower rate than in the past two years, as earnings rise faster than inflation.
Strong employment growth since 2013-14 has improved incomes across the board, analysts said, with the poorest families seeing real terms growth of 4.1 per cent and the richest 3.2 per cent.
James Browne, one of the authors of the report, said that recent improvements were likely to continue over the next five years for pensioners and the rich. Pensioners in particular will be better off, with absolute poverty in this group set to fall by 10.8 per cent by 2020 as more older people remain in work, private pension incomes grow, and the state pension continues to rise in line with earnings.
"Following an historically slow recovery in living standards after the recession, stronger growth in household incomes at all income levels over the last two years will have been welcome news," Mr Browne said.
"For some, particularly the better off and pensioners, this is likely to continue over the next five years as earnings and state pensions grow more quickly than inflation.
But prospects were "not so good for others, including large families with low incomes" he said.
Helen Barnard, head of analysis at the Joseph Rowntree Foundation, which funded the study, said that the rise in absolute child was "extremely concerning."
Currently 17.8 per cent of children are thought to be in relative poverty, according to the report, down from 20 per cent in 2010. However, reforms by the end of the decade will mean 25.7 per cent, or 3.6m children, will be in relative poverty by 2020-21, up from an estimated 2.4m today.
The number of children in absolute poverty is also set to rise from an estimated 2m today to 2.6m in 2020-21. Relative poverty refers to poverty relative to the average living standard of a society; absolute poverty is a set standard which is the same in all countries.
UK news in pictures

Show all 50
"The dramatic fall in pensioner poverty is one of the greatest public policy achievements of our time," Ms Barnard said. "It shows what we can be done with an effective set of policies, political commitment, sustained focus and resource beyond the lifetime of one parliament.
"But plans to reduce poverty cannot be restricted to one age group and we need to rethink how we best target scarce resources on those in greatest need."
Labour's Shadow Chancellor John McDonnell said the report showed that the "aspirations of millions" would be held back over the next five years.
"As the report clearly states, the government's planned tax and benefit changes are a major reason for these rises in relative and absolute poverty over the next 5 years," he said. "If you could take out the Tory planned regressive reforms then you would be able to take out the Tory increases in child poverty too."
A Government spokesperson said that living standards were growing beyond pre-crisis levels with "young adults seeing particularly strong income growth".
"But as the Chancellor has said, we need to show resolve in delivering reforms to improve our productivity which is the only way to deliver sustained rises in living standards," the spokesperson said. "At a time of global economic turbulence and heightened risk this means we must stick to the plan to build our resilience and deliver economic security for working families.".
Register for free to continue reading
Registration is a free and easy way to support our truly independent journalism
By registering, you will also enjoy limited access to Premium articles, exclusive newsletters, commenting, and virtual events with our leading journalists
Already have an account? sign in
Join our new commenting forum
Join thought-provoking conversations, follow other Independent readers and see their replies