David Cameron accused of breaking ministerial code in row with his local council over cuts to frontline services
Labour has written to the Cabinet Secretary asking for a ruling on whether the PM broke the rules after inviting councillors into Downing Street to discuss cuts to services in his Witney constituency 
Matt Dathan
Online political reporter
Thursday 12 November 2015 09:49 Comments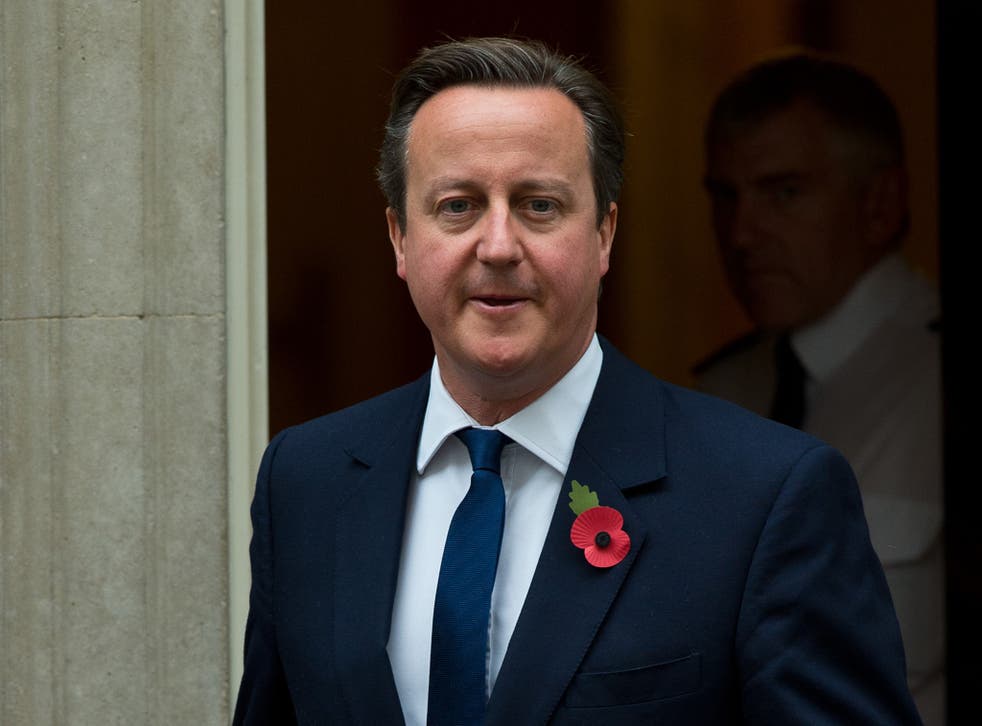 David Cameron has been accused of breaking the ministerial code by inviting councillors from his own Oxfordshire constituency in for a private meeting in Downing Street to discuss cuts to local services.
Leaked letters revealed that the Prime Minister became embroiled in an embarrassing row with Oxfordshire County Council, complaining about the impact of "counter-productive" cuts to frontline services in his Witney constituency and offered help from Downing Street advisers.
Labour believes this is a breach of the ministerial code, which bars ministers from using government facilities for party or constituency activities, and has written to the Cabinet Secretary Sir Jeremy Heywood asking for a ruling.
Shadow Cabinet office minister Jon Ashworth said that if Mr Cameron is offering advice and private meetings to his local council then the help should be on offer to all councils.
"What I am concerned about is that the Prime Minister seems to be conflating his ministerial role with his role as the member of parliament for Witney," Mr Ashworth told the Today programme.
"I doubt he is inviting the leader of Leicester City Council, where I am an MP, or the leader of Manchester City Council into the No 10 policy unit to discuss ways to deal with the cuts.
"It feels like a breach and I hope the Cabinet Secretary will look into it."
David Cameron's biggest controversies

Show all 8
The row blew up after the county prepared emergency plans to trim a further £50m from its budget, leaving children's centres, elderly day centres, rural bus services and mobile libraries under threat.
Mr Cameron was among the Oxfordshire MPs who were warned by the council leader, Ian Hudspeth, that the county was contemplating a new round of cash-saving measures. In his reply, the Prime Minister protested: "I was disappointed at the long list of suggestions floated – to make significant cuts to frontline services – from elderly day centres, to libraries, to museums.
"This is in addition to the unwelcome and counter-productive proposals to close children's centres across the county. I would have hoped that Oxfordshire would instead be following the best practice of Conservative councils from across the country in making back-office savings and protecting the front line."
He invited Mr Hudspeth to Downing Street to discuss the county's financial situation.
The council leader, who reminded Mr Cameron that he "worked hard to assist you in achieving a Conservative majority", responded that government funding had almost halved since 2010 and that the council had taken as much out of the back office as possible.
Mr Hudspeth told Mr Cameron that other sources of revenue had not made up for the shortfall and that he had failed to acknowledge the extra duties which had been transferred to councils. He also disputed the Prime Minister's figures over the savings the authority has made in the past five years.
Register for free to continue reading
Registration is a free and easy way to support our truly independent journalism
By registering, you will also enjoy limited access to Premium articles, exclusive newsletters, commenting, and virtual events with our leading journalists
Already have an account? sign in
Join our new commenting forum
Join thought-provoking conversations, follow other Independent readers and see their replies