David Cameron accused of hypocrisy after complaining about 'counter-productive' Tory cuts
Backlash comes after leaked letter shows PM protesting about Oxfordshire County Council's proposals for cuts to services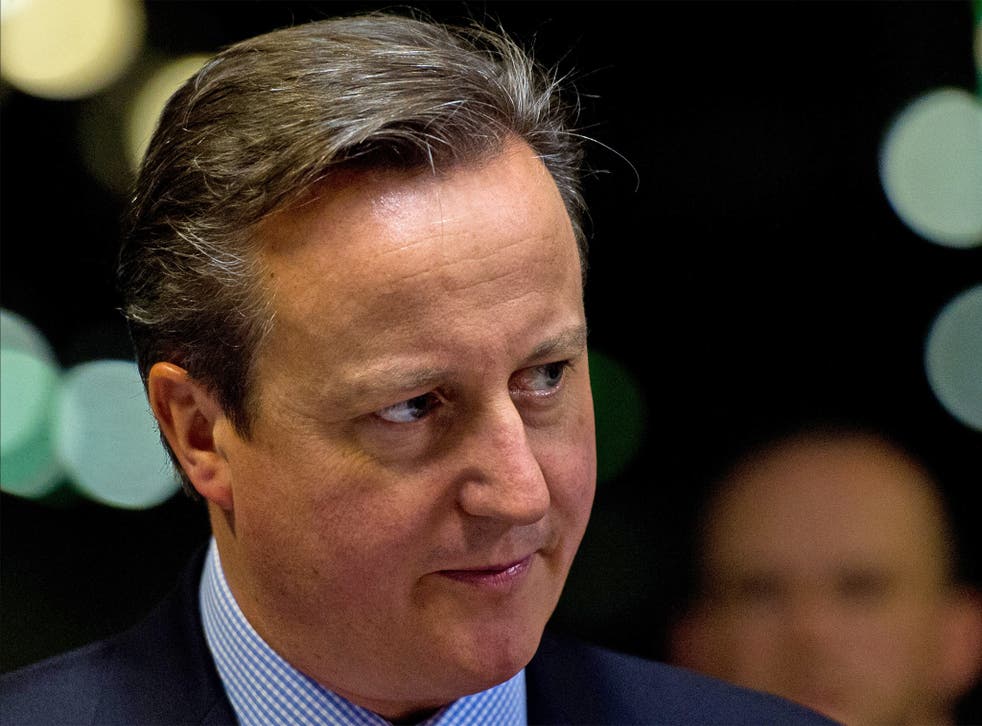 David Cameron has been accused of hypocrisy and political interference after he complained about the impact of "counter-productive" cuts to frontline services in his Oxfordshire constituency that directly resulted from his own Government's policies.
As the row intensified, there were even suggestions from Labour that the Prime Minister may have broken the Ministerial Code by offering councillors from his own Witney constituency a meeting in Downing Street to discuss the matter.
The controversy reflects a backlash from Tory councillors and residents and follows a letter written by the Prime Minister, which has been leaked, protesting about Oxfordshire County Council's proposals for cuts to services.
Supporters are gathering behind the council's Conservative leader, who has accused the Prime Minister of not appreciating the financial pressures faced by local authorities as they struggle to provide essential services.
The row blew up after the county prepared emergency plans to trim a further £50m from its budget, leaving children's centres, elderly day centres, rural bus services and mobile libraries under threat.
On 25 November the Chancellor, George Osborne, will publish the results of his spending review, which is expected to require local authorities to make further reductions to services. Council chiefs fear they will be forced to save billions more pounds over the next four years as a result of the Chancellor's drive to wipe out the deficit.
Mr Cameron was among the Oxfordshire MPs who were warned by the council leader, Ian Hudspeth, that the county was contemplating a new round of cash-saving measures. In his reply, the Prime Minister protested: "I was disappointed at the long list of suggestions floated – to make significant cuts to frontline services – from elderly day centres, to libraries, to museums.
"This is in addition to the unwelcome and counter-productive proposals to close children's centres across the county. I would have hoped that Oxfordshire would instead be following the best practice of Conservative councils from across the country in making back-office savings and protecting the front line."
He invited Mr Hudspeth to Downing Street to discuss the county's financial situation.
The council leader, who reminded Mr Cameron that he "worked hard to assist you in achieving a Conservative majority", responded that government funding had almost halved since 2010 and that the council had taken as much out of the back office as possible.
Mr Hudspeth told Mr Cameron that other sources of revenue had not made up for the shortfall and that he had failed to acknowledge the extra duties which had been transferred to councils. He also disputed the Prime Minister's figures over the savings the authority has made in the past five years.
Labour accused the Prime Minister of hypocrisy for raising concerns over the impact of cuts in his constituency. John McDonnell, the shadow Chancellor, said: "I'm backing David Cameron on this one. He is absolutely right that his Chancellor's cuts to local government are seriously damaging our communities and have to be opposed."
Labour also protested against the offer of a Downing Street meeting, claiming that Oxfordshire was being offered preferential treatment, which could breach the Ministerial Code. Rodney Rose, a councillor in Mr Cameron's Witney constituency, told The Independent: "I don't think David Cameron is aware of what major back-office cuts we have made. You can't operate without a back office completely."
UK news in pictures

Show all 50
He warned that cuts of £50m would "drastically affect" bus routes. "We are talking about possibly having no subsidised buses, which in Oxfordshire – the most rural county in the South-east – obviously affects all our rural voters quite badly, especially the vulnerable."
He said too much financial pain was being loaded on unprotected areas of spending, such as local government funding. "I'm afraid those MPs who actually live in rural Oxfordshire should have been perhaps a bit more aware of what the actual results would be," Mr Rose added.
A Downing Street spokesman said: "There is still significant scope for sensible savings across local government to be made by back-office consolidation, disposing of surplus property and joining up our local public services."
He dismissed suggestions that Mr Cameron's home county was receiving preferential treatment. "The Government is in discussion with Oxfordshire about how best to improve the provision of health and social care, as it would with any local authority. As part of this the letter made clear, the Government is always open to discuss constructive ways to deal with the challenges of an ageing population while protecting frontline services."
Register for free to continue reading
Registration is a free and easy way to support our truly independent journalism
By registering, you will also enjoy limited access to Premium articles, exclusive newsletters, commenting, and virtual events with our leading journalists
Already have an account? sign in
Register for free to continue reading
Registration is a free and easy way to support our truly independent journalism
By registering, you will also enjoy limited access to Premium articles, exclusive newsletters, commenting, and virtual events with our leading journalists
Already have an account? sign in
Join our new commenting forum
Join thought-provoking conversations, follow other Independent readers and see their replies