David Cameron calls for 'secure schools' for teenage offenders instead of prison
He disclosed the move as he set out measures for driving down re-offending rates in English and Welsh jails
Nigel Morris
Deputy Political Editor
Tuesday 09 February 2016 01:06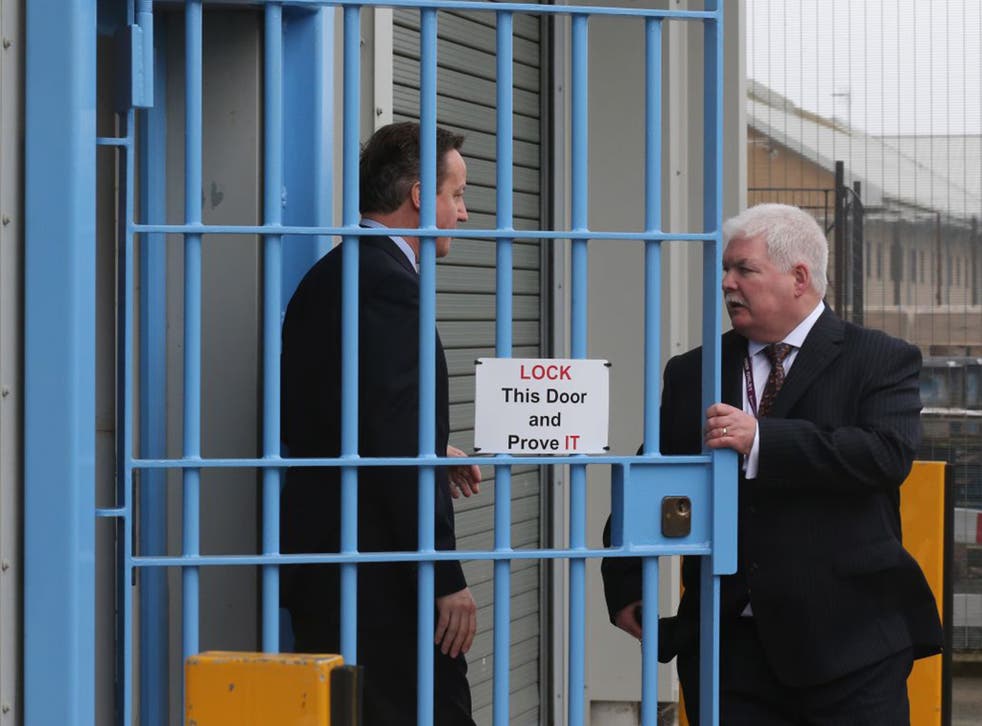 Teenage offenders could serve their sentences in "secure schools" instead of prisons as part of a shake-up of youth custody to put a new emphasis on education, David Cameron has announced.
He disclosed the move as he set out measures for driving down re-offending rates in English and Welsh jails, including the establishment of prison league tables and stronger powers for police to deport foreign criminals.
The Prime Minister said he wanted to drive up recruitment standards in prisons by boosting schemes to attract graduates to the profession and by introducing a "financial incentive scheme" for high-performing staff.
He indicated he wanted to translate the "free school" model championed by the Conservatives to the education and rehabilitation of offenders aged under 18. "It will mean turning existing young offender institutions into what will effectively be high-quality schools that will demand the highest standards," Mr Cameron said.
The moves follow the recommendations of a review of youth justice carried out by former headteacher Charlie Taylor. His interim findings, which are published today suggest the system would be more effective and better able to rehabilitate young people if education was at its heart.
UK news in pictures

Show all 50
Under the plan, secure schools would help young offenders master the basics in English and maths and provide vocational education in "a more therapeutic environment". Young offenders would stay at them full-time for the duration of their sentence.
Mr Taylor's review found the number of children in custody has fallen by almost two-thirds in the past decade, reaching the lowest recorded level. In 2014-15 the population stood at 1,048 and is currently below 1,000, but two out of three children commit a new offence within a year of being released.
The Justice Secretary, Michael Gove, said: "I'm in no doubt our system of youth justice needs reform. Although youth offending is down, recidivism rates are high and the care and supervision of young offenders in custody is not good enough."
Juliet Lyon, director of the Prison Reform Trust, said: "An impressive 77 per cent drop in youth crime, 81 per cent reduction of first time entrants into the youth justice system and a 64 per cent drop in the child prison population, give Michael Gove the scope he needs for radical reform. And the shocking Panorama documentary of brutality at Medway secure training centre makes it imperative that he acts now to enable children and young people to get out of trouble rather than grow up to be our adult prisoners of the future."
Mr Cameron said the Government would legislate to require foreign criminals to declare their nationality and hand over their passports, adding: "One of the big barriers here is that we don't systematically record the nationality of offenders early enough and this can hamper our ability to deport them."
He also announced that former prisoners looking for careers in the Civil Service will not have to disclose their past convictions when they first submit their job applications to ensure they are not rejected outright before having had a chance to show their worth.
Although they will eventually have to declare their offences, Mr Cameron said that it would remove an important first hurdle to them getting a job.
Register for free to continue reading
Registration is a free and easy way to support our truly independent journalism
By registering, you will also enjoy limited access to Premium articles, exclusive newsletters, commenting, and virtual events with our leading journalists
Already have an account? sign in
Register for free to continue reading
Registration is a free and easy way to support our truly independent journalism
By registering, you will also enjoy limited access to Premium articles, exclusive newsletters, commenting, and virtual events with our leading journalists
Already have an account? sign in